Michelle Sisto appointed Associate Dean for Graduate Studies
EDHEC Business School announces the appointment of Michelle Sisto as Associate Dean for Graduate Studies, as from 1 September 2017. She succeeds Emmanuel Métais, following his recent appointment as…
Reading time :
22 May 2017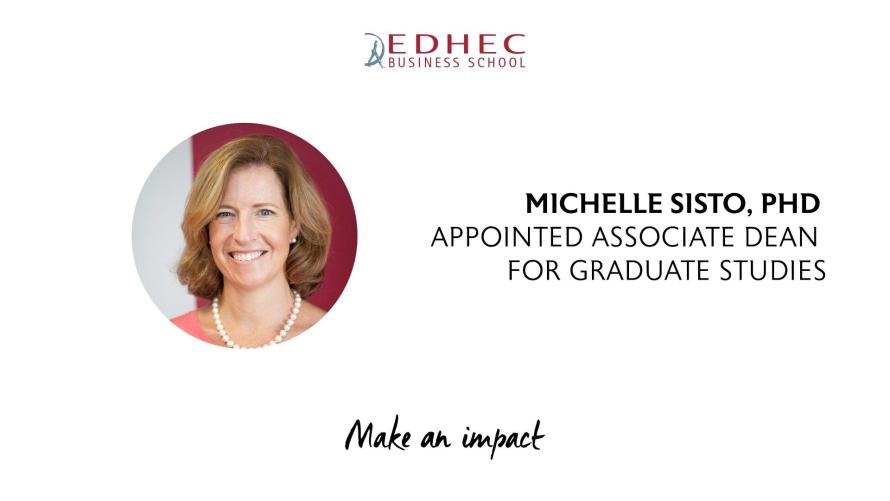 EDHEC Business School announces the appointment of Michelle Sisto as Associate Dean for Graduate Studies, as from 1 September 2017. She succeeds Emmanuel Métais, following his recent appointment as Dean of EDHEC Business School. In parallel, Hager Jemel is appointed as Director of the Pre-Master Year for the EDHEC Master in Management.
"My aim is to build on the culture of excellence pervading the Master in Management programme, in order to continue developing innovative programmes and pedagogy that respond to businesses' ever-changing needs and also to develop engaged leaders who are ready to make an impact across the globe. I would also like to extend EDHEC's internationalisation strategy from student, faculty, programme and career perspectives", comments Michelle Sisto.
Michelle Sisto, 48, is of Italian and American nationality and holds a PhD in Finance from EDHEC, a DEA (Research Master) in Mathematics from the University of Nice Sophia Antipolis and a Bachelor in Mathematics from Georgetown University (Washington DC).
As a specialist in statistical data analysis and big data, Michelle Sisto has been teaching in an international environment for over 20 years. She has published research work extending from the asset management field, with a particular focus on corporate social responsibility and financial regulation, to pedagogies in multicultural environments.
Between 2002 and 2014, Michelle Sisto taught as Visiting Professor of Statistics for the MBA programme before becoming Research Associate within the EDHEC-Risk Institute. Since 2015, she has been Director of EDHEC Business School's Global MBA, which now stands 74th worldwide after gaining 10 places in the most recent Financial Times rankings.
She has now been appointed Associate Dean for Graduate Studies. She therefore assumes responsibility for a portfolio of programmes including the School's Master in Management and Masters of Science (both the Business Management and Financial Economics tracks) as well as the EDHEC PhD in Finance.
In parallel, Hager Jemel, 37, is appointed as Director of the Pre-Master Year for the EDHEC Master in Management. She is of French and Tunisian nationality and holds a Master (DEA) in Organisational Strategy and Management, and a Doctorate in Management Sciences from Institut d'Administration des Entreprises de Lille, part of University Lille 1.
Hager Jemel has amassed 13 years of experience in Management lecturing and research, and commands strong expertise in the CSR and diversity fields. She joined ESC Amiens and France Business School in 2012, where she was notably in charge of the pedagogical innovation unit and Director of the Master in Management programme. Since March 2016, she has been Deputy Director of the EDHEC Open Leadership Centre.