MiM GETT: First quarter in Seoul
After spending six months on EDHEC's Paris campus, Mathieu Raphaël arrived in Seoul on 2 January 2021 as part of the Master in Management Global Economic Transformation & Technology track. Accustomed…
Reading time :
6 Apr 2021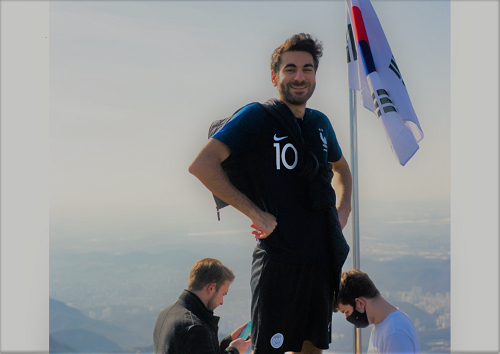 After spending six months on EDHEC's Paris campus, Mathieu Raphaël arrived in Seoul on 2 January 2021 as part of the Master in Management Global Economic Transformation & Technology track. Accustomed to studying abroad – he has studied at Washington University and Bocconi – Mathieu was quick to find his footing among the Korean and international students studying with him on Sungkyunkwan University's Full-time MBA. "Most students in my cohort take the classes in person. I'm lucky to be able to mix with MBA students who are older and have highly diverse backgrounds, and discuss with them or do group work together. Both the classes and the professors are excellent. A lot of the professors have taught at other prestigious universities. The teaching is well-constructed, but also more informal and more interactive. It reminds me of my classes in the USA". He also had the opportunity to choose subjects like data-based management and thus start to specialise his studies.  

TOTAL IMMERSION
Although the classes on the GETT programme are in English, GETT students also continue the Korean-language studies they began in their semester at EDHEC. They also have the chance to discover the country's culture. "We got the chance to go hiking in Sokcho by the Japan Sea. I visited Busan, which is famous for its massive fish market and discovered the Silla people in Gyeongiu. I had some worries about Covid, but everything is open. We're lucky to be able to take advantage of everything".
 
Mathieu is already preparing for after-Korea: "The Career Centre is supporting us in our search for an internship. We've also each got a mentor who helps us by giving us their contact details and by recommending us".  
Discover the Master in Management Global Economic Transformation & Technology track