MiM GETT, an opportunity to study in 3 continents and prestigious universities
François-Eliott Rousseau joined the MiM Global Economic Transformation & Technology. The Belgian student is a globe-trotter. Discover why he chose to apply at EDHEC Business School after his bachelor's degree from McGill University.
Reading time :
3 Dec 2020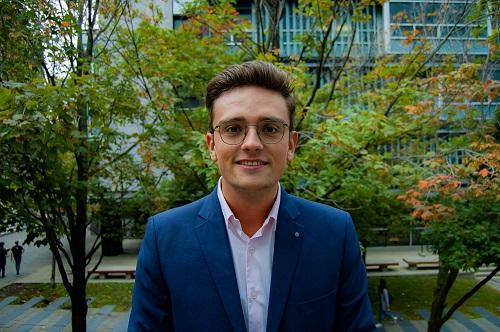 WHAT IS BACKGROUND PRIOR TO EDHEC?
I was born in Tokyo and lived all my childhood in Hong Kong. I graduated from the French International School in 2015. Wanting to travel and experience a new culture, I moved to Montreal, Canada to pursue engineering studies and broaden my international experience. After 5 incredible years, I graduated from McGill University with a bachelor's in electrical engineering and a minor in technological entrepreneurship. 
Considering my background in technology, international experience, and leadership, a Master in Management at EDHEC Business School was the perfect opportunity for me to reinforce and extend my knowledge in Management, which I believe is a necessary accomplishment to achieve my professional goals. The GETT programme offered me the possibility to develop my business acumen while continuing to learn about emerging technologies. It also allows me to study at three prestigious universities in three different continents where technology and innovation are at the heart of economical and societal growth. It was a no brainer! 
COULD YOU TELL US ABOUT YOUR TRANSITION FROM YOUR ENGINEERING STUDIES TO BUSINESS?
My engineering degree enabled me to gain technical skills and enhance my critical and creative thinking. In a world where technology constantly changes, understanding how technology impacts businesses is necessary! Therefore, I personally think that to achieve success in business, you need to acquire a combination of knowledge in several important concepts (such as technology, digitalization, and sustainability) and business concepts. The combination of both creates synergy.  Doing a Master in Management was therefore a necessary step for me before entering the professional world. Switching from engineering to business wasn't a hard task. The skills and capabilities acquired doing my bachelor boosted my ability to learn and understand business. 
HOW HAS BEEN YOUR JOURNEY AT EDHEC SO FAR?
My journey in the GETT programme so far is incredible. Every expectation I had about the programme was surpassed! Despite the Covid crisis and the difficult situation we all live in, I tried to make the most out of my semester in Paris. Being around 40 students from different nationalities and backgrounds creates open-mindedness in the program and broadens your understanding of the world. Additionally, the quality of teaching was very surprising in a positive way! The experience gained in the professional world of our professors gives a real added value to our courses and valuable insights about their professional careers. 
WHAT ARE YOUR ASPIRATIONS FOR THE COMING STEP?
In my semester in Seoul, I would like to specialise in more specific fields (Finance and Strategy) and learn deeper about technology disrupting the digital world to prepare myself for both my internships next year. 
WHAT ARE YOUR JOB ASPIRATIONS?
For several years, I am strongly convinced that my life long professional goal is to become an entrepreneur and build successful businesses. If timing and opportunities don't arise after finishing my MiM at EDHEC, I would also like to start my career either in innovation and strategy consulting or in an investment/VC firm. 
DO YOU HAVE ANY ADVICE FOR FUTURE EDHEC STUDENTS CHOOSING GETT?
Don't hesitate to meet your cohort and make long-lasting friendships. The diversity of the GETT programme gives you an opportunity to learn from many people's experiences. 
Get acquainted with the resources of the Career Centre. They are well structured and have plenty of information that might give you an edge while applying for jobs and internships. The career advisors are also accessible and give you strong mentorship advice for your career path. 
Finally, don't be scared! The GETT programme is a challenging programme. Participate and don't be scared to make errors or ask dumb questions. Failure is a necessary step to success! If you're passionate and eager to learn, then this programme is for you!