Mr. Edouard Philippe, France's Prime Minister, on EDHEC's Lille campus
In front of over 1,300 EDHEC students, France's Prime Minister Edouard Philippe announced a reform of the country's export support mechanism on 23 February 2018 in the auditorium on EDHEC's Lille…
Reading time :
23 Feb 2018

In front of over 1,300 EDHEC students, France's Prime Minister Edouard Philippe announced a reform of the country's export support mechanism on 23 February 2018 in the auditorium on EDHEC's Lille campus. The presentation covered support measures and financing for exports, as well as training, particularly in the English language.
Emmanuel Métais, Dean of EDHEC Business School, welcomed the students and personalities filling the auditorium: "I am extremely pleased to welcome you to our campus today. Ever since its foundation in 1906, EDHEC has stayed true to its belief that education and research act as a powerful lever for the internationalisation of trade and companies. I am therefore convinced that the Prime Minister's announcements will have a positive impact on the French and international economy."
"We are delighted to partner Business France for this event and very honoured that the Prime Minister chose our School, with its resolutely international mindset, to come and present the government's strategy for foreign trade", said Bruno de Pamplonne, Chairman of the EDHEC Board of Governors, speaking from Singapore.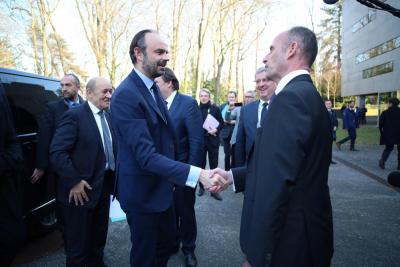 The Prime Minister's conference was preceded by a round table on the subject of international training to prepare tomorrow's managers. Two of our EDHEC students - Hervé Kacou and Aurore Saurel – shared their experience during a presentation on France's V.I.E. international internship scheme. "The V.I.E. scheme is a unique opportunity to launch your career internationally", explained Hervé. "In my case, it was an essential part of my experience as it ultimately converted into a permanent job." "Perseverance, EDHEC's network and good work are the keys to success in finding your V.I.E. internship", related Aurore. The V.I.E. international internship scheme is above all a differentiating experience in an acutely-competitive job market, and one that enables participants to enrich themselves with a new professional culture, leave their comfort zone and test a career choice before committing themselves long-term. Alix Pollet-Dalle, a graduate of the EDHEC Executive MBA in 2014 and now Chairman and Chief Executive of Saneco, took part in the second round table on the theme of "Export Tools: Support and Finance", during which she shared good practices for an SME embarking on the export trail.
During the event, the EDHEC NewGen Talent Centre unveiled the launch of the first V.I.E. survey in collaboration with Business France. As a centre of expertise for the professional aspirations, behaviours and skills of new generations of talent,  the EDHEC NewGen Talent Centre's goal with the survey is to better understand the population of V.I.E. students currently on internships and young former VIE interns, with a focus on the recruitment and graduate placement processes, the skills developed and post-V.I.E. hoices.
The conference continued with the signature of the first "French Pass Export" with the shipbuilding and ship repair group Piriou, as part of the government's "PACTE" project, designed notably to stimulate French exports.
After being introduced by Minister for Foreign Affairs Jean-Yves Le Drian, Prime Minister Edouard Philippe then announced a series of measures ("in-depth, anticipated and interlocking transformations") designed to boost French exports, particularly by fostering English-language learning and setting up "one-stop export shops". "We are going to invest massively in the French and their skills: the better trained we are, the stronger we are", said the Prime Minister.
To close this prestigious event, Emmanuel Métais, Dean of EDHEC, presented the Prime Minister with the sculpture "L'homme en marche" (The Man in Motion), a symbol of EDHEC.