MSc in Climate Change & Sustainable Finance: A unique degree with decided career advantages
Why did Mines Paris - PSL decide to join forces with EDHEC to create the MSc in Climate Change & Sustainable Finance? Mines Paris - PSL formed a partnership with EDHEC to build an advanced master's…Professor Gilles Guerassimoff, Professor of Energy Systems Optimisation at MINES Paris – PSL, answers our questions. 
Reading time :
18 Feb 2021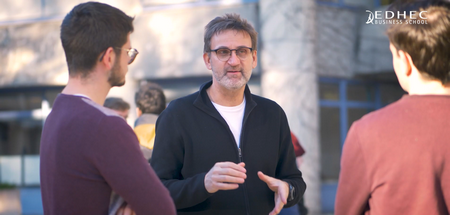 An interview with Gilles Guerassimoff
Mines Paris - PSL formed a partnership with EDHEC to build an advanced master's degree specialising in the optimisation of energy systems well over 20 years ago. It was, therefore, obvious to us, following discussions between our research teams on sustainable finance, that we should continue to work together, especially on such an important challenge. As a world leader in finance and risk, EDHEC is the perfect partner for Mines Paris - PSL, a benchmark engineering school in the field of energy transition. 
Is sustainability at the heart of Mines Paris - PSL's teaching and research?   
Yes, of course! Since 1783, Mines Paris - PSL has been working to ensure the sustainability of construction and mining operations. As technology advanced over time, Mines Paris - PSL broadened its portfolio and tackled a wider range of engineering challenges, with a particular emphasis on energy and mining-related topics, all with sustainability in mind. This approach can be seen in our 18 research centres and, naturally, it is present in Mines Paris - PSL's training courses at all levels.  
What can students expect from this two-pronged approach? 
We believe that it is highly important for students focusing on sustainability in their future careers to have sound knowledge of the impact of the technologies they will have to create, optimise or finance. On the one hand, looking at sustainable finance processes from a funding or industrial point of view allows engineering students to ensure that they deploy the best possible sustainable technologies. On the other, for finance students, understanding the real impact of technologies on climate change guarantees the financing of truly sustainable projects. Mixing these two student bodies in this unique degree gives them a real advantage in their future careers. 
What is Mines Paris - PSL?
Paris Sciences & Lettres research university (PSL) is dedicated to arts, sciences and engineering. With its 2,900 researchers and 140 laboratories, it offers its students the perfect study conditions to innovate and create the world of tomorrow.
Mines Paris - PSL is a part of this university, along with 3 world-renowned research centres: CNRS, INSERM and Inria. Its alumni regularly win the most prestigious awards, including 28 Nobel Prizes, 10 Fields Medals and 3 Abel Prizes.
A significant partnership
This partnership is a key step in leveraging the strengths of our schools. EDHEC's recognised expertise in management and finance and Mines Paris - PSL's cutting-edge research facilities and focus on energy and sustainable development are complementary. Climate change is one of the most pressing issues in the world today and businesses must act to make a difference. The partnership between our schools enables us to train experts in sustainable finance, which includes social issues such as inclusivity.
Graduates of our MSc in Climate Change & Sustainable Finance work as energy policy analysts, corporate sustainability consultants, climate risk managers, etc. Their role is to advise companies, associations, governments and all types of organisations on how to improve their environmental and social performance - two success factors in today's business world. They know how to analyse the data available to them in order to provide expert advice to decision-makers.
A beneficial partnership for students
The partnership creates the best environment for students to acquire the skills and knowledge they need for their careers.
They will benefit from the state-of-the-art facilities and equipment of EDHEC Business School and Mines Paris - PSL. They will also have access to the business and academic partners of both schools to better personalise their path and gain the professional profile they need to achieve their goals. The international partners of both schools will also enable our students to study abroad.
The partnership is also an opportunity for our students to make a difference in the world by championing sustainable and ethical practices in their companies.