#MyMBAStory – Cédric Sedjro: My entrepreneurial, multicultural MBA journey so far
As Cédric continues his MBA journey, he's settled into MBA life here in Nice and taking every opportunity to expand his experience and exposure to finance and entrepreneurship. Here is his #mbastory…
Reading time :
7 Dec 2020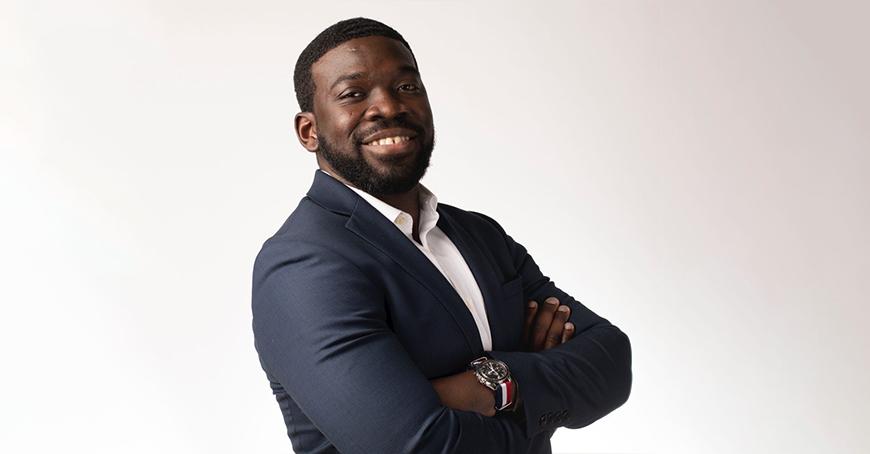 As Cédric continues his MBA journey, he's settled into MBA life here in Nice and taking every opportunity to expand his experience and exposure to finance and entrepreneurship. Here is his #mbastory.
Innovation isn't just a buzz word for Cédric, it's in his job description. After five years of working in the strategy and innovation spheres as a Senior Innovation Consultant, Cédric was ready for a new challenge: embarking on a full-time MBA to expand his mind set and go further in his career. 
"Although I am well-versed in strategy and critical thinking through my consultancy experience, I want to broaden my overall business acumen, especially in Finance, and gain a more profound understanding of the European market and culture." 
Getting an MBA was the obvious choice for his particular career goals and EDHEC's Global MBA programme stood out to him for its ideal location in Nice, France. In particular, Cédric was attracted to the school's close relationship with French start-ups and its incubator programme. 
The Start of Cédric's MBA Journey  
Before moving to Nice, Cédric was living in Denver, Colorado, "hands down the best city in the USA," he said. He was excited about the Global MBA's world-class teachers and the potential of working with an internationally diverse class. 
"The programme is intense but incredibly rewarding already and the atmosphere in the class is energising. Really, it's a big thanks to the entire class and MBA team as I quickly felt part of the group. The EDHEC administration, in particular Ginny, made life incredibly easy and class representative Tina Munkasa, really helped us all integrate into the school, the programme and life in France," Cédric said.
So far, Cédric has been most impressed with the collaborative approach and the spirited discussions both in the MBA classes and outside. "You have so much to learn from everyone and it goes beyond the classroom, even onto the beach after class and on weekends where you will often find us, discussing what we have learned, sharing experiences and enjoying the stunning location of course!". 
Taking Part in the Plug and Play VC programme 
Cédric and three other MBA classmates were selected to participate in Plug and Play's VC programme. He is focussing on the smart tech vertical reviewing 20+ startups weekly to ensure that Plug n' Play, a Silicon Valley-based start up platform, is making the right investments. 
"It's fascinating because you come across a lot of businesses that are great ideas, but by asking the right questions, you can quickly determine if they can thrive," Cédric explained. "While I believe I have good insights; I also have to think critically about their financial returns. That's an aspect I can develop with Plug and Play." 
Read the related article: 4 New MBAs Selected for the Plug and Play VC Programme
Specialising in Finance & Developing Entrepreneurial Thinking 
EDHEC's Global MBA programme allows its participants customisation through four specialised tracks. Instead of Global Leadership, Entrepreneurship, or Digital Innovation, Cédric is more attracted to the International Finance Track (although it is a tough choice between this and the Entrepreneurship specialisation!). 
"I pride myself on always expanding my knowledge and Finance was an area where I felt I was lacking," Cédric said. "I'm also heavily involved in the MBA Entrepreneurship Club, so I'm still learning quite a bit on that side." 
By extending his financial expertise with the two-month tailored track and the core courses focussed on performance measurement and analytics together with his VC experience with Plug and Play, Cédric hopes to work for a startup upon graduating. 
"I want to spend the next couple of years working for a start-up as a product manager," he said. "It will allow me to really grow a product from concept through to delivery". 
Cédric's Advice to Current and Future MBAs 
If there's any advice Cédric can share, it's to do your research. Pick the right MBA programme for you and your goals. Next, reach out. That means reaching out to alumni to learn about the programme, classmates to learn about others, and teachers to learn more about your favourite topics. Cédric is happy to chat if you're curious to learn more about EDHEC and his experience.