#MyMBAStory - Recent Global MBA Graduate Carole Chomat looks back at her Extraordinary Entrepreneurial Experience
Carole joined the Global MBA programme in September 2019 and has just finished her tailored MBA project to wrap up her incredible 10-month journey . As well as being a class representative and member of the MBA Entrepreneurship Club, she also took part in the Plug and Play VC Education Programme. Here is her #mbastory.
Reading time :
25 Jan 2021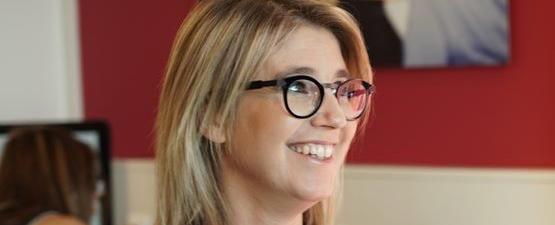 FAST FACTS
Name: Carole Chomat
Class of: 2019
Nationality: French
background: Pharmaceutical/Healthcare Industry
Pre-MBA role: Global Programme Leader
Post-MBA Goal: Start own business
After 15 year working in various positions in the Pharmaceutical/Healthcare industry, I made the decision to plan for the next step in my career. I am passionate about the healthcare sector but I also would like to create my own business in the future, so I wanted to develop both my strategic business skills and also my entrepreneurial side.
The EDHEC MBA programme was a great fit for both these goals and importantly the schools entrepreneurial spirit and values are a match for my own. When I came to the Open Day in Nice in April last year and met the team, the students and alumni, I knew it was the right choice for me.
How is the programme orientated to help you develop an entrepreneurial mindset?
The first 7 months of the programme are dedicated to developing your overall business knowledge with an intense and robust curriculum covering a 360 vision of theories and practices of developing and leading a business. It's very hands on too and with a big focus on developing your leadership and teamwork skills. But then after you have a solid base of the fundamentals, you chose a specialist track followed by a tailored MBA project. I chose to do the Entrepreneurial Track and develop a business plan as my project. So it means I got to focus on developing and testing my concept for 3 months.
I was also lucky to have the opportunity to be one of the 4 EDHEC MBA ambassadors on the Plug and Play VC Education Programme which was an amazing and unique experience. EDHEC is the only French school who participates so this was also a big draw for me when choosing my school.
Tell us more about the Plug and Play programme?
The Plug and Play initiative is an amazing opportunity for EDHEC and for students like me that are motivated to get involved and know more about entrepreneurial ecosystems. It is a 7-month remote programme and during the time you have the opportunity to exchange with Venture Capital experts and other students from all around the world. The mock VC partner calls happen every 2 weeks and are industry focussed and simulate real VC partner meetings. You get to review deals and understand the decision making process. Because the programme has industry focus, you are able to apply and share your own knowledge and experience and also learn about new industries as well as gain a deeper insight into the whole venture capital process and innovation ecosystem.
It was a really challenging initiative and a big commitment but it was an invaluable experience.
Any advice for people considering applying for an MBA?
Yes, do it! The programme means you spend 3 months out of the 10 focussing on areas which are important for you and your future plans, you also get the opportunity to explore new aspects of business and also gain a better insight into different cultures and new perspectives, so keep an open mind and immerse yourself fully. Above all, make the most of the opportunity – it is a once-in-a-lifetime experience! Imagine working with and learning from fellow students and faculty from all over the world, so many different backgrounds and industries – it's a truly unique and special time and a great investment for your future.
Could this be you ?
Evaluate your profile to speak to one of our career advisors and see how you would fit in with our next cohort.