NeGO Challenge: Learn to negotiate like a pro
EDHEC's academic education programmes incorporate exercises devised with professionals in which theoretical knowledge is cemented by practical application. The neGO Challenge is an example of this…
Reading time :
6 Jul 2022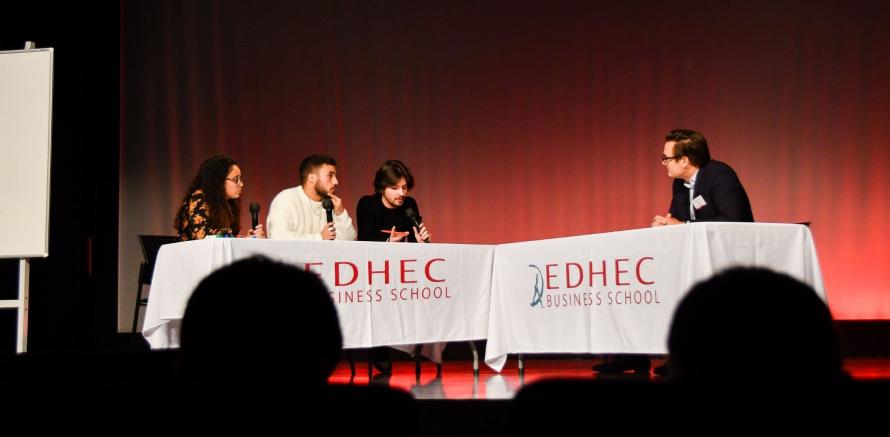 EDHEC's academic education programmes incorporate exercises devised with professionals in which theoretical knowledge is cemented by practical application. The neGO Challenge is an example of this unique learning approach: students test themselves on practical cases in tandem with companies, with the aim of better understanding the expectations of the professional world.
In March this year, the 11th edition of the neGO Challenge was held on EDHEC Business School's Lille campus. Devised jointly with negotiation professionals, the neGO Challenge project introduces Pre-Master students to the art of commercial negotiation, "something we'll always find useful, whatever the industry or profession we work in", specifies Manoelle Grenier, Pre-Master student. The project combines "theory, practical application, personalised feedback and support from specialist professionals and consultants", underlines Hager Jemel, Pedagogical Director of the project, Associate Professor of Management and Director of the Pre-Master year.
Thanks to an immersive format – participants work on the project over two consecutive days – the neGO Challenge gives students and the partner organisations involved in organising the event (Amazon, Lactalis, Bonduelle, Nature et Découvertes, Auchan Retail, P&G, etc.) the chance to work hand in hand to put together convincing negotiating arguments. A collaborative exercise that is a big hit with all stakeholders, as Hager Jemel explains: "The success of this seminar – it received satisfaction rates this year of 8.91/10 from students and 9.82 from the companies involved – reflects the experience gained from previous editions and the several improvements applied based on feedback from students and partner companies". 
The seminar is founded on "learning by doing", an innovative approach that makes students agents in their own learning, "by confronting them with the practical realities of business, through cases extracted from the day-to-day experience of the prestigious companies that have participated since the first edition", explains Marie Djemmali, Corporate Relations Manager within the Employer Engagement team and Director of the neGO! project. Students are placed in a wide variety of situations that project them into the business world, and require them to assume the roles of buyer and seller in turn.  Negotiations might focus on introducing a drinks brand to a new country, deciding the terms of a partnership to create a connected accessory or agreeing the launch of a new range of beauty items with a partner. 
The aim of the exercise is to teach students to overcome points of discord with their negotiating partner and to build a discourse geared to reaching agreement. "As negotiating professionals, Paul-Henri Plantevin and myself focused on training students in the best negotiation techniques, so as to get them to use their skills to reach agreements that are beneficial for both buyer and seller, by finding common ground in a spirit of mutual respect", emphasises Jean-Maxence Belquin, negotiation consultant, graduate of EDHEC and co-designer of the neGO Challenge.
For more info: see the special neGO Challenge page