New academic year: societal issues and expanded student services
EDHEC Business School chose to devote the first days of the new academic year for all programmes to two major subjects of society.
Reading time :
13 Oct 2022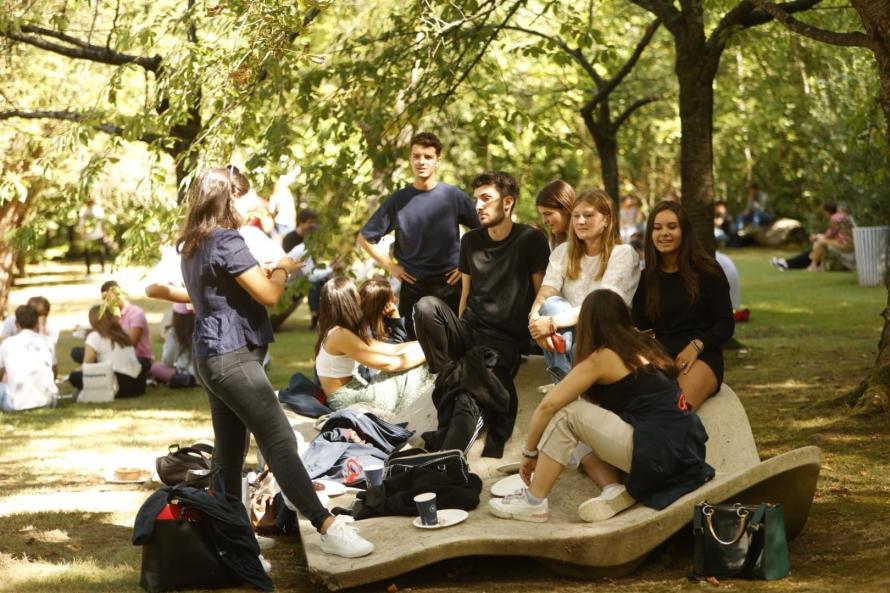 The first, the fight against sexual and gender-based violence (SGBV), was tackled through a full day of activities that included a seminar and an innovative educational tool - "Act and Stop SGBV!" - developed by the Diversity & Inclusion Chair led by by Hager Jemel and designed for both Pre-Master students in Lille and EDHEC International BBA students in Nice and Lille.
The second key subject for the new academic year was the fight against climate change. Pre-Master students notably participated in the "Fresque du Climat" workshop designed to enhance their knowledge of climate change subjects. They also took part in the fifth edition of the EDHEC hackathon – focusing this time round on the theme of plastic food packaging – as well as the Sustainable Campus Challenge, which seeks to raise students' awareness of environmental issues linked to their campus. Regarding the EDHEC International BBA, the start to the year featured the final awards event for the BBA's Sustainable Impact Projects (SIPs) held on the School's Nice and Lille campuses. SIPs are flagship projects in the first year of the BBA that require students to work in groups throughout the year on problems related to societal issues. A selection of stand-out solutions (including Happiness 4 Kids, an initiative to help children suffering from cancer, and Body & Green, focused on ecological bathrooms) were presented to each new BBA class and a jury comprising EDHEC alumni and professionals. After assessing the quality of the projects, the jury awarded prizes for the best SIPs (in Lille, the prize went to the Raiseaux association and its project aimed at  financing the rehabilitation of a water point in the town of Markounda in the Central African Republic).
The new academic year for the EDHEC International BBA also stood out for its internationality - with some 72 nationalities represented in the new class year – as well as for the arrival of the first class year of the BBA in Digital Engineering & Management, the double degree run in partnership with the Technological University of Compiègne (UTC).
Lastly, EDHEC also opened the year by bolstering its support and prevention policy devoted to the health and well-being of students. The range of services offered to students on campus was expanded via the nomination of a staff member to act as the prime point of contact for health matters and for handicapped students, the creation of a platform to report sexual and gender-based violence, the regular presence on campus of a general doctor and a psychologist, the creation of a "nightline" listening service and monthly on-campus consultation sessions from an expert on alcohol-related questions.