THE ECONOMETRIC SOCIETY - NORTH AMERICA SUMMER MEETING - June 2018
Two EDHEC PhD in Finance alumni Andrea Tarelli, PhD (2014) and François Cocquemas, PhD (2016) will present a paper at the North American Summer Meeting of the Econometric Society (June 21-24, 2018 in…
Reading time :
19 Jun 2018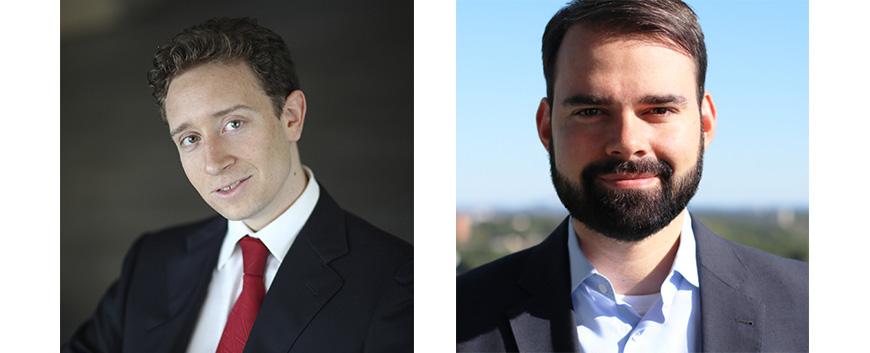 Two EDHEC PhD in Finance alumni Andrea Tarelli, PhD (2014) and François Cocquemas, PhD (2016) will present a paper at the North American Summer Meeting of the Econometric Society (June 21-24, 2018 in Davis, California), respectively entitled "Money illusion: A rationale for the TIPS puzzle" co-authored with Abraham Lioui (EDHEC), and "The Term Structure of Securities Lending Fees". The Econometric Society is an international society for the advancement of economic theory in its relation to statistics and mathematics.
François's paper was recently presented at the EDHEC PhD IN FINANCE FORUM in London. Andrea will also be speaker at the following summer conferences:
- EFMA Annual Conference (June 27-30, 2018, Milan, Italy)
- 29th European Summer Symposium in Financial Markets (July 16-27, 2018 - CEPR Study Center Gerzensee, Switzerland)
- Research in Behavioral Finance Conference (September 20-21, 2018, Amsterdam, Netherlands)
Both graduates have joined academia. Andrea Tarelli is currently Assistant Professor at the Catholic University of Milan in the department of Mathematical Science, Mathematical Finance and Econometrics (Italy); François Cocquemas is Postdoctoral Research Scholar at Vanderbilt University, Owen GSM in Nashville (USA).
Full programme of the Econometric Society Summer Meeting is available here.
Paper abstracts: Andrea Tarelli and Francois Cocquemas