Open innovation 2019
A team of five exchange students has won EDHEC's Open Innovation challenge 2019, in which students have the unique experience of trying to solve a problem by working closely with company experts…
Reading time :
7 May 2019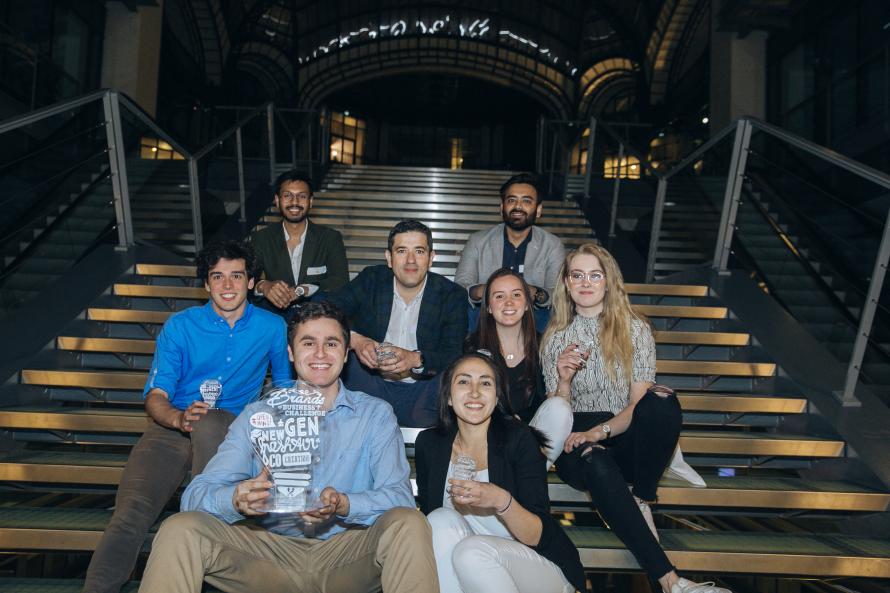 A team of five exchange students has won EDHEC's Open Innovation challenge 2019, in which students have the unique experience of trying to solve a problem by working closely with company experts.  
Open Innovation is a challenge in design thinking and test-and-learn methods, which gives 700 year-one Master's students a hands-on opportunity to experience the different phases of corporate inspiration, ideation and iteration alongside professionals from one of EDHEC's 24 corporate challenge partners. The students work in teams and the goal is to submit an impactful, innovative solution to a challenge set by EDHEC's professors and partner companies.
Hands-on experience
Students commit to the Open Innovation creative process for several months, working with each other, with EDHEC's professors and their allocated companies. This year, there were 140 teams to start with. These were gradually whittled down to eight teams for the final in Paris.
Lactalis team members Sandra Daniella Figueroa Lizarzaburu (Peru), Paolo Ghio Aspauza (Peru), Alejandra Patricia Campos de la Puente (Peru), Romy Bongers (The Netherlands) and Javier Román Federico (Argentina) emerged the winners. The question they had to solve for the global dairy industry leader: "How can we make Millennials like milk?"
"It was an amazing learning experience," says Paolo Ghio Aspauza. "We co-created the project with the Lactalis manager we worked with. We felt empowered. The challenge conditions are very close to working in the real world. The problem-solving skills we developed will be useful in the field of consulting and tech that I am aiming for."
The students embraced the opportunity to learn in a different way and apply their acquired knowledge. "It's very different from what we are used to in Peru where there is a strong theoretical focus," says Sandra Daniella Figueroa Lizarzaburu. "The challenge gave me the opportunity to apply all that I had learnt in marketing at Universidad del Pacifico, as well as the communication skills I had acquired with the Peruvian Debating Society, to gain knowledge of the French market and culture."
Several of the participants said the challenge had changed the way they looked at innovation: that it does not always have to be tech-related, merely solution-oriented.
So what was the recipe for the Lactalis team's success?
"Work hard, be consistent, dedicated and visualise your goal," advises Paolo. "Use positive leadership and team work. To shine and be a really high-performing team, you need to help everyone to be the best version of themselves by giving each a key role they feel comfortable with. Improve your oratory skills. Enjoy the process. All this will pay off!"
Pay off and surprise, it would seem. "I came at EDHEC to learn; I did not expect to win a competition organised by one of the best business schools in the world!" concludes Sandra.
Winning EDHEC's Open Innovation also opens doors: the winning team members were offered internship opportunities.