President of ProLogium Europe shares "how to make a sustainable concept into a global project" in the master in sustainable business
With over 30 years of extensive experience in the automotive sector worldwide, Gilles Normand, an EDHEC alumnus from the Class of 1986 and the President of ProLogium Europe, had the pleasure of returning to EDHEC's Lille campus as a guest lecturer for the sustainable automotive module of the MSc in Global & Sustainable Business. 
Reading time :
9 Nov 2023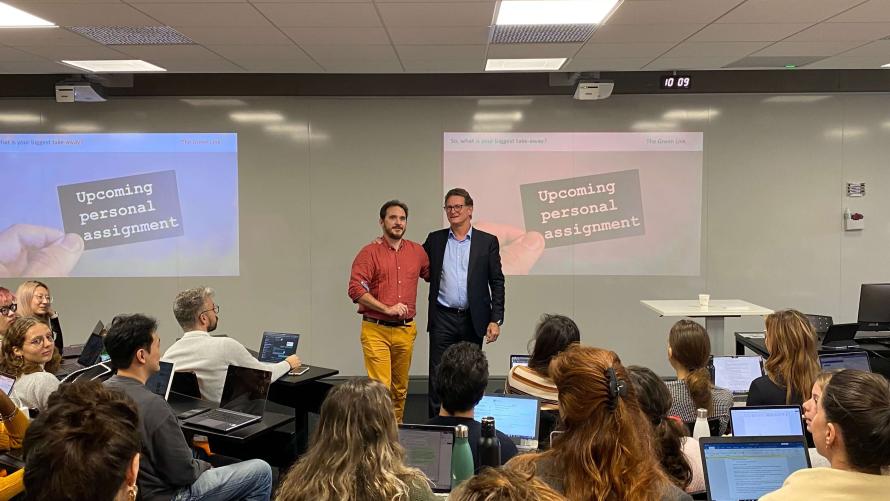 Can you tell me about ProLogium
Founded in 2006, ProLogium is an energy innovation firm focused on the R&D and manufacturing of next-generation battery solutions for EV, consumer, and industrial applications. Its proprietary technologies cover more than 690 (applied and awarded) patents globally.
ProLogium has demonstrated its commercial capabilities through its automated pilot production line, with which it has shipped nearly 8,000 solid-state battery sample cells to international automotive OEMs for testing and module development.  Its first large scale demonstration production line in Taoyuan, Taiwan will start operations by the end of 2023, which will help accelerate the company's capacity expansion in major global markets. 
What topics did you address in the master in sustainable business?
During the course, I discussed the recognition of sustainability as a global awareness within our Earth's community. Successfully transforming the pursuit of "globalised sustainability" into a real business project and implementing it as a localised operational project will require a very meticulous and thoughtful preparatory process. 
This will engage us to discover and realise a project from the perspectives of global market evolution, geopolitical subjects, customer needs, regulatory transformation and modifications on industrial policies and financial aides in different countries / continents, by taking into serious consideration about what contributes to a sustainable future on the earth and in our human world.
What specific assignments will students in the master in sustainable business be asked to work on?
The students will be tasked with a personal assignment: what are the greatest insights shared by Gilles Normand they believe can support the European climate goals for automotive and transportation.
What do you hope students will to take away from your visit?
My aim is that students enrolled in the master in sustainable business will know how to make a sustainable concept into a global project.  Such concept, born as a seed, could grow effectively into a REAL business project locally implemented on a site through conducting a profound analysis on global market dynamics, geopolitical context, actual user experiences and aspirations, industrial transformation, governmental policies on industrial regulations and financial aides.  In another word, a concept of being ¨Global + Sustainable¨ could be achieved as a ¨Local¨ business project creating sustainable benefits to our global humanity. ´Global + Sustainable = Local´. 
Mr. Lebelle, can you tell us why it was beneficial to have Gilles Normand participate in the Master in Sustainable Business class on automotive sustainability?
Gilles delivered a captivating keynote on how bold and ambitious players in the battery space can take advantage of global opportunities linked to the transition to Electric Vehicles, while at the same time sustainability is embedded in their production sites selection and manufacturing process. His keynote provided valuable industry player insights to students in the MSc in Global and Sustainable Business, equipping them with yet additional practical knowledge they will surely leverage in their future jobs.