Professor Daniel Mantilla is appointed to the advisory board of CCADI
Taking into account his trajectory and experience in the matter, CCADI has appointed Prof. Daniel Mantilla-Garcia, EDHEC PhD (2011), Assistant Professor of Finance at the Universidad de los Andes and…
Reading time :
24 Jun 2020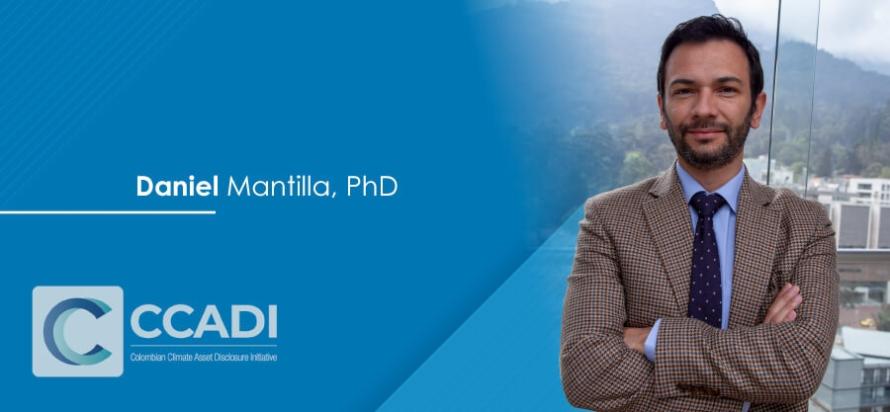 Taking into account his trajectory and experience in the matter, CCADI has appointed Prof. Daniel Mantilla-Garcia, EDHEC PhD (2011), Assistant Professor of Finance at the Universidad de los Andes and research associate at EDHEC-Risk Institute as member of its advisory board.
The think tank Transforma, with the support from the British Department for Business, Energy and Industry – Partnering for Accelerated Climate Transitions (UK PACT) – International Climate Finance (ICF) – and  the British Embassy in Colombia, are developing the project Colombian Climate Asset Disclosure Initiative (CCADI), which objective is that institutional investors incorporate climate change considerations in their business strategy and investment policies.
CCADI is a multi-year initiative that promotes climate smart investments, and involves investors, the government and civil society to advance in this purpose.
CCADI has an advisory board that provides recommendations and guidelines to the initiative. The advisory board counts members from the Colombian Government, the financial sector, academia and international organizations.
CCADI and similar Asset Owners Disclosure Projects are extremely important initiatives in our time. We will be working to help institutional investors make their investments ever more sustainable, and have the positive impact that the world needs.
Daniel Mantilla-Garcia, EDHEC PhD 2011, EDHEC-Risk Institute Associate Researcher
Daniel Mantilla recently published an EDHEC-Risk Institute Working Paper entitled "Assets' Correlation Implications for Portfolio Insurance Strategies Performance" where he explores the implications of taking into account the expected co-movements of the performance-seeking asset (PSA) and the benchmark asset for the estimation of the multiplier upper bound.
He also published a research paper "From Defined-Contribution Towards Target-Income Retirement Systems" together with Miguel Martinez-Carrasco, Manuel Enrique Garcia Huitron and Arun Muralidhar. Severe market downturns have put in evidence the need for more effective practices to control losses of retirement income for pension funds' investors. They address these shortcomings by (i) developing performance metrics, such as DC funding-ratios, that foster appropriate incentives for pension fund managers and more sensible and simple reporting to their investors, (ii) introducing a series of asset allocation rules designed to secure a minimum level of target-income in retirement regardless of the returns of the risky assets in the portfolio.
Daniel Mantilla-Garcia is Assistant Professor of Finance at the Universidad de los Andes, in the School of Management in Bogota, Colombia and research associate at Edhec-Risk Institute in Nice, France. From 2014 to 2017, he worked as head of research at Optimal Asset Management, in Los Altos California. His work there focused on designing efficient "smart beta" and factorinvesting strategies of stocks and ETF-based equity portfolios. Daniel previously headed the R&D department of Koris International in Sophia-Antipolis, France, from 2010 to 2014, where he lead a team of researchers in the development of dynamic asset allocation strategies for institutional investors. Before that, he worked as a research assistant at EDHEC-Risk Institute during his doctoral studies. Daniel's research has also focused on studying idiosyncratic volatility and return predictability in the stock market, and his research has been published in academic and practitioner journals such as the Journal of Financial and Quantitative Analysis, the Journal of Investment Management, and Algorithmic Finance. Daniel holds a PhD in Finance from EDHEC, France, a Master's Degree in Risk & Asset Management (EDHEC) and an Industrial Engineering Degree with a major in Statistics and Operations Research and options in Economics and Applied Mathematics from the Universidad de los Andes.