Professor Gianfrate, contributing scientist of the IPCC report on climate change
The Intergovernmental Panel on Climate Change (IPCC) released its latest Climate Report on February 28: Climate Change 2022: Impacts, Adaptation and Vulnerability The IPCC is the international body…
Reading time :
2 Mar 2022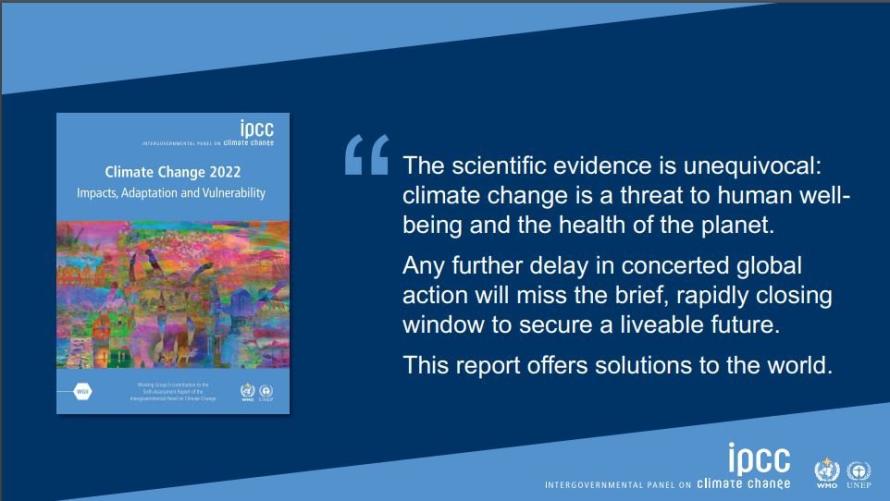 The Intergovernmental Panel on Climate Change (IPCC) released its latest Climate Report on February 28: Climate Change 2022: Impacts, Adaptation and Vulnerability
The IPCC is the international body for assessing the science related to climate change. The IPCC was set up in 1988 by the World Meteorological Organization (WMO) and United Nations Environment Programme (UNEP) to provide policymakers with regular assessments of the scientific basis of climate change, its impacts and future risks, and options for adaptation and mitigation.
The IPCC has been awarded the Nobel Peace Prize 2007, jointly with Albert Arnold (Al) Gore Jr. "for their efforts to build up and disseminate greater knowledge about man-made climate change, and to lay the foundations for the measures that are needed to counteract such change."
The Working Group II contribution to the Sixth Assessment Report assesses the impacts of climate change, looking at ecosystems, biodiversity, and human communities at global and regional levels. It also reviews vulnerabilities and the capacities and limits of the natural world and human societies to adapt to climate change.
More than 270 scientists from 67 countries have contributed to the report, which references 34,000 scientific papers.
We are very proud to have Gianfranco Gianfrate, Professor of Finance, EDHEC Business School and EDHEC-Risk expert on ESG and sustainable finance as one of the contributing scientists of the IPCC report. He has been in charge of the section on the role of finance to address climate change.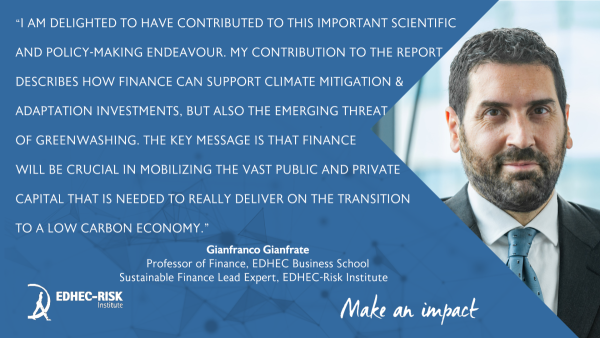 Some important takeaways of the report :
Impacts are magnified in cities where more than half the world's population lives;

3.3 – 3.6 billion people live in hotspots of high vulnerability to climate change;

Action on adaptation has increased but progress is uneven and we are not adapting fast enough;

 There are options we can take to reduce the risks to people and nature;

To avoid mounting losses, urgent action is required to adapt to climate change. At the same time, it is essential to make rapid, deep cuts in greenhouse gas emissions to keep the maximum number of adaptation options open;

Climate resilient development is already challenging at current global warming levels. The prospects will become further limited if warming exceeds 1.5°C and may not be possible if warming exceeds 2°C;

Countries must submit more ambitious climate plans before COP 27, which taken together must point towards a 50% emissions cut by 2030.
In video : What is the Sixth Assessment Report?
"This report is a dire warning about the consequences of inaction," said Hoesung Lee, Chair of the IPCC. "It shows that climate change is a grave and mounting threat to our wellbeing and a healthy planet. Our actions today will shape how people adapt and nature responds to increasing climate risks."
You can access here the summary for policy makers 
You can access here the full report