QS confirms the excellence of EDHEC's Global MBA and MSc in Marketing Management programmes and ranks them among the most competitive in the world
The EDHEC Global MBA continues to perform EDHEC's international programme of excellence ranks in the Top 15% of the best full-time MBAs in the world, according to Quacquarelli Symonds (QS). For the…
Reading time :
10 Sep 2021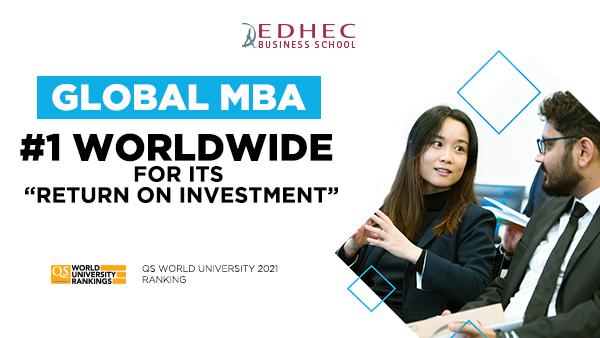 EDHEC's international programme of excellence ranks in the Top 15% of the best full-time MBAs in the world, according to Quacquarelli Symonds (QS).
 
For the second consecutive year, EDHEC's Global MBA is recognised as the best in the world for return on investment by QS, which assesses 286 full-time MBA programmes worldwide.
 
EDHEC's Global MBA programme is an intense and highly personalised educational experience that enables participants to advance or completely transform their career. During the 10-month programme, participants receive continuous and comprehensive support from a team of leadership and career experts, and benefit from a global network of 50,000 alumni.
 
The programme is consistently recognised for its diversity: the current cohort of 68 participants is 46% female and represents more than 30 nationalities.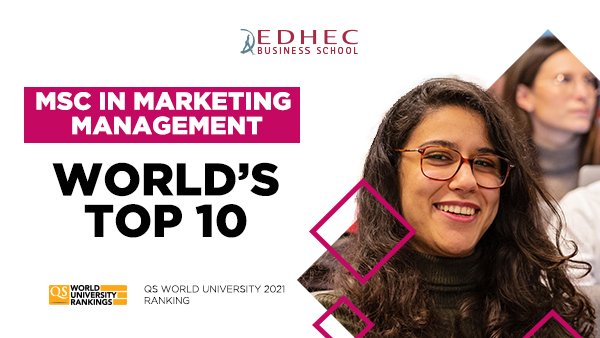 The programme is ranked among the world's Top 10 best Masters in Marketing, maintaining its position in an increasingly competitive market.
The MSc in Marketing Management prepares for marketing careers around the world and pleased to welcome new programme director Hua (Ariel) LI, PhD this year.  
EDHEC, attentive to market expectations and evolutions, is expanding its offer in Marketing with a new MSc in Marketing Analytics from the start of the 2022 academic year.
9th out of 105 internationally ranked schools, the MSc in Marketing Management at EDHEC maintains recognized excellence, and ranks 3rd for the "value for money" criterion.
"This QS ranking distinguishes once again two of our flagship programmes, the Global MBA and the MSc in Marketing Management, and attests to their excellence and their relevance to the needs of business and society today. The EDHEC brand thus continues to shine around the world through its professors and graduates", explains Benoit Arnaud, Dean of Programmes at EDHEC Business School
Discover the QS 2021 MSC in Marketing Management and Global MBA