Reflecting back on 2019: Here's what you missed
We kicked off the year announcing two new scholarship opportunities for MBA students. In the spring, EDHEC partnered with TechCrunch to host a hackathon at Vivatech in Paris. But Vivatech wasn't the…
Reading time :
24 Jan 2020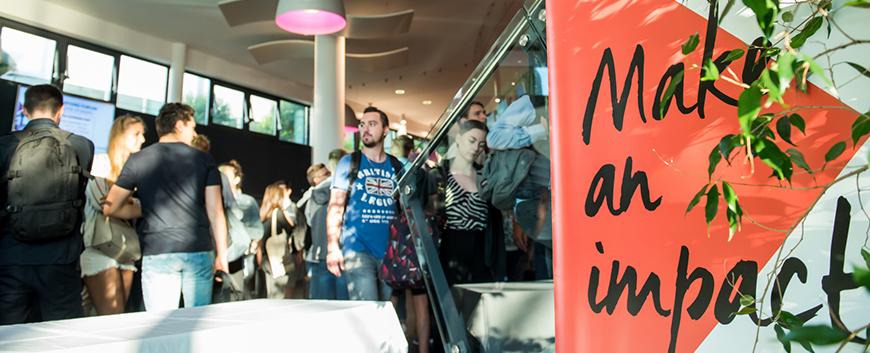 We kicked off the year announcing two new scholarship opportunities for MBA students. In the spring, EDHEC partnered with TechCrunch to host a hackathon at Vivatech in Paris. But Vivatech wasn't the only event EDHEC was involved in. Others included HR Congress in Nice and the Cannes Women in Tech Awards. Let's not forget the comically named and globally practised, F*ckup Night, where EDHEC students and alumni eloquently shared their most epic professional failures and how they overcame these challenges to grow from their mistakes. 
Students kept busy with school work and their MBA class clubs, like when EDHEC's Gender Diversity club welcomed IBM to discuss the glass ceiling over breakfast. A few weeks later, the same club sat SAP down for brunch to chat about gender equality. The MBA Entrepreneurship club welcomed a Forbes Under 30 listmaker and the Social Impact Club launched a newsletter to spread the word about sustainability. 
EDHEC took a stand to support sustainability in 2019. The annual MBA Refresher Event took a deeper look at climate change when nearly 100 attendees gathered on the French Riviera to discuss our green future. Sustainability has become a focus for many MBA students, like this recent alumnus story transitioning from superyachts to sustainable startup or during the annual MBA class trip to South Africa.
MBA students went on learning expeditions around the globe from San Francisco to Singapore where they visited globally recognised companies like Schneider Electric, Amazon, Google, IBM, Plug and Play and Unilever.
Speaking of big brands, others like Microsoft and UBER stepped on campus for career and industry events. Then, those interested in finance pursued their passion at EDHEC's Finance Career Day where companies like Accenture, Citi, MARS, S&P Global, Deloitte, and Bloomberg came to meet and interact with students.
EDHEC hosted guest speakers from a wide range of industries. From VC and blockchains with LeadBlock Partners to collaborating with Amazon, PMI and data4 to travel with Accor and Amadeus. These presentations were a nice compliment to CareerSMART week - a time dedicated to getting MBA's ready to take the next step in their careers! This prep week concluded with alumni returning to campus to share their journeys, then round table discussions to foster networking and personal conversations for attendees.
In September, EDHEC welcomed over 80 new Global MBA candidates from 33 different countries in an orientation day held at a local vineyard to give our new class a true taste of the south of France. Then, the class elected their class representatives. They're ready to #MakeAnImpact, especially with their view of the world's biggest issues.
Last year was packed with events and highlights making it an unforgettable and valuable year for Global MBA students. It's safe to say their ROI of the programme was positive. Seriously - QS World University Rankings awarded EDHEC's GMBA Top 10 in the world for ROI. Cheers to 2019 and let's look forward to what's next in 2020!
What was your favourite memory? Join in the conversation using #YourMBAStory.