Researching France: hands-on approach to doing business in France
Niels van Meurs is a Dutch exchange student, coming from Maastricht University School of Business. He chose EDHEC and its Master in Management, Financial Economics track. He tells us all about his…
Reading time :
10 Apr 2019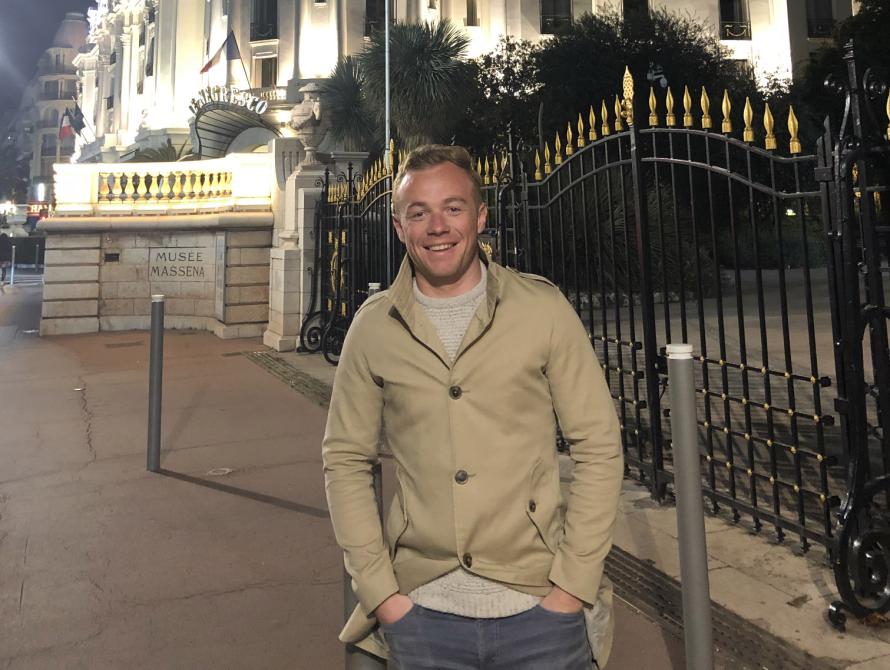 Niels van Meurs is a Dutch exchange student, coming from Maastricht University School of Business. He chose EDHEC and its Master in Management, Financial Economics track. He tells us all about his choice and a specifically tailored course called Researching France, offered only to international exchange students.
WHERE ARE YOU FROM? WHAT UNIVERSITY? WHAT'S YOUR FIELD OF STUDY?
I'm from Maastricht University School of Business and Economics where I studied for a Bachelor's degree in International Business with a major in Strategy. At Maastricht University, the teaching is based on problem-solving more than on lectures. We learn about a specific topic by researching, making presentations, having group discussions... It helps us acquire skills such as having or leading a good meeting, sharing knowledge, fine-tuning arguments.  
WHY CHOSE EDHEC FOR THE EXCHANGE? WHAT TRACK ARE YOU IN AT EDHEC?
I chose EDHEC because I wanted to gain knowledge in finance and it was the best place to do so! I also wanted to learn French, that I consider a valuable asset. And finally, I chose EDHEC for its Nice campus. Nice is a very beautiful city. You can enjoy nature and work hard!
WHAT IS RESEARCHING FRANCE? WHAT IS THE PROJECT? WHAT ARE THE OBJECTIVES? HOW IS THIS CLASS ORGANISED?
In "Researching France", we, international students on exchange, are doing an audit of the gift shops for Le Musée Massena, a local museum owned by the city of Nice, which presents the history of Nice in the 19th Century.  We checked their accounting, looked at their merchandising, observed customers' behaviour. Each group of students comes up with a strategy using international benchmarks from museums around the world to help find ways to stimulate their sales.
I enjoyed the discovery of the culture and applied my knowledge to a real case in the context of public service. Our group is made of students from different universities; we all bring different perspectives and expertise to the course and the case. We also had to take into account bureaucracy, which can put boundaries to the museum's creativity. Professor Anne Witte guided us through this journey, giving us literature to read, teaching us about different approaches to culture in several countries... Hopefully, when we come back to the museum in a couple of years, we will discover that they implemented our strategy!
WHAT IS THE MAIN TAKEAWAY OF THIS COURSE?
I gained insights on the French business climate and also, about its culture.
WHAT DO YOU THINK OF THIS ACADEMIC EXPERIENCE?
Being out of your comfort zone is a very good experience. You have to adapt to a different country, a different culture. But you adapt quickly and you finally feel at home! You get a better overview of a country but living it to the fullest. The Nice campus offers a beautiful environment to study hard with high-level professors.
HOW HAS THIS EXPERIENCE CHANGED THE WAY YOU SEE BUSINESS IN FRANCE?
I have learned a lot about the luxury business. France is the worldwide leader. I also got familiar with the interaction between research and tech companies through the cluster, Sophia Antipolis. We have approached real-life examples. And of course, being a Financial Economics track student at EDHEC, I have acquired knowledge from top-notched professors in finance which was a clear goal for me: complete my curriculum at Maastricht University, work in the field of finance and later on, start my own company.
Related resources:
Meet Yejing Mao, MSc in Corporate Finance & Banking
New double degree in Sustainable Finance
Meet Baihe Li, EDHEC MIM Financial Economics Alumna
Meet Gaurav Kalair, EDHEC MSc in Finance Alumnus
EDHEC Business School: A great location to study Finance 
Meet Hady Saad, MSc in Financial Markets
Getting virtual career advice on Sustainable Finance trends 
Why I chose to join a research-oriented elective at EDHEC
Meet Martin Benzing, MSc in Finance Alumnus
The CFA Institute: a premier academic partner for EDHEC Financial Economics programme
Meet Nelli Ramazyan, MSc in Risk & Finance Alumna
Women in Finance initiative: a quest towards an equal opportunity and inclusive growth
EDHEC Business School offers a new double degree in finance 
New partnership to train Master students in Entrepreneurial Finance