For scholarships: apply early
What is your background prior to EDHEC? I come from Mexico where I studied industrial engineering. After completing my industrial engineering studies at Tecnológico de Monterrey, I started working at…
Reading time :
24 Nov 2020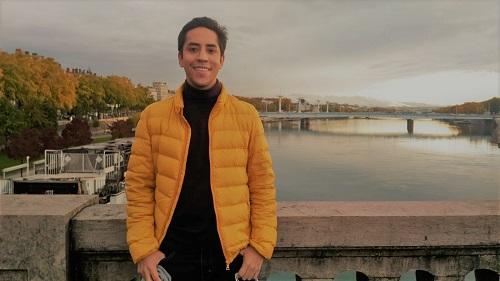 What is your background prior to EDHEC? 
I come from Mexico where I studied industrial engineering. After completing my industrial engineering studies at Tecnológico de Monterrey, I started working at General Electric for almost six years. I was working as a Commercial Manager negotiating long term contracts in the power generation industry. I worked in Mexico at the beginning, then I moved to the US and Switzerland and then again back to Mexico. So I lived in a few places! But most recently I was working in Mexico City. 
During my time at General Electric, I realised that it was time for me to change and pursue my dream of improving the lives of the elderly. I want to spend my personal and professional life finding ways to improve the lives of the ageing population. I believe there are many ways to keep the "old generation" mentally and physically active, avoid loneliness and increase their happiness. I looked for programmes where I could use both my business and engineering background and towards a social innovation field. I chose EDHEC MSc in Creative Business & Social Innnovation because I felt it was a more hands-on programme. A MSc that offered a perfect balance between business and social innovation classes.
Where does your project of helping the elderly come from? 
It actually comes from my grandmother. We are very close. In the past 10 years, I have seen her growing old.  I've noticed how she's unable to do certain things, how her social life has been reduced to just talking to a few people. But she's always like super positive! She always finds joy in small little things. All of this inspires me to launch a company in the silver economy.
You received the Eiffel scholarship, what can you tell us about it? 
I'm fortunate to say that I was awarded the Eiffel scholarship. When I applied to EDHEC last year, the International Admissions team told me that I had a profile that could be fit for applying to the Eiffel Scholarship. So I filled out my application and the team sent my profile. Being awarded this scholarship was such a great honor.
I think my background and my purpose were a plus in my application.
Any advice for students who would like to apply to this prestigious scholarship?
I'd say that you need to be very authentic with everyone you talk to, for example, when you apply to EDHEC or when you apply to the scholarship. You need to be authentic on why you are starting this, on what is your purpose, and on who you are. Be genuine!
I applied early the last year and I think that actually helped me too. "Early bird, gets the worm". We live in a very competitive world, so being accepted early at EDHEC helped me to focus my attention on the scholarship application, to continue preparing myself, save money from work and just get ready for this year.
What are the main takeaways so far? 
This particular year taught me that there are things that you cannot control and I have been focusing on the things that I can control and make the best of them. As for the MSc itself, it's great to meet people with so many different backgrounds and different purposes. During classes and team works, you get a different perspective every time. That's something that I'm really enjoying from this Master of Science.
How are you experiencing this lockdown period?
I arrived in Lille in mid-September and took every opportunity to talk to people, make new friends. Besides working on different projects with some of my friends and fellow peers, I keep in touch with them, we sometimes play online games with some of them and chat. One of my friends from the MSc started a November challenge on Instagram. She challenges us to do one different activity every day to remain positive and optimistic like go for a 30-minute walk, try a new sport activity… So I feel very connected despite the situation.
How does studying at EDHEC differ from studying in Mexico?
The school is definitely more international. At EDHEC, I feel professors are completely involved in professional activity, so they provide us with precious insights from their industries. Something I find different from Mexico is the career services. EDHEC Career Centre is super involved with students since day one. I really feel that EDHEC is doing a great job in preparing students to get a job. The resources they have online are huge. The Career Centre has one-year plan and tasks we need to achieve each month. They help us fine-tune our project.
What are your job aspirations?
I have two 2 main objectives: a short term objective and a mid-term objective. Right after graduating from this Master's, I would like to work in the social entrepreneurship field in France and perfect my skills in French. Eventually, I will go back to Mexico to launch my social innovation company that focuses on the elderly.