TEDxEDHEC 2019 : Dream, Dare, Do
On April 3rd 2019 took place the TEDxEDHEC, the independently organized TED event, at the Lille EDHEC campus. Brought by a team of 25 EDHEC students, it was open to all and the auditorium was pretty…
Reading time :
5 Apr 2019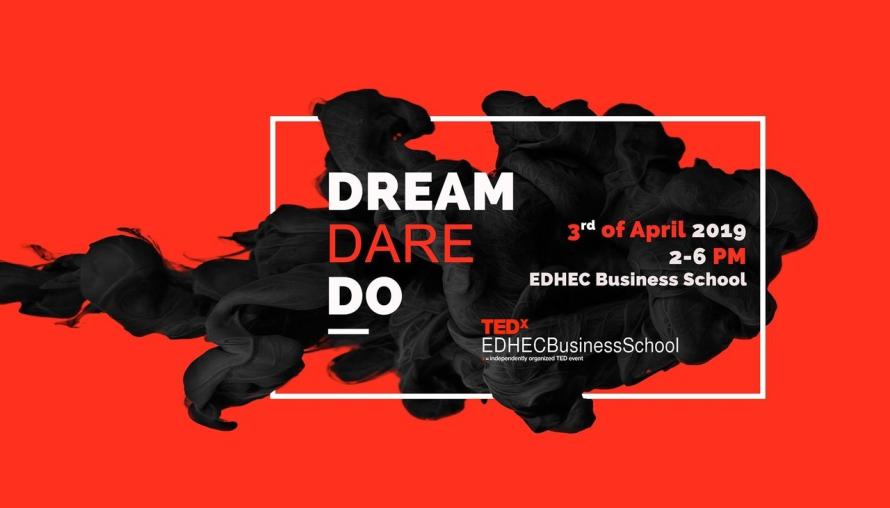 On April 3rd 2019 took place the TEDxEDHEC, the independently organized TED event, at the Lille EDHEC campus. Brought by a team of 25 EDHEC students, it was open to all and the auditorium was pretty full !
TEDxEDHEC 2019: Dream, Dare, Do.
This year's edition gathered 8 speakers who expressed their views on stage about the theme "Dream, Dare, Do". As entrepreneurs, leaders, business founders, professors and EDHEC students, they shared with us the importance of fundamental values: commitment, curiosity and courage. To present the speeches, EDHEC students Ananya Singh Rajpoot and Marco Vecchiato were the animators for the day. Between each TED talk, piano artist Juliette Cahn brought a sensible and delicate atmosphere in the auditorium.
Shirley Liu, Vice President at L'Oréal explained how being a mentor changed her perspective on success and life in general. Laura Lesueur, Learning Director at Manger Citoyen, convinced us on the importance and urgency of consuming differently, and how it impacts our lives, now and in the near future.
EDHEC Professor Bertrand Monnet, Head of the Criminal Risks Management Chair, took us in a risky but very informative adventure: how do work criminal multinational companies? How do they create value? Why is it so hard to tackle them?
We left the event more knowlegeable and with the willingness to know more about the speakers and their stories, as well as more equiped and motivated to make our ideas come true.
Stay tuned: the videos of the speeches will be released soon on the EDHEC and TEDx Talks Youtube channels.
We hope this event inspired you all, see you next year!