"There is no limit to where this degree can take you"
Aditi Mishra, Master in Management, Financial Economics track student is the recipient of the Co-Financed Scholarship, a scheme put in place between EDHEC and the French embassy in India to talented…
Reading time :
29 Apr 2019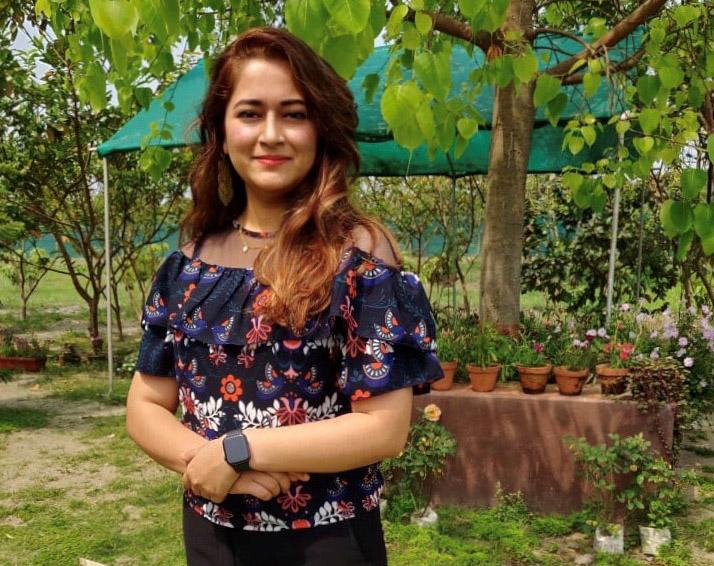 Aditi Mishra, Master in Management, Financial Economics track student is the recipient of the Co-Financed Scholarship, a scheme put in place between EDHEC and the French embassy in India to talented Indian students wanting to join EDHEC for a Master programme. She shares her journey with us from Delhi to Nice and now, London. 
WHAT IS YOUR EDUCATIONAL BACKGROUND PRIOR TO EDHEC?
I have a BCom(Hons) degree from Lady Shri Ram College, University of Delhi. I have also done summer schools with Kings College London and National University of Singapore in International Political Economy and Economics & Entrepreneurship, respectively.
WHY DID YOU CHOOSE EDHEC?
My undergraduate school had a partnership with EDHEC so I was aware of the kind of opportunities a degree from EDHEC exposes its students to. The unparalleled emphasis on making students ready for 'the real world' through case studies and bringing in faculty with professional experience is another reason. EDHEC is globally renowned for its education and has been consistently ranked as one of the top institutes for finance, so it really draws out "la crème de la crème" – this poised EDHEC to give me a unique opportunity to study alongside some of the smartest brains while enjoying the socio-cultural facilities of beautiful Nice.
In short, EDHEC was my natural choice for my Master's degree.
ARE YOU INVOLVED IN A STUDENT ASSOCIATION? WHAT ROLE DOES THIS INVOLVEMENT PLAY IN YOUR EDHEC EXPERIENCE?
I am involved with Develop, an association that focuses on Social Business. As I have always been passionate about bringing social impact through entrepreneurship (and was involved in associations working in the same space during my undergraduate studies as well), I was very excited to be a part of Develop. Through Develop, not only have I learned more about social entrepreneurship but I have also made some amazing friends.
Apart from DEVELOP, there are a number of associations at EDHEC and I am sure that each student can find something interesting to be involved with. 
YOU ARE THE RECIPIENT OF CO-FINANCED SCHOLARSHIP. CAN YOU TELL US ABOUT IT? WOULD YOU HAVE BEEN ABLE TO COME & STUDY AT EDHEC WITHOUT IT?
The Co-Financed Scholarship is a very prestigious scholarship given to two Indian students to cover tuitions at EDHEC. The pre-requisite to be considered for this scheme is to have been accepted onto a programme at EDHEC and be awarded the EDHEC Excellence scholarship (which is, in itself an extremely prestigious award.) The Co-financed scholarship is jointly awarded by the French Embassy in India and EDHEC. All you need is a clear career objective, outstanding grades, and the desire to 'Make a difference'.
I am humbled to be a part of the prestigious group of scholars for this award, and I am thankful to EDHEC for allowing me to continue my education without having to worry about the finances. 

HOW HAS BEEN YOUR JOURNEY AT EDHEC SO FAR?
I would say that my journey so far has been full of adventures. From living on my own in a new country to attending classes taught by a globally renowned faculty to making friends with a diverse group of people, I think I have come a long way since I started at EDHEC.   
WHAT'S THE MAIN TAKEAWAY OF THE PROGRAMME?
I am the daughter of a CRPF officer, and that means that I have lived/studied in 14+ schools across 12 cities throughout my life, but, nothing really prepares you for the diversity you see at EDHEC. This means that you make friends from all across the globe and that definitely broadens your horizons. I would say that my network (current and alumni) is the main takeaway from the programme. 
WHAT ARE THE MAIN SKILLS YOU HAVE ACQUIRED? HOW USEFUL ARE THEY IN YOUR DIFFERENT INTERNSHIPS?
My previous education focused mainly on economics and finance which gave me a strong foundation to prepare for EDHEC. If I were to summarise the strength of EDHEC classes is that they prepare you for the real world.
While my technical skills and knowledge – financial modelling, VBA & Excel, trading knowledge etc have grown, so have my interpersonal and communication skills. The unique structure of the programme – one year Master in Financial Economics, followed by a professional immersion then MSc with a specialisation of your choice, really prepares you for professional and academic advantage.
The EDHEC's Career Centre is very helpful in giving constructive feedback on how to best prepare for you interviews and internships/jobs. I remember being in touch with our counselor Ms. Isis Descormiers at all steps of finding internships. In my gap year, I have been a structured products sales assistant with Market Securities (a brokerage in London), interned within the Equity Research team of Bank of America Merrill Lynch in the Infrastructure, Industrials and Power space and am an incoming summer analyst with BNP Paribas in London for its Global Markets division. I have friends who have worked in a plethora of fields, from banks and consulting firms, to fashion houses. There is no limit to where this degree can take you, and you get to choose your internships, jobs, and courses as per your liking and skillset. A number of sessions are organised throughout the year to help you prepare your resume and cover letters, to prepare for interviews and to network with professionals.
WHAT ARE YOUR EXPECTATIONS FROM THE COMING STEPS? WHAT ARE YOUR JOB ASPIRATIONS?
As of now, I am approaching the end of my professional immersion year and am quite excited to soon be a summer intern at BNB Paribas, before returning back to EDHEC to do my MSc in Corporate Finance & Banking with a specialisation in Financial Intermediation in Sept 2019. I am certain that my newly enhanced professional background has made me an asset to any financial organisation, and expect to soon join the exciting (and challenging) world of financial markets.
DO YOU HAVE ANY ADVICE FOR FUTURE EDHEC STUDENTS?
I would recommend three things. Before you start your course at EDHEC, try to put your best foot forward through your application. EDHEC offers application review services where they even recommend which course would be best suited for you. They also give you feedback on how to prepare for scholarship applications. Take advantage of this.
The best thing which EDHEC offers is the network you make. I can't stress the importance of networking. Speak with the alumni and current seniors to get a better understanding of what books to study from and how to prep for interviews and to sometimes get the referral.
You can tailor your degree per your liking. There is NO 'set path' for success and you can select, interview, and apply at any internship which you like. While this can be overwhelming at times, in the long run, it helps you grow. So be prepared to research opportunities and be prepared for a few rejections.
All in all, a degree from EDHEC will help you prepare for strong professional career and help you grow. You will make friends and memories that will last forever. Plus, Nice is one of the most beautiful places on the planet! 
Related resources:
Meet Yejing Mao, MSc in Corporate Finance & Banking
A new double degree in Sustainable Finance
Meet Baihe Li, EDHEC MIM Financial Economics Alumna
Meet Gaurav Kalair, EDHEC MSc in Finance Alumnus
EDHEC Business School: A great location to study Finance 
Meet Hady Saad, MSc in Financial Markets
Getting virtual career advice on Sustainable Finance trends 
Why I chose to join a research-oriented elective at EDHEC
Meet Martin Benzing, MSc in Finance Alumnus
The CFA Institute: a premier academic partner for EDHEC Financial Economics programme
Meet Nelli Ramazyan, MSc in Risk & Finance Alumna
Women in Finance initiative: a quest towards an equal opportunity and inclusive growth
EDHEC Business School offers a new double degree in finance 
New partnership to train Master students in Entrepreneurial Finance