Three new alumni for the EDHEC PhD in Finance programme
On 21 & 22 January 2019, three EDHEC PhD in Finance candidates (executive track), Peck Wah NG, Anmol SETHY and Marat MOLYBOGA successfully defended their doctoral thesis on the EDHEC London campus…
Reading time :
25 Jan 2019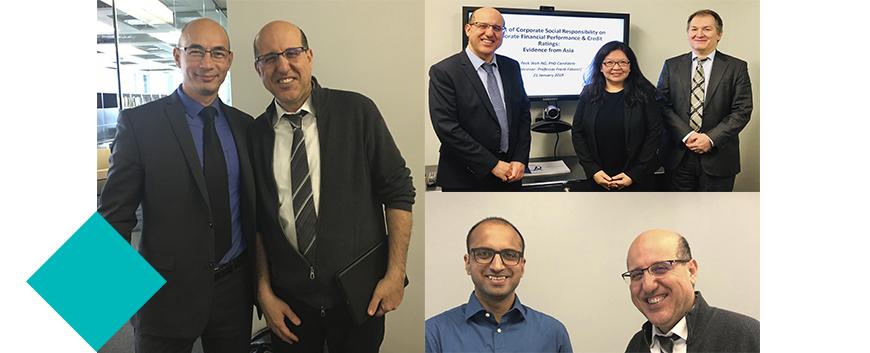 On 21 & 22 January 2019, three EDHEC PhD in Finance candidates (executive track), Peck Wah NG, Anmol SETHY and Marat MOLYBOGA successfully defended their doctoral thesis on the EDHEC London campus. 
Peck Wah Ng's thesis is entitled "Impact of Corporate Social Responsibility on Corporate Financial Performance and Credit Ratings: Evidence from Asia".
Although much has been researched in the United States and other developed countries about the correlation between Corporate Social Responsibility (CSR) and Corporate Financial Performance (CFP), Peck Wah's first paper serves to provide new insights into this relationship for firms in Asia Pacific; in particular Japan, Australia, India, Korea and Singapore using Sustainalytics' ESG database.  As one of the first Asian foray into studying the relationship between CSR and CFP for firms in Japan, the second paper provides evidence of a positive impact of CSR on credit ratings in Japan.
Peck Wah was advised by Professor Frank Fabozzi and her thesis committee also included EDHEC Business School Professor Abraham Lioui, and Professor Radu Tunaru (University of Kent) who served as external reviewer.  
Peck Wah NG has just started a new position in March 2019 as Director - Investment Banking Credit Division at MUFG Singapore, continuing her career in risk management in banking.
The second thesis, authored by Anmol Sethy is entitled "Social Factors of Financial Markets".
While substantial progress has been made on how to measure disagreement, much less is known on its origin. Anmol's study offers an interesting relationship between disagreement and trust at the country level. High trust leads to lower disagreement. The latter rarely disappears and market prices are useful to infer market consensus on important variables. His second paper shows a highly nuanced picture of CSR which is dependent on target stakeholders and difference between positive and negative CSR actions.
Anmol's thesis committee included EDHEC Business School Professors Abraham Lioui (Advisor) and Raman Uppal (Chair), and Harrison Hong, the John R. Eckel Jr. Professor of Financial Economics at Columbia University (external reviewer).
Anmol Sethy works as a Multi Asset Market Strategist at Avanda Investment Management, a Singapore-based investment firm.
Authored by Marat Molyboga, the third dissertation is entitled "Back to Basis with Investment Consultants" .
The first paper establishes a theoretical link between basis and the expected returns for each asset class of equities, fixed income, FX and commodities. The basis is high (low) when the expected returns are high (low) regardless of the asset class. In his second paper, Marat reconciles a previously unexplained discrepancy between the pervasive tendency of institutional investors to rely on consultants and an apparent inability of investment consultants to improve investment decisions as well as their tendency to recommend large funds.
Based in the United States, Marat Molyboga is the Chief Risk Officer and Director of Research at Efficient Capital Management. He is also an Adjunct Professor of Finance at the Illinois Institute of Technology Stuart School of Business. 
List of EDHEC PhD in Finance graduate theses is available here. 
Photo (from left): Dr Marat Molyboga and Prof. Abraham Lioui (EDHEC), Dr Peck Wah Ng with Prof. Lioui and Prof. Radu Tunaru (Kent University), and Dr Anmol Sethy with Prof. Lioui.​