Transformation of Law: the EDHEC Augmented Law Institute and Legal Suite sign a research and innovation partnership
The EDHEC Augmented Law Institute, EDHEC Business School's pioneering legal research and training institute, announces the signature of a partnership with Legal Suite, a leader in the field of…
Reading time :
8 Jul 2021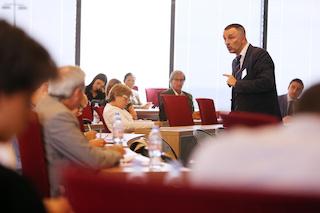 The EDHEC Augmented Law Institute, EDHEC Business School's pioneering legal research and training institute, announces the signature of a partnership with Legal Suite, a leader in the field of corporate legal technology, owned by the Septeo group. The agreement embraces several applied research projects geared to supporting and accelerating the transformation of legal departments and legal professions.
In teaming up with the EDHEC Augmented Law Institute, recognised for its expertise in the field of legal talent management, Legal Suite confirms its engagement in favour of the augmentation and transformation of legal professions, via skill assessments, upskilling and career skilling.
For Thierry Mallat, Chief Executive Officer of Legal Suite "This partnership reflects an ever-growing desire to support corporate legal departments from an overall performance and innovation perspective. By combining highly technological solutions with training and certification programmes, we want to offer our clients the most comprehensive range of solutions on the market for accelerating their digital transformation."
Applied research: a novel financing method
The agreement will involve Legal Suite financing two applied research projects - "research start-ups" - led by the EDHEC Augmented Law Institute and underpinned by an innovative financing mechanism, the BPA or private bursary for augmentation.
Granted under certain conditions by a private partner, these bursaries are a means of sponsoring a skills transformation or augmentation approach by organisations and law professionals.
"Tech & Talent - Legal Transformation" innovations
Within the partnership with Legal Suite, EDHEC's research work will lead to the development of several Tech & Talent – Legal Transformation innovations, combining technology and talent management:
A Tech & Talent - Legal Transformation Index enabling corporate legal departments to measure their performance on different criteria, obtain customised support and be certified online thanks to the Legal Suite/EDHEC BPA. By the end of 2021, legal departments will thus be able to evaluate their performance in terms of innovation. Other indices and certifications will be introduced in 2022 and 2023.
An online training programme for Augmented Legal Officers in Banking devised from a directory of skills for legal officers working in the banking industry due to be published in autumn 2021 and based on a template of skills drawn up by EDHEC. This programme will be available at the end of 2021. 100 legal officers will be able to benefit from the programme thanks to the Legal Suite/EDHEC BPA, subject to certain conditions.
"We are very pleased with this partnership between the EDHEC Augmented Law Institute and Legal Suite, which is highly ambitious and a vector of innovation. It heralds the creation of Legal Talent Techs, as an extension of Legal Techs, but placing the skills of legal officers at the centre of transformation and innovation processes. It also crystallises our desire to put our expertise to practical use outside class rooms and the academic world, through applied research projects that impact the business world and which are symptomatic of EDHEC's DNA",
explains Christophe Roquilly, Director of the EDHEC Augmented Law Institute.