Two GETT students selected by CANnovate, the first international start-up acceleration programme
You have launched NODE. What is it? Gabrielle: NODE is a live stream platform that helps give more meaning to the relationship between musical artists and their fans. Artists can share the live…
Reading time :
1 Apr 2021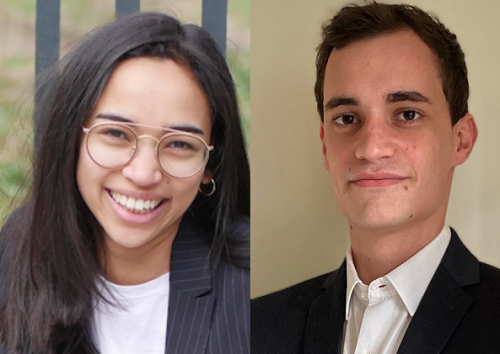 You have launched NODE. What is it?
Gabrielle: NODE is a live stream platform that helps give more meaning to the relationship between musical artists and their fans. Artists can share the live content they want: concerts, recording sessions, studio sessions, music videos… Fans can follow the daily life of their favourite artists live and interact with them and other fans through chat, badges or virtual merchandising.
Hugues: The idea behind NODE is to allow artists to have an additional source of income and to deepen the knowledge of their fanbase. NODE also allows fans to continue to support their favourite artists and share their common passion.
How did you get the idea?
Gabrielle: We are both musicians and passionate about music. Since the beginning of the Covid crisis, it has been very difficult for us to see artists struggling to get by and not being able to support them in concert. We wanted to find a way to keep in touch with them and allow them to have a stable financial source. 
Hugues: During our semester in Seoul, South Korea, we discovered that some artists stay connected with their fans through applications like Vlive or Weverse. So we thought it would be interesting to have the same kind of service in Europe and in the United States, adapted to Westerners.
Who does what in the team?
Gabrielle: We have two different profiles and bring together complementary experiences in the music industry, start-up development and website design. I take care of the product development and customer experience. I manage the design and improve the platform based on feedback from artists and fans.   
Hugues: I'm in charge of the business aspects. I am in charge of developing our artist and industry professional base. 
Gabrielle: Since our first year in Paris, the GETT programme has given us the keys to better understand the transformations that surround us and to be able to seize and evaluate the opportunities that present themselves to us. 
Hugues: For example, our project is part of the transformation of the "passion economy" that we had studied in class. In the past, in order to make a living, an artist had to have millions of fans who each brought in a few cents through advertising. Today, thanks to platforms such as Twitch or Patreon, artists only need a hundred or so people who love their work and who are each prepared to spend several dozen or even several hundred euros a month to access their content.
Gabrielle: More generally, the combined network of the three schools (EDHEC, SKK, UC Berkeley) is also a real asset for contacting professionals and developing our project. 
You have been chosen to participate in CANnovate. What is it all about? How did the selections take place? Why did you apply? 
Gabrielle: CANnovate is the first international programme that helps create a business by supporting entrepreneurs who, like us, have no technical background. CANnovate accompanies us throughout the technical development of our product through tools developed in-house and advice from developers. It is also an opportunity to share our progress with other entrepreneurs around the world and to get advice from them. 
Hugues: To apply, we first filled out a questionnaire explaining our project and our progression. Then we were selected for an interview with the CANnovate team. At the end of the interviews, only 10 start-ups were selected for an intensive 12-week programme. At the end of this programme, our team were able to present an MVP (prototype). Only 5 start-ups are then selected to continue with CANnovate in the long term. In exchange, CANnovate takes shares in the company.
You are in your final year at MIM GETT in Berkeley. What are the main benefits of being part of an entrepreneurial ecosystem and being close to Silicon Valley? 
Gabrielle: The last year at Haas School of Business at the University of California, Berkeley allowed us to immerse ourselves in the entrepreneurial world. We have entrepreneurship courses that allow us to better structure our project. 
Hugues: The state of mind of our professors and the people we met in Silicon Valley also motivate us enormously to develop our project.
Discover the MiM Global Economic Transformation & Technology