Two new theses for the EDHEC PhD in Finance Programme
On 3 June 2019, two doctoral theses were successfully defended on the EDHEC London campus. Both candidates were executive track participants of the EDHEC PhD in Finance programme. The first thesis,…
Reading time :
14 Jun 2019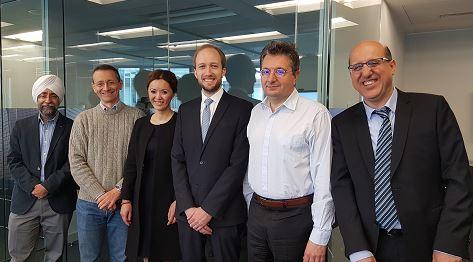 On 3 June 2019, two doctoral theses were successfully defended on the EDHEC London campus. Both candidates were executive track participants of the EDHEC PhD in Finance programme.
The first thesis, authored by Hong Sherwin, is entitled "Interpretable Liquidity Proxy in Fixed Income Markets and Application to the TIPS Market". In her first paper, Hong provides an operational definition of market and funding liquidity, and she introduces a method to create two interpretable liquidity measures. She shows that her measures of liquidity correlate strongly with related standard metrics used to capture (il)liquidity. In the second paper, she studies the relevance for pricing of these measures for US Treasury nominal bonds, inflation protected bonds (TIPS) and the inflation swap markets, under normal and stressful market conditions.
Hong was advised by Professor Riccardo Rebonato (EDHEC) and her thesis committee also included EDHEC Professor Abraham Lioui, and Professor Scott Joslin (University of Southern California) who served as external reviewer.  
Based in New York, Hong Sherwin is Director at the Financial Industry Regulatory Authority (FINRA).
The second thesis, authored by Jonathan Harris, is entitled "Climate-related finance: studies of disclosure and temperature". His first paper investigates climate-related disclosure in a comprehensive, global panel of publicly listed firms, studying a diverse set of firms, sector and geographic characteristics, as predictors of response to the largest standardized climate-related reporting portal. In his second paper, climate and stock returns are studied in the frequency domain. He concludes that there is a low-frequency 'climate' signal in US temperature, the sensitivity of returns to temperature depends on the climate regime, and the results align with historical reports of climate stress.
Jonathan's thesis committee included EDHEC Business School Professors Laurent Calvet (Advisor) and Abraham Lioui (Chair), and Federico Bandi, Johns Hopkins University (external reviewer).
Jonathan Harris is consultant in Asset Management, and Head of Portfolio Management at Maximizing Impact Project. He is based in Europe.
List of EDHEC PhD in Finance graduate theses and abstracts are available here. 
Photo (from left): Professors Raman Uppal and Riccardo Rebonato (EDHEC), Dr Hong Sherwin and Dr Jonathan Harris, Professors Laurent Calvet and Abraham Lioui (EDHEC).