List of 2021/2022 Elective Courses Unveiled
New topics for elective courses have been continuously added to the PhD in Finance programme curriculum since its inception. The programme management balances methodological electives with conceptual…
Reading time :
3 Feb 2021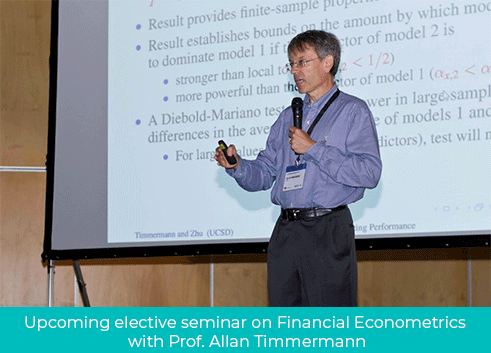 New topics for elective courses have been continuously added to the PhD in Finance programme curriculum since its inception. The programme management balances methodological electives with conceptual ones to help students keep abreast of ongoing research debates as well as cutting edge research methodologies.
Participants must take a minimum of five elective seminars in their second and third years. PhD in Finance candidates will have the privilege of learning from the world's leading specialists in these areas from top research institutions such as Chicago GSB, The Wharton School of the University of Pennsylvania, Columbia University, Duke University, Imperial College, Princeton University or Yale University.
The following topics were covered in 2020/2021: Macroeconometrics, Market Microstructure, Macroeconomics of Credit and Asset Bubbles, Non-parametric Estimation in Finance, Financial Econometrics, and Empirical Asset Pricing.
The next topics may be found below:
| | | |
| --- | --- | --- |
| Fixed Income  | Pietro Veronesi (The University of Chicago Booth School of Business)  | September 2021 |
| Data Science: Theories, Models, Algorithms, and Analytics | Sanjiv Das (Santa Clara University, Leavey School of Business) | September 2021  |
| Empirical Asset Pricing  | Stefano Giglio (Yale School of Management)  | January 2022  |
| Financial Econometrics | Allan Timmermann (University of California San Diego) | January 2022  |
| Climate Finance  | Frank X. Diebold (University of Pennsylvania)  | April 2022 |
Each elective seminar has a duration of 15 hours and is associated with a doctoral research workshop of one hour with questions and answers that allows the guest scholar to present and discuss his/her ongoing research.
Access the list of past research workshops here.