Video game industry: I found my dream job
Why France? My interest in France and French culture can be traced back to my high school days. From Napoleon to Louis XIV, I'm deeply touched by this great nation and her history. Encouraged by this…
Reading time :
5 Oct 2020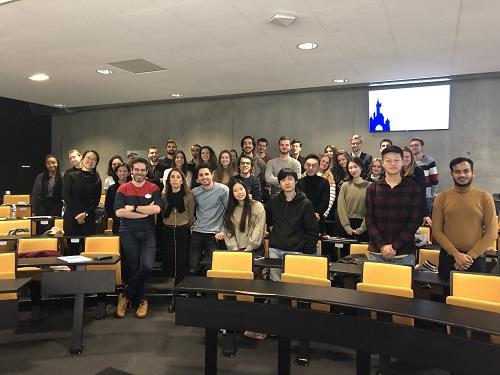 Why France?
My interest in France and French culture can be traced back to my high school days. From Napoleon to Louis XIV, I'm deeply touched by this great nation and her history. Encouraged by this feeling, I chose French as my major in University. This feeling drove me to EDHEC.
What is your background before EDHEC?
I graduated from Beijing Normal University & Hong Kong Baptist University United International College in 2017 with a major in Applied Economics.
Why the MSc in Marketing Management and its concentration in Entertainment & Services?
My interest in the entertainment industry has started in 2002. I was 6. Back then I started playing with Red Alert 2. It's the first video game I had ever played. As time went by, this interest grew to a strong will to build a career in this industry.
I have put a lot of effort into making my dream come true. I have completed 5 internships up to today. Four of them are related to the Entertainment and Service industry. My 10 months of experience at Ubisoft has benefited me a great deal. As the marketing intern and project manager assistant, I wrote the industry analysis reports, operated a social media account and got in touch with game players in the community... Both positions allowed me to have a 360°view of marketing in the game industry as well as evolve in a truly professional atmosphere.
This experience strengthened my determination. The game industry was, is, and will be my dream industry.
Besides my self-interest, the developments of the entertainment industry in China also motivated me to choose the Entertainment & Services Concentration. The Chinese mobile game market has become the biggest market in the world. And I believe that this market will keep on growing, offering opportunities for trained professionals.
After analysing the course list of the Entertainment & Services concentration, I knew I would gain the necessary knowledge that would make me an asset to the job market. As it turned out, I made the right decision.
What are the highlights and main takeaways of your EDHEC experience? How do you feel this education will help you in your career?
I would say: meeting great people. I met some great professors, who were helpful and caring. Guergana, Arne, it would be too long If I list every single one of them. I served in the Chinese Career Development Union (CCDU) as well. The friends I met there will be my fortune for life.
What impressed me most during my time at EDHEC was the various case studies cooperating with big-name companies such as Damart and Ubisoft. These cases not only allowed me to understand the logic behind decision making from the real business world, but it also gave me precious opportunities to test my ideas. As a matter of fact, my idea about Uplay+ helped me in my job interview: when my line manager asked me to talk about the monetary value of players, I used Uplay+ as an example to illustrate whether or not subscription can be a profit model in China.
You are a gamer. What games do you play?
I wouldn't say no to nearly all kinds of games. FPS, RPG, MOBA, ARPG, SLG, MMORPG... I can find joy in all types of games.
As a reference, I currently play Football manager 2020, DOTA2, Civilization VI, Iron of Heart IV, and Halo on my computer; Hollow Knight, The Legend of Zelda: Breath of the Wild, Original Sin2, Fire Emblem: Three Houses and Fortnite on SWITCH; Onmyoji Arena and PUBG mobile on my smartphone.
The game list of my Steam account includes games such as Assassin's Creed series, XCOM series, Fallout: New Vegas, The Witcher 3: Wild Hunt...
What can you tell us about the company you are currently working for?
NetEase, Inc (NASDAQ: NTES) is a top online game developer and operator with a large business scope in China that includes independent R&D, operations, and licensing, as well as a strong player, actively exploring the global market and businesses. NetEase games are much loved and applauded by their players and the number of daily active users playing NetEase games continues to grow. NetEase Games has successfully launched many popular titles including Identity V, Knives Out, Rules of Survival, Onmyoji, Revelation Online, and more.
With so many quality games under its belt, NetEase currently requires more channels of distribution to help expand its ever-growing user base. NetEase also hopes to increase its market share in the games industry while providing partners with sustained and stable high returns. NetEase already has a massive user base with an increasing disposable income. We believe that through the increase in users' loyalty, we can bring our partners substantial gains. We warmly welcome partners from all industries to utilise our competitive products and operational know-how to mutually gain from a successful partnership.
The mission statement of Netease is to gather the power of humans and create a beautiful life with technology innovation.
The Value of Netease: "Devote everything for the love; stay with players; both of them can be claimed as innovation: from 0 to 1 and from 1 to 1.1."
Related articles:
QS 2021 ranks MSc in Marketing Management N°7 worldwide
Meet Temitope Ayorinde, MSc in Marketing Management graduate
Meet Santiago Fandiňo, MSc in Marketing Management graduate
Meet Aya Karus, MSc in Marketing Management graduate
Meet Zoé McClay, student in master 2, programme Grande école
Some virtual career advice from EDHEC MSc in Marketing Management Alumni
A programme director at the top of her game
Design thinking applied to marketing: the art of taking your shoes off to walk the customer's journey
The evolution of business models in the video-game industry