Welcome back to Lille
Although they all wore masks and kept an appropriate distance, you could feel the joy of the professors and programme directors at welcoming students back to the classroom and lecture theatre. In…
Reading time :
22 Sep 2020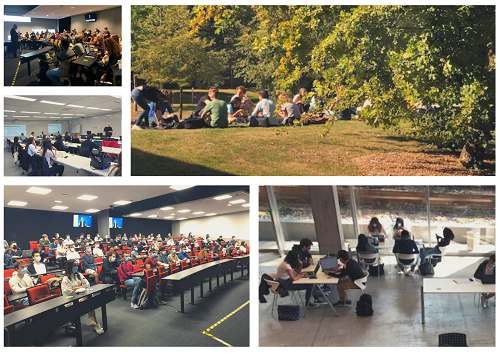 Although they all wore masks and kept an appropriate distance, you could feel the joy of the professors and programme directors at welcoming students back to the classroom and lecture theatre. In 2020, EDHEC MiM and MSc courses are going hybrid. One-third will be on-site, one third will be remote, using Collaborate, and one third will be asynchronous (video, guided homework, assignment preparation, simulation, etc).
"All of our professors and staff members were delighted to welcome our students back on campus for this new academic year," said Professor Guergana Guintcheva. "In these unusual times, both their education and their safety are our top priorities. As director of the Business Management track, I wish them the very best for the coming year." 
Student voice
Luca Gambino, MSc in Marketing Management, international student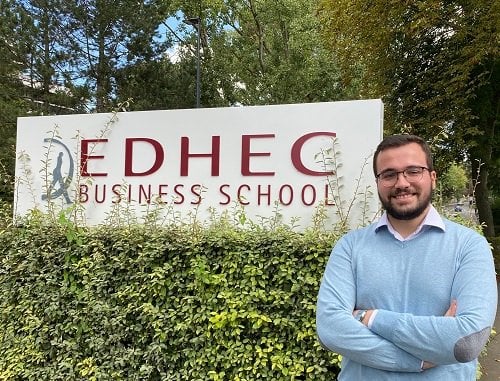 "Right at the start of the opening session, Professor Guergana Guintcheva, Programme Director of the MSc in Marketing Management, emphasized the importance of learning in a secure environment  to maximize our experience on this course. At the same time, she stressed how the marriage of international environment and continued corporate contact, through case studies and project work, will be an opportunity to step out of our comfort zone and into a professional way of thinking and gain an open-minded understanding of the world. From the outset, our classes were a mix of concepts and their practical application. We apply these concepts daily in every individual and group work assignment. I think this approach is a very good way of putting new skills into practice and become more flexible on different topics and tasks. Living in a new country might seem difficult and stressful, and sometimes it was, but thankfully,
EDHEC provided a professional and well-organised welcome team that helped us every step of the way prior to arrival and on our first days in Lille.
Moreover, the mix of on-site and remote classes, with synchronous and asynchronous lectures, was an interesting new experience to explore and understand in detail. Fortunately, the learning platform is intuitive and the professors manage it really well. Last, but not least, on campus, social distancing and sanitary measures abound. I found them easy to adapt to and to apply in everyday life, be it in class, inside campus building, or outside the faculty areas."