Winning thoughts: You cannot be a top business leader without mastering technology
"I am absolutely convinced that whatever you do in life, you will not succeed, or be a business leader, unless you have some understanding and mastery of technology", Mr Aubourg said. "Technology is…
Reading time :
24 Dec 2020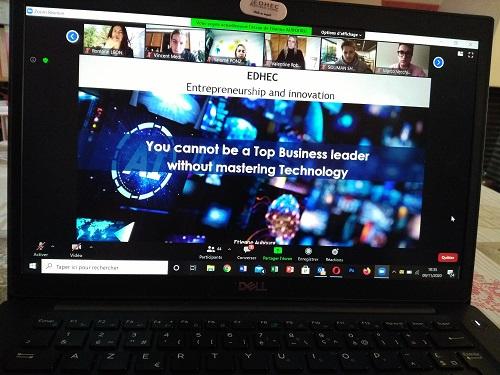 "I am absolutely convinced that whatever you do in life, you will not succeed, or be a business leader, unless you have some understanding and mastery of technology", Mr Aubourg said.  "Technology is a crucial global driver. It is growing exponentially."
To emphasise his point, he cited famous examples: "If Facebook were a country, it would be the third-largest country in the world: 70 languages, with 850 active monthly users. And there are 30 billion searches a month on Google."
Mr Aubourg underscored the need for EDHEC students to understand the importance of cloud technology, data, and the platform economy. "We are moving in a world of platforms," he said. "Uber, Amazon, AirBnB … the first platform takes it all." We are in a world where data – both structured and unstructured – provides the best insights, predicts consumer behaviours.
Career advice
When Mr Aubourg graduated from EDHEC Business School in 1981, little did he know that he would work in IT 20 years later. It's a career shift he does not regret and, indeed, recommends, as it offers many job opportunities. "Each time I made a career move, people told me I was crazy," he said. "Don't be a conformist! Don't follow the herd, even if you are scared. Develop a network of friends and headhunters. Life is about connections. And keep learning. EDHEC is just the beginning."
An impactful session
EDHEC staff and students were highly impressed by Mr Aubourg's presentation.
"It was an honour and a pleasure to welcome Mr. Etienne Aubourg as the inaugural speaker in our newly launched Distinguished Speaker Series in Entrepreneurship and Innovation at EDHEC Business School," said Maria Figueroa Armijos, Programme Director of the MSc in Entrepreneurship & Innovation. "We had a fantastic session. Mr. Aubourg's candid and honest approach to sharing critical takeaways from his own career trajectory with our students was inspirational and empowering. I am confident the message he transmitted to the new generation of EDHEC leaders will make a lasting impact in their careers."
Viktoriia Kulkova, a current MSc in Entrepreneurship & Innovation student, could not agree more. "Hearing about Mr Aubourg's inspiring career path made me realise that nothing is impossible. I'm truly inspired by his story, his unique international experience and his extraordinary results. The insights he shared on L'Oréal and the beauty industry as a whole are useful. I am very grateful to EDHEC for giving us such opportunities to meet such great people and to learn more about my dream company from one of its representatives."