Women in Finance initiative: a quest towards an equal opportunity and inclusive growth
According to McKinsey Global Institute study, The power of parity: how advancing women's equality can add $12 trillion to global growth, empowering women and girls could contribute up to US $28…
Reading time :
21 Feb 2020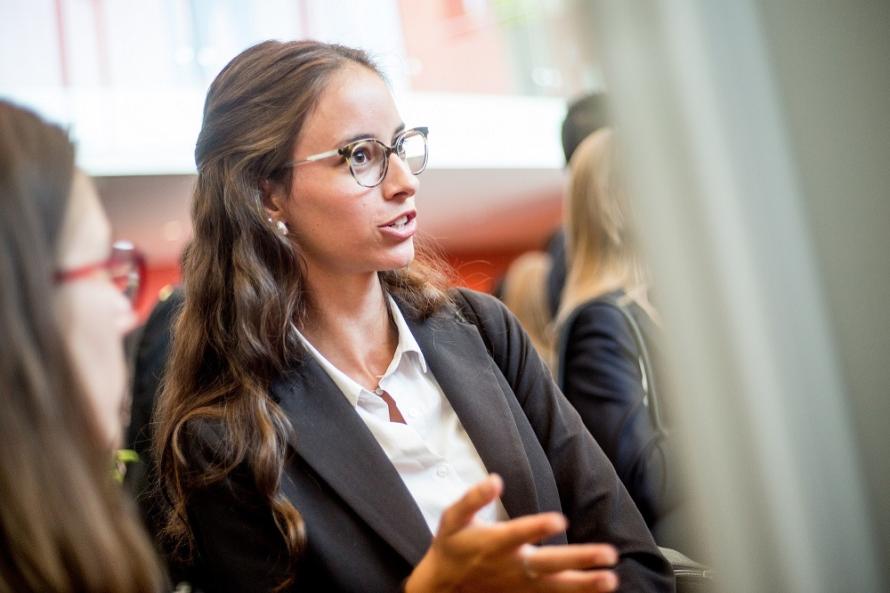 According to McKinsey Global Institute study, The power of parity: how advancing women's equality can add $12 trillion to global growth, empowering women and girls could contribute up to US $28 trillion to global GDP by 2025 (McKinsey Global Institute, 2015) in the full-potential scenario of bridging the gender gap. It is equivalent to the combined US and China economies today. A data that got the EDHEC Student Finance Club to think it was high time to launch an initiative to support greater gender diversity.
"The idea behind incorporating a chapter for women in finance at ESFC was to support women during their career entry and the first steps within by, in the long run, building a network they can take advantage of. In a short space of time, WinFin has quickly expanded its reach, collaborating with several organisations in Europe and North America to create deeper synergies for its members," says Ankit Kalia, president of the EDHEC Student Finance Club and an MSc in Finance student.
Finding mentors
A regular event at the club is WinFin's breakfast sessions, an informal meet up with a women speaker from the financial industry to engage constructive discussions on issues and opportunities encompassing women in finance. Engaging frequently with the EDHEC Alumni on how to create better value for the students at EDHEC, the club also shares testimonials and short Q&A´s of successful female EDHEC Alumni, something which has led to the younger cohorts of FE track find relevant mentors.
Complementing the efforts of EDHEC Career Center, WinFin is helping connect students to Alumni, helping them better understand the alumni's current organisation's culture and values, especially from the perspective of women in finance. Starting in March 2020, WinFin will be rolling out its mentorship programme, identifying high caliber cohorts of EDHEC at M1, BBA and matching them with M2 Students/recent Alumni/ ESFC Partners, to assist them in developing relevant skillset from an early stage. The underlying thought is to help students define their career objectives, identify barriers to them and break down strategies on how to achieve them.
Ankit Kalia believes it is imminent that the topic of gender diversity will be even widely discussed in the coming years. "Anyone who does not understand the importance of diversity and equality is missing out on half of the talent in their opportunity set. Global leaders are stepping up and acting on the topic of diversity as they recognise the business case for diversity to pave the way forward. As we begin a new decade, it is indispensable to have different perspectives on an issue and see things from new angles for smarter decision making. The EDHEC Student Finance Club's initiative towards 'Women In Finance' is a step in that direction and we believe it will help the female students at EDHEC build a diverse network that will help them throughout their career."
Since its inception, the EDHEC Student Finance club has created value for students from all streams by focusing on the culture revered by every EDHEC student: Innovation, Engagement, and Impact. It is this unwavering commitment to these values which makes the club believe that the incorporation of WinFin will be among many milestones that the school will be celebrating in the years to come.
Related articles:
EDHEC TOP 5 Masters in Finance by the Financial Times
Meet Baihe Li, MiM Financial Economics Alumna
Meet Ming Lu, MiM Financial Economics Alumna
Meet Gaurav Kalair, MSc in Finance Alumnus
Meet Lorenzo Avena, MiM Financial Economics student
Meet Hady Saad, MSc in Financial Markets Alumnus
GETTING VIRTUAL CAREER ADVICE ON SUSTAINABLE FINANCE TRENDS
Meet Paul Schweigl who worked on applied research projects developed by EDHEC-Risk Institute
Meet Martin Benzing, MSc in Finance Alumnus
Meet Yejing Mao, MSc in Corporate Finance & Banking Alumna