Work ready!
Giovanni Sturiale, an Italian student, chose the MSc in Corporate Finance & Banking. A choice that helped him gain in-depth financial knowledge and fine-tune his career goals. WHAT WAS YOUR EDUCATION…
Reading time :
16 Apr 2019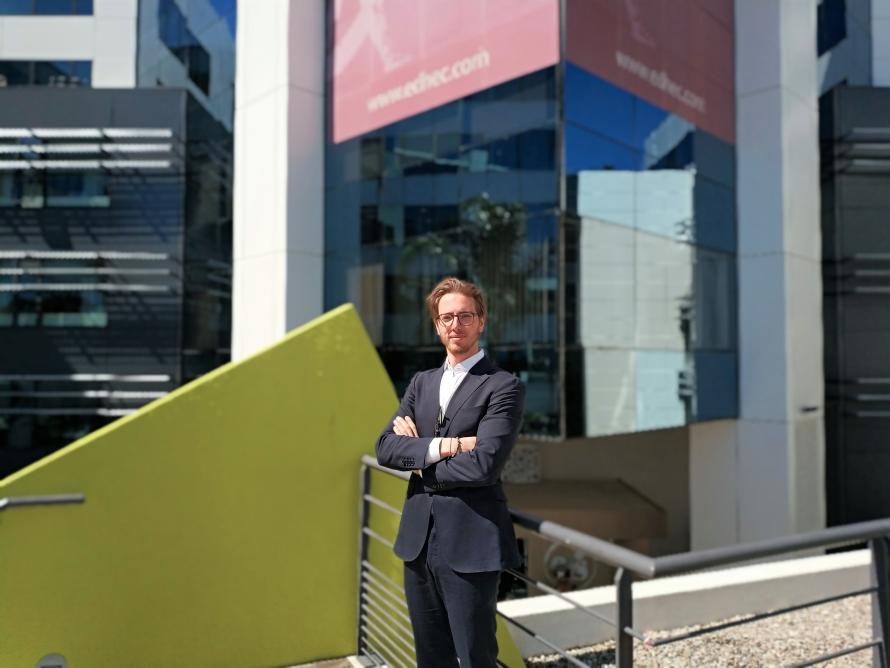 Giovanni Sturiale, an Italian student, chose the MSc in Corporate Finance & Banking. A choice that helped him gain in-depth financial knowledge and fine-tune his career goals.
WHAT WAS YOUR EDUCATION BEFORE COMING TO EDHEC?
I completed my Bachelor's degree in Banking and Finance at the Catholic University of Milan in 2018.
WHY HAVE YOU CHOSEN EDHEC AND THE MSC IN CFB?
After studying in my home country, I was looking for an international experience to enrich my background and be ready to compete in the job market at a global level. When I started looking at foreign universities and business schools, EDHEC captured my attention with its vibrant community and with its strong international exposure.
The MSc in Corporate Finance & Banking was a great opportunity to deepen my knowledge in Corporate Finance and acquire the skills needed to work in Investment Banking.
And of course, I couldn't resist the call of the wonderful Côte d'Azur!
WHAT HAS BEEN YOUR JOURNEY AT EDHEC AND THROUGH THE MSC?
The academic and social structure at EDHEC is very different from what I was used to. At EDHEC, I had the opportunity to improve my financial knowledge, build a strong network and develop lifelong friendships thanks to a practical approach, active involvement, and the amazing campus life. This approach really gives you the tools and expertise to face the upcoming working experiences.
YOU ARE INVOLVED IN THE FINANCE CLUB. COULD YOU SHARE WITH US WHAT THIS EXPERIENCE BRINGS TO YOU?
The EDHEC Student Finance Club gave me the opportunity to meet people with different backgrounds and from different majors to work together exchanging experiences. It really is a chance to go beyond the courses, building a community of proactive and committed people and to enlarge your interests. I was mainly involved in the Assessment Centre Sessions. It is a group of students of different majors and even from MBA who practice for assessment centres, interviews, ready to share experiences and useful tips! During these sessions, we also had regular meetings with professionals from the industry sharing some insights. It was very useful to prepare for the interviews and network.
WHAT IS THE MOST IMPORTANT TAKEAWAY FROM THE PROGRAMME SO FAR?
Humility! When I arrived at EDHEC I met people from all over the world, with different backgrounds, degrees, and expertise. When I realised there is a world beyond what I had previously done, I was ready to make the next step.
Do not forget that you will never stop learning and always remember to absorb the most you can from any person and experience you make, especially during your master. That will build the basis for your future.
WHAT ARE YOUR EXPECTATIONS FOR THE COMING STEPS? WHAT ARE YOUR JOB ASPIRATIONS? 
This experience forced me, in the most positive meaning, to think about my aspirations and my life goals.
This programme gives you the tools to understand your objectives and to adapt to them without precluding you any opportunity.
Beyond confirming my passion for Corporate Finance, I finally decided that I want to work with Green Technologies and Renewable Energies. My main goal now is to build a career in a sector that can allow me to combine them.
DO YOU HAVE ANY ADVICE FOR FUTURE STUDENTS WHO WOULD PICK THE MSC AND EDHEC? 
Be ready and make the most out of it!
At EDHEC, you have access to thousands of activities. Never settle and remember that this is the moment to really build your future. No one will give you anything for free out there! EDHEC will provide you with the right tools but you must be committed in every activity, be it learning, self-improving, and working hard.  Put them together and you are ready to make an impact. BEST OF LUCK!
Related resources:
Meet Yejing Mao, MSc in Corporate Finance & Banking
Meet Camilla Georgeon, MSc in Corporate Finance & Banking
A new double degree in Sustainable Finance
Meet Baihe Li, EDHEC MIM Financial Economics Alumna
Meet Gaurav Kalair, EDHEC MSc in Finance Alumnus
EDHEC Business School: A great location to study Finance 
Meet Hady Saad, MSc in Financial Markets
Getting virtual career advice on Sustainable Finance trends 
Why I chose to join a research-oriented elective at EDHEC
Meet Martin Benzing, MSc in Finance Alumnus
The CFA Institute: a premier academic partner for EDHEC Financial Economics programme
Meet Nelli Ramazyan, MSc in Risk & Finance Alumna
Women in Finance initiative: a quest towards an equal opportunity and inclusive growth
EDHEC Business School offers a new double degree in finance 
New partnership to train Master students in Entrepreneurial Finance