Finance degree programmes
Finance is one of the most promising sectors. With its exciting career prospects and diverse specialisations, it offers many opportunities to you.
Finance is central to the global economy. Businesses, banks, governments and all international institutions rely on specialised professionals to function. They control cash flow, make recommendations to improve a company's performance and also play an important regulatory role. They conduct audits to assess the accuracy of official documents to prevent fraud. It is an exciting and promising field for students starting their careers.
Looking for the best finance degree to help you achieve your professional goals? Here are the programmes offered by EDHEC Business School!
What are the benefits of a finance degree?
A finance degree is one of the best diplomas to start your career with. It opens up many opportunities and teaches many skills that companies in all sectors need. A graduate programme in finance will teach you how to manage the finances of a company: accounting, financial planning, asset management, financial analysis. This diploma can also be specialised.
If you have a specific professional project in mind, you can choose a programme that suits your needs. When you graduate, your skills will enable you to start a career in any sector. All businesses need finance professionals to improve their efficiency and turnover. There are many job opportunities for those with a finance degree.
What fields of finance can you study at EDHEC Business School?
Financial management is a field concerned with planning, organising and controlling the financial activities of an organisation. Specialised professionals oversee all operations and make recommendations to help businesses. They decide where to invest the company's money, deal with banks and help with decision-making. They play a central role in a company's profitability and their profile is sought after in all types of organisations.
If you pursue a programme in financial management, you can reach high positions. To succeed in the sector, you will need qualities such as analytical skills, attention to detail, problem-solving and communication skills.
Financial management programmes will give you all the skills you need to take advantage of the opportunities in the sector. EDHEC Business School offers a Master in Management in Finance, the perfect degree to prepare you for your career.
Master in Management in Finance
Finance is a sector that evolves with the times. Today, the importance of climate change, environmental and social issues cannot be ignored, and consumers are becoming increasingly aware of them. Companies are changing the way they invest, trying to reduce their carbon footprint and avoid human exploitation.
A programme in sustainable finance will equip you with skills such as designing feasible low-carbon transitions or assessing local energy applications. You will be equipped with all the knowledge and tools to help companies transition to zero-carbon energy and greater inclusivity. This is the perfect specialisation if you are passionate about finance but also want to have a positive impact on the world.
EDHEC Business School offers a programme dedicated to this specialisation.
MSc in Climate Change & Sustainable Finance
Financial engineering is another important specialisation in the sector. It involves using mathematics, engineering and financial theory to solve financial problems and develop new products. Specialised professionals collect, analyse and make sense out of financial data to help their company make the best decisions.
A financial engineering programme will teach you how to manage risk, to use deep learning for finance, to use machine learning for finance, etc. Climate change and its impact on investments is also an important part of your curriculum.
With an MSc in Financial Engineering from EDHEC Business School, you can prepare for an exciting career in the sector.
Accounting is a fundamental part of finance. It involves recording, analysing and reporting all transactions within a company. In businesses, accounting departments also prepare financial statements such as balance sheets, income statements and cash flows statements. Stakeholders base their decisions (such as whether to invest in the company) on these documents. Therefore, honesty and integrity are essential qualities for professionals in this sector.
A programme in accounting and finance will bring you specialised skills such as audit and internal control, managing mergers and acquisitions, international accounting, etc. After graduation, you can work for an accounting firm or in the accounting department of a large company.
EDHEC Business School offers a finance degree with a specialisation in accounting.
As an important part of the financial sector, banks play a central role in the economy. They provide a safe place for large sums of money to be deposited, they ensure the safety and integrity of transactions between parties, and they provide the loans that allow, for example, businesses to grow or consumers to buy expensive goods and property. Their activities are fundamental to economic growth.
Pursuing a programme in banking and finance is necessary to acquire the required skills to access jobs in the sector. You will study advanced subjects such as advanced financial and credit analysis, corporate and treasury risk management, the basics of company law...
If you are interested in this sector, EDHEC Business School offers an MSc in Corporate Finance & Banking.
MSc in Corporate Finance & Banking
Today's economy is globalised and many companies operate in several countries. They need professionals who can assess businesses, investment opportunities and manage the specificities of finance on an international level. Exchange rates, differing laws, trade regulations, insurance… Professionals in this sector manage all the factors that influence finance on a global scale.
By choosing to study in this sector, you will learn about finance and how to adapt to different cultural and legal contexts. You will gain skills such as corporate finance, advanced valuation, portfolio management, risk management, etc. You will also discover the ethical aspects and challenges of the sector.
If you are looking for a programme in international finance, EDHEC Business School offers a dedicated Master of Science.
What career after obtaining a degree in finance?
As you can guess with the wide range of specialisations available, there are many different careers after obtaining a degree in finance. You can work for a variety of organisations, from small businesses to multinational companies. You can also work for a consultancy or accountancy firm.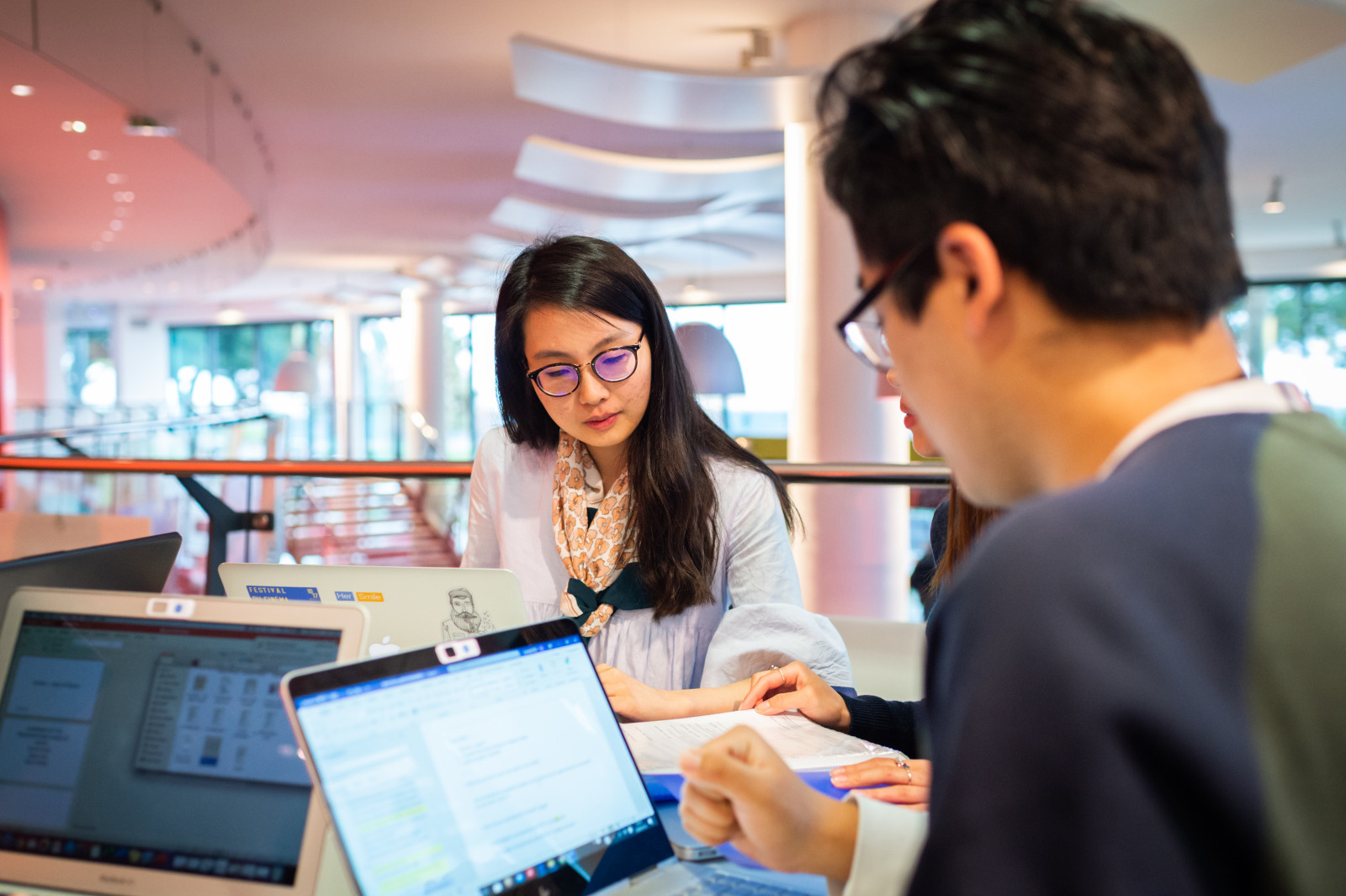 Salaries in the sector can be very high, depending on your job, your home country, the company you work for, etc. For example, in the United States, the average salary for an accountant is $61,815 per year, while the average salary for a financial manager is $103,765.
The finance sector offers many opportunities for career progression. For example, you can start as a junior financial analyst before becoming a senior analyst. After a few years in this position, it is possible to become a financial manager. At the end of your career, you can even become a chief financial officer (CFO).
How will finance evolve?
Finance is a sector that evolves with technology, and professionals are constantly changing and adapting. New technologies are reshaping the way companies and banks operate. AI, machine learning and blockchain are some of the most talked about innovations that are changing the face of finance. These technologies are enabling the development of new solutions to prevent fraud, assess risk or analyse market data and trends. Professionals in the sector can now automate some tasks in order to focus on advice and added-value missions. Environmental and social issues are becoming increasingly important and sustainable finance is a growing sector.
Companies will increasingly demonstrate their commitment to ESG (environmental, social and governance) issues, and financial professionals will need to choose their investment strategies carefully. If they don't, their company's public image will suffer more than ever.
A graduate programme in finance will prepare you for this ever-changing sector by teaching you the latest trends and giving you the right mindset to adapt throughout your career...
Become a finance professional with EDHEC Business School
A degree in finance is one of the best ways to start an exciting career. The diversity of sectors and jobs makes it accessible to a wide range of profiles. And with its changing nature, finance professionals are constantly faced with new challenges. EDHEC Business School offers many finance degrees to prepare you for your career. Choose the programme that suits your professional project!
News