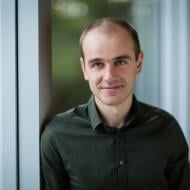 Cédric Verbeeck
Assistant Professor
MSc in Data Analytics & Artificial Intelligence Manager
Main contributions
Journal of Service Management Research (2021), Computers & Operations Research (2019 ; 2022), Journal of Service Management (2019), Annals of Operations Research (2017), European Journal of Operational Research (2014 ; 2016), Transportation Research (2014)
Discipline:
Operations & Supply Chain
Faculty:
Strategy, Entrepreneurship & Operations
Expertise:
Project Scheduling, Supply Chain, Operations Management
Bio
Cedric Verbeeck, PhD, is Professor of Operations management and Co-Director of the MSc in Data Analytics and Artificial Intelligence at EDHEC Business School. He holds a Doctorate in Engineering from Ghent University. Apart from teaching courses in operations management and supply chain management, his research concerns vehicle routing problems and topics in project scheduling. He is an author of various academic publications in journals such as the European Journal of Operations Research and Transportation Research.
---
Publications of Cédric Verbeeck