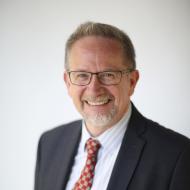 Dennis Davy
Associate Professor
Main contributions
European Journal of International Management (2018), Journal of Management Development (2016), Gérer et Comprendre (2014)
Discipline:
Communication
Faculty:
Management & Humanities
Expertise:
Humanities, Soft skills, Discourse analysis, Lexicology, Pedagogical creativity, English world cultures, CV and career coaching
Bio
Dennis Davy has taught soft skills, humanities and English in a variety of contexts since 1980, in Germany, Japan, Algeria, Qatar and Oman. Since arriving in France in 1993, he has worked with undergraduate and postgraduate students in a range of French universities and Grandes Ecoles, teaching classes in cross-cultural studies, team-building, pitching, CV writing and General/Business English, as well as providing a variety of theme-based courses, including the history of pop and rock music, the cultures of the English-speaking world, the city of London, British newspapers, and British art and literature. He has also provided tailor-made courses for French executives, judges, magistrates, notaries, economists and scientists within the context of continuing education. After lecturing in English and French at the University of London Institute in Paris (ULIP) and then working as the Head of the Languages Department at MIP School of Management, Dennis worked as a Lecturer at the Ecole Polytechnique in Paris and has been an Associate Professor at EDHEC since 2010. Dennis was the Coordinator of the Concours Langues (Competitive Language Entrance Examinations) for students wishing to enter EDHEC's Master programmes for three years. He is now teaching a Brand Yourself course on the Executive MBA at Lille and Paris, as well as electives for students in the 1st and 2nd year of the EDHEC BBA in Lille, and has also co-designed a course called Governance, Culture and Society for students following the Global Business track of the BBA in Nice. His primary research interests include business communication, innovation in language pedagogy, discourse analysis in professional contexts, neologisms in Business French, lexicology, and word-formational processes in English and French. He has also designed and delivered postgraduate courses in applied linguistics, translation and language didactics. Dennis speaks English, French and German fluently and has a good command of Japanese, Spanish, Portuguese and Arabic. He holds degrees from the universities of Oxford, Lancaster and Cambridge in French & German Literature, Language Teaching Pedagogy and English & Applied Linguistics.
---
Publications of Dennis Davy
---
Derniers articles EDHEC Vox
05.04.2019
Peter Daly , Professor

Dennis Davy , Associate Professor