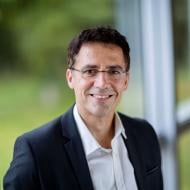 Serge Macé
Associate Professor, Deputy Head of faculty - Data Science, Economics & Finance
Main contributions
Theory and Decision (2018), Revue française d?Économie (2016), Journal de Gestion et d'Économie Médicale (2014), European Journal of Health Economic (2013), Review of Economics of the Household (2012), Économie Publique (2012), Journal of Economic Psychology (2011)
Faculty:
Data Science, Economics & Finance
Expertise:
Behavioral Economics ; Economics Teaching
Bio
Serge Macé, Ph.D, is Associate Professor, Deputy Head of the Faculty of Data Sciences, Finance and Economics and Member of the Economics research Centre. He joined EDHEC Business School as a full time faculty member in September 2013. His research mostly deals with Behavioral Economics, and in particular with the concept of reference point that people use to make their judgement. He has recently published two papers in the field: the curse of hope in Theory and Decision (2017) and Un faible espoir de guérison est-il toujours une bonne chose ? (Revue Française d'économie, 2016). He has been awarded two prizes for pedagogical excellence.
---
Publications of Serge Macé