After the Acceptance: Starting Your Global MBA at EDHEC
What happens after you're accepted to become a part of EDHEC's Global MBA Programme? We've consolidated a few things you should keep in mind as you're preparing to join the programme, with the help of Aude Theobald, the Head of International MBA Admissions.
Reading time :
9 Oct 2020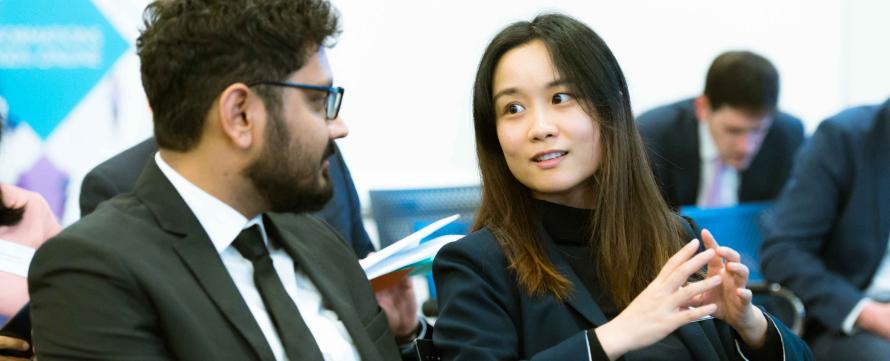 Aude heads the recruitment and admissions for the programme and is on the admissions committee which means she reviews all the applications - in fact, she might be taking a look at your application next! So after months of research, preparation, interviews and decisions, you have finally received an offer to join the EDHEC Global MBA. Firstly, congratulations!!. But what should you do next?  
The 'Formalities'
Well, first things first, if you haven't already done so, accept the offer and confirm your place as soon as possible
If you have been given a conditional offer (for example if you have yet to submit your GMAT/GRE/TAGE MAJE) make sure that you fulfil the requirements as soon as you can so that your place is secured
Your offer from the school confirms not only that you have been accepted but also what level of scholarship you have. Remember: our scholarship policy means that you will automatically be awarded the most beneficial category for you. If you retake or are yet to take your GMAT/GRE, then potentially your scholarship may be increased if you qualify for a different scholarship based on your test score. You can check out our unique scholarship policy here.
Check the payment deadlines! You need to make a first payment to confirm your place. EDHEC Global MBA offers a prompt payment reduction of 5% off of your tuition fees. If you'd like to take advantage of this offer, be sure to make your first payment within 15 days of your acceptance
So now you have secured your place, you are ready to start getting ready for one of the most exciting and transformational experiences of your life and career… read on to make sure you are as prepared as possible...
1.  Connect with Your Cohort
Once you've been accepted, you will be invited to a special WhatsApp group chat. This group chat includes members of the current class who are ready to welcome you into the EDHEC Global MBA family, as well as all of your future classmates.
If you're worried about any aspects of your new life, this is a great first step to dispelling them. You'll have a group of people who've already gone through what you're going through.
Whatever questions you have about your MBA programme or living in France, you'll have your classmates and alumni ready to help you out. From the best restaurants to the cheapest gyms around town, all you have to do is ask. This is also an amazing opportunity to get to know your peers personally before you get to Nice.
This way you'll already have some familiar names and connections once you get to your new environment.   
2.  Work with the International Student Office
Starting a new journey in a different country can be a complicated process when it comes to paperwork. As soon as you get accepted, you'll receive information on how to get in contact with the International Student Office. You can reach out to them as soon as you get this information. In fact, even if you're enrolled in a later intake, you can get ahead by contacting them to start planning well in advance.
The International Student Office offers assistance on many administrative aspects of your move to France. Before you arrive on campus, they make sure that you can find accommodation, have all the right paperwork in order, that you can get a work permit if needed, and more.
The International Student Office can also help you get your visa. For example, one of our international students was in France on a work visa attached to another company she was leaving because she was starting the MBA. The International Student Office was instrumental in helping this student obtain her visa without having to go back to the USA to apply for it, supporting her along the way and simplifying a potentially complex process.
"The Student Office called up the authorities in Nice to help sort out a visa extension, which is exceptional," Aude recalls. "She even went to the prefecture with the candidate. I think that's an amazing level of personalised support, and is what makes EDHEC such a great school to be part of."
3.  Living in France
Moving can be exciting, but also stressful and overwhelming. So how do you prepare for moving to a different country entirely?
A great first step is to start learning some basic French. Learning the language of your new home is a good way to get familiar with the local culture and lifestyle, as well as having the words to go about daily tasks, like shopping or asking for directions. EDHEC has a partnership with the Alliance Française in Nice, where you can take a programme of intensive French classes before your MBA begins. Once your MBA begins, we also offer free french classes as an option, but the intensive course will help you immerse yourself into the french culture and give you a head-start in terms of the language.
Aude suggests arriving in France a month early in order to get yourself acquainted with your new environment and to have time to sort out your financials and paperwork. Plus, this gives you plenty of time to discover the best restaurants and to start exploring the stunning French Riviera.
If you do arrive early, you may be interested in EDHEC's summer course called 'Globalising Europe', which combines a hands-on business perspective along with historical, cultural and economic analyses.
It's also good to have some extra time for administrative tasks since French official processes can be very heavy on the paperwork. Make sure to plan ahead so that you have all the documents you'll need before your MBA programme starts.
Don't forget, you'll always have your EDHEC Global MBA cohort and the International Student Office to help you settle in.
With these tips, you're now ready to tackle the Global MBA with your new EDHEC family. We look forward to welcoming you in Nice.
Are you ready to transform your career?
Download the brochure to find out how the EDHEC Global MBA will give you the tools, knowledge and confidence you need to accelerate your international career