EDHEC's Global MBA: A Complete Guide to the Admissions Process
Interested in joining the EDHEC Global MBA Programme? Here's everything you need to know about our admissions process to get you started.
Reading time :
26 Jan 2023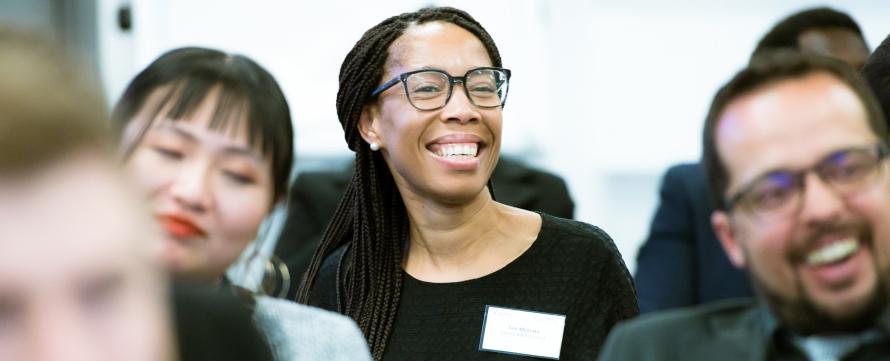 Going back to school after starting your professional career can be daunting, so here at EDHEC we strive to make the process as straight-forward as possible.
Aude Theobald, Head of Admissions for both the full-time Global MBA and part-time Executive MBA, has created an in-depth overview to walk you through the whole process, from the moment you submit your first inquiry with EDHEC to your acceptance into the programme.
Aude and her team have the unique position of overseeing both the recruitment of the programme as well as the admissions process. Her goal is not focussing on the quantity of candidates, it is about the quality of candidates. Each application is carefully considered to ensure that there is a mutual fit and that each individual brings a unique insight, perspective or experience to create a diverse and talented cohort.
And the whole process starts with an initial discovery call.
"When we get an enquiry, whether it is from our website, via email or at an MBA fair, we have an initial chat to understand if we [at EDHEC] are a good fit for what they are looking for, and if getting an MBA is the right choice for the next step in their career path. Depending on their goals, for some going back to school actually isn't the best option. We also discuss if their post-MBA goals are objective and realistic. We want to make sure our candidates find the right fit for them, for their path as well as if they are the right fit for our programme."
    Aude Theobald
    Head of intl. Admissions, EDHEC MBA Programmes
The EDHEC Global MBA application process is highly personalised and one-on-one from the very beginning. This approach is designed to ensure that successful applicants match the programme and school culture and vision.
So, do you think the Global MBA at EDHEC is the right fit for you? Here's how to get started and what to expect from the application process.
Required Documents: What You Need to Submit
Usually, candidates submit their profile for evaluation right at the beginning of the process and then Aude or one of the team get in touch for the initial discussion. After this point, you then start your application.
Once you have decided that you would like to expand your horizons on an international scale by pursuing a Global MBA at EDHEC, your journey starts with the written stage of the admissions process.
To officially apply, you must submit a completed application form (which you do online), you will need an up-to-date CV, and your GMAT, TAJE MAGE or GRE results. You will also need IELTS or TOEFL results for applicants who are not native English speakers. You can complete your application without yet having your test results, although you will be required to provide them to receive a conditional offer if you are accepted.
The application process also requires two essays, as well as two letters of recommendation.
The essays are divided into two subjects: the first is based upon your past experience and your role today, while the second is focused on your future career plans and how you expect the EDHEC Global MBA to help you reach your goals. You will be provided with guidance and details on the essay questions when you apply. Here are some tips on how to create a compelling essay.
Check out our official Admissions page for a complete list of documents to provide. 
Tip: letters of recommendation should be from contacts developed from professional relationships, and ideally are written either by superiors, clients or employees, rather than colleagues. But above all, they should be from somebody who knows you well in a professional context. 
Interview and Online Exercise 
The next stage of your application is devoted to face-to-face interactions. The in-depth interview (which can be via video or in person) is conducted with your dedicated Admissions Manager generally lasts from 45 minutes to an hour. It is designed to concentrate on your personality and getting to know you - what makes you unique, what motivates you and what you want to achieve. In this stage, we want to know about your 'soft skills' in addition to your technical qualifications and professional experience. This interview helps Aude and her team to assess your goals and needs and your compatibility with EDHEC's Global MBA programme.
EDHEC then asks all applicants to carry out a unique online video exercise. Candidates have two minutes to answer five separate questions without any prior knowledge of what the questions may be. These five questions are designed to assess your motivation for doing an MBA and joining EDHEC, as well as exploring your leadership capabilities, how you manage difficult situations, and how you demonstrate critical thinking in higher stress environments.
Once the video exercise has been completed, Aude and Sandra Richez, the Global MBA programme director, personally assess your whole application during a selection committee meeting. They review the video alongside your previous interview, in which your admissions manager or an alumni have provided a score out of 30 based on your responses to 10 separate topics.
Although assigning a number grade to an interview result can feel a bit mechanical, the admissions process is designed to be personalized for each applicant, and yet also remain objective.
"We employ these grading systems in order to prevent any sort of bias in the selection process," Theobald explains. "It's not merely instinct or opinion, it's a real point system which assesses each applicant based on criteria essential to our programme and our culture." 
What We Are Looking For in A Candidate  
The admissions committee actively seeks candidates from a wide variety of backgrounds, believing that selecting students who have different experiences and skill-sets provides a more holistic educational experience for the whole class.
In fact, EDHEC'S Global MBA is so dedicated to gathering differing perspectives that alumni are also involved with the admissions process. Not only are these former students dedicated to giving back and to choosing the best candidates for the programme, but former students also have a thorough understanding of the school's values and the demands of the curriculum. Alumni often give a more rounded opinion of applicants, selecting candidates that might not necessarily have the top academic profile and yet clearly fit well with the programme's goals and ideals.
Ultimately the goal of our admissions process is to provide an in-depth, fair, and personal selection process. Feedback surveys report high levels of satisfaction from those who have gone through the selection process for EDHEC'S Global MBA.
The Admissions Office is dedicated to finding future global executives and business leaders. We are always available to answer any questions, comments or concerns you may have - contact us here.
Are you ready to transform your career? 
Download the brochure to find out how the EDHEC Global MBA will give you the tools, knowledge and confidence you need to accelerate your international career