AI Makes an Impact at EDHEC Business School
EDHEC students in the Master of Science, Business Management programmes opened the 2018 academic year with a symposium dedicated to Artificial Intelligence (AI). The cross-curriculum learning…
Reading time :
3 Oct 2018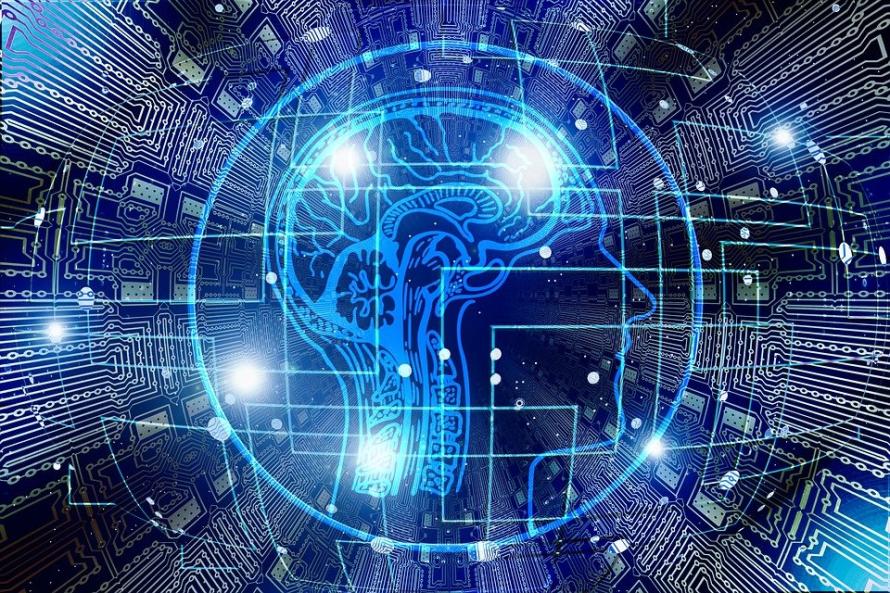 EDHEC students in the Master of Science, Business Management programmes opened the 2018 academic year with a symposium dedicated to Artificial Intelligence (AI). The cross-curriculum learning initiative, offered to all Business Management students in their final year, is the first part of a 2-month course titled, The Impact of Artificial Intelligence on Business and Society.  
Associate Dean for Graduate Studies, Michelle Sisto, PhD, initiated the creation of The Impact of Artificial Intelligence on Business and Society, colloquially called "AI Days" to connect EDHEC students with industry experts in Artificial Intelligence and to cultivate critical thinking about this burgeoning technology. Ms. Sisto said, "The purpose of AI Days is to discover the unique capabilities of Artificial Intelligence, produce a body of knowledge around the subject, and to foster our students' abilities to make their own interpretations about AI."
The ideas discussed at the "kick-off" symposium, on September 7, covered a full-range of subjects concerning the influence of Artificial Intelligence on the business world. For Professor Michel Philippart, DBA—the organizer of this ground-breaking course—the future potential for Artificial Intelligence to manifest itself in every aspect of business operations and within all industries is incredible.
"The professional and academic significance of the guest speakers," says Professor Philippart, "coupled with the variety of topics they presented at the symposium, exemplifies how this technological change is too big to be limited to specialists." "Artificial Intelligence, just like finance, strategy and operations," he says, "impacts every aspect of business management and, as part of the core curriculum, offers tremendous value to our students."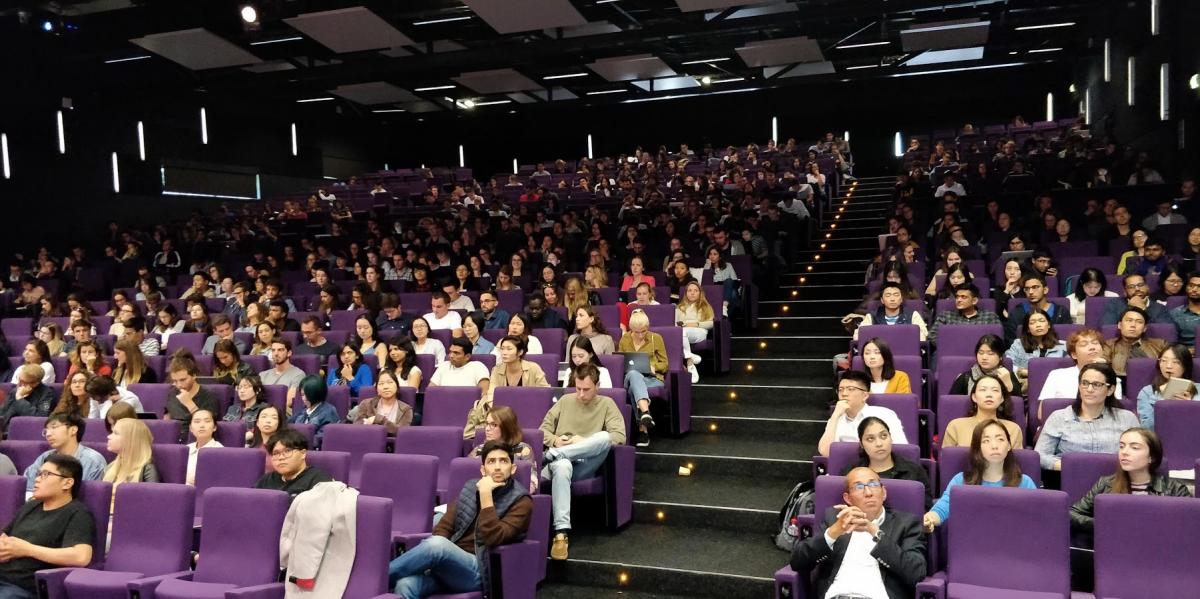 Laura De Oliveira, a student in the MSc in Strategy, Consulting & Digital Transformation programme thinks the exposure to Artificial Intelligence is a valuable part of her education.  She writes, "This day was a good introduction to such a major challenge for the future of our career and the business world."
Benoit Guillo, also in the MSc in Strategy, Consulting & Digital Transformation programme commented that "It was quite interesting to learn the impact of AI on businesses and particularly, how to adapt ourselves to face those new challenges."
Commenting about the symposium's round table discussion, Leading Managers to AI Impact, directed by Florence da Costa of the EDHEC Career Centre; Gabriela Barquet, a student in the MSc in Creative Business & Social Innovation programme called it an, "Excellent roundtable" stating that "all the lecturers were excellent and professional!"
Of course, some found the day-long event, because there was so much information to share, a bit too long. Carles Santos Garcia, MSc in Creative Business & Social Innovation, wished that the event was "split in different days." Lisa Marie Løvoll, MSc in Strategy, Consulting & Digital Transformation, said the day was "intensive."  However, most students in attendance shared similar sentiments with MSc in Global & Sustainable Business student, Amandine Lefebvre, finding AI Days to be "An enriching day and very interesting."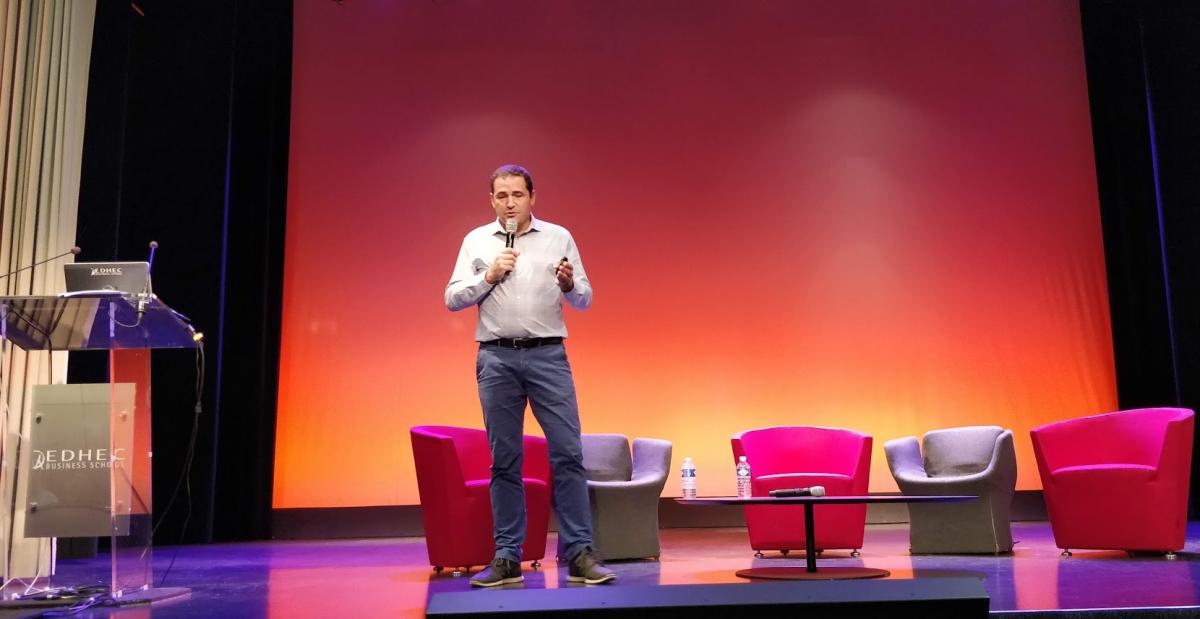 Manuel Davy
Topics like New skills managers need to transform organisations with AI presented by Arnaud Laroche, Partner at Ernst & Young Advisory; How Organizations Should Redesign Themselves to Make the Most out of AI by Matthieu Myszak, Consulting Manager at Artefact and AI and Knowledge Integration for a Better Decision Making by EDHEC professor of Information Systems and Data Analytics, Antoine Harfouche, PhD were focused on the immediate talent and operation needs that businesses confronting AI are facing.
Arnaud de Lacoste, Chief Marketing & Innovations Officer, Sitel Group addressed the social impact of AI, by posing the question, with his presentation, What if Artificial Intelligence Could Make Us More Human. Mr. de Lacoste highlighted the advantages of a human-machine collaboration and how AI can help us to strengthen the human relationship opportunities that organisations and brands can offer their customers.
Other presentations focused on how to make sense of the potential wealth creation opportunities on the horizon. Manuel Davy, Founder & CEO of Vekia gave a talk titled Specialized AI or Generic AI: How to Capitalize on AI and Jong-Mo Allegraud, Senior Data Scientist & AI Specialist at Mews Partners discussed Beyond Dreams: AI a Wealth of Opportunities to give students some insights on where to position themselves to make the most of the coming widespread adoption of AI.
For the duration of this first-of-its-kind educational experience, the MSc in Business Management students will collaborate together, over the next 2 months, working across academic disciplines, to create a communication project—an academic poster and oral presentation—that identifies where and why they foresee the biggest economic and social value created by AI.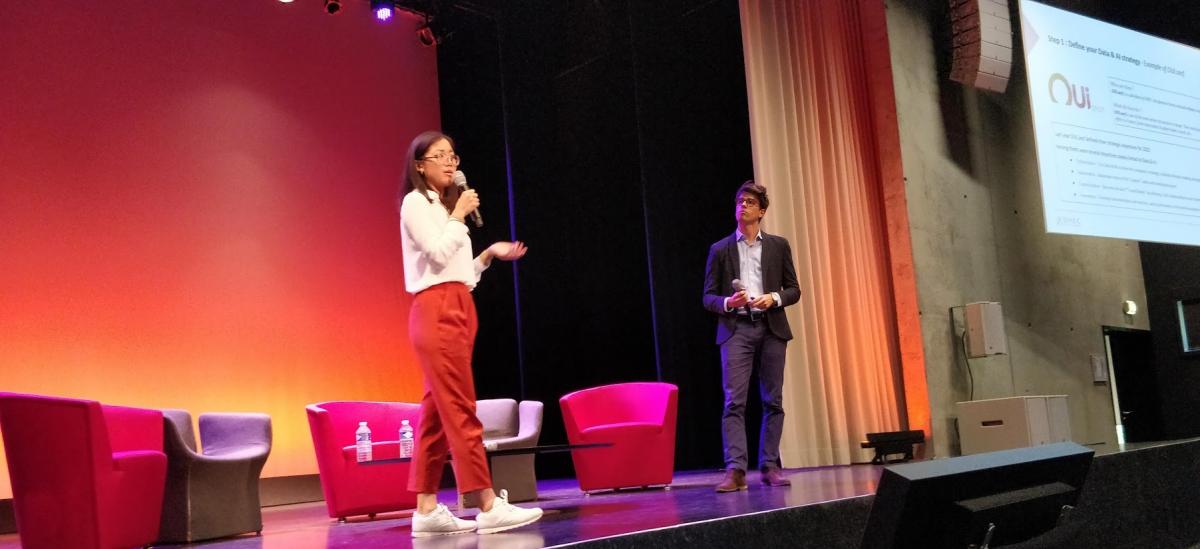 Diane Ly and Matthieu Myszak
On November 6, the final day of the course, students will peer-evaluate the presentations. Afterwards, a select group of winning presenters will compete against each other in front of a professional jury to present 4 slides that best encapsulates the future impact of Artificial Intelligence on business and society.
"AI Days," says Professor Philippart, "Is designed to enhance the awareness of career opportunities in Artificial Intelligence and to learn how to leverage this disruptive technology to create business success in a changing landscape. It is exciting to introduce these new ideas to our students."
Discover how the MSc in Business Management programmes can transform your life:
Related Article: How Artificial Intelligence serves your future career goals in any industry you choose to work in