Baptiste de La Gournerie: An EDHEC student on a mission to clean up our seas
Baptiste de La Gournerie, a student on EDHEC's MSc in Entrepreneurship and Innovation programme, is president and co-founder of the Utopia project, which aims to reduce our global plastics footprint…
Reading time :
18 Nov 2020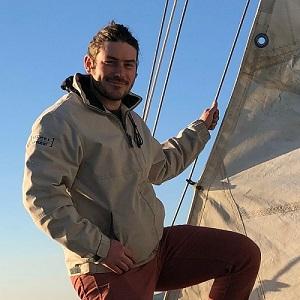 Baptiste de La Gournerie, a student on EDHEC's MSc in Entrepreneurship and Innovation programme, is president and co-founder of the Utopia project, which aims to reduce our global plastics footprint by conducting a study and a research expedition around the Atlantic Ocean.
Baptiste is a highly committed EDHEC student, with a strong desire to find ways of reducing our plastics footprint. Through the Utopia project, he plans to take concrete action for future generations. EDHEC commends the entrepreneurial student's awareness and impactful actions, which are very much in line with the School's own Impact future generations strategic plan to 2025.
Here, we ask Baptiste about the project and how his EDHEC education will support him in this major endeavour.
What is Utopia?
It is a project that aims to compile an 'Encyclopedia of Plastics', a comprehensive study showing the extent to which our industries depend on plastics, along with the health, economic and environmental impact of plastics use.
Why and when did you launch Utopia?
I joined EDHEC to make a difference and to have a positive impact. I took a year off so that I would have time to engage in an initiative on an issue particularly close to my heart, marine pollution. In 2019, I created Utopia, une mer nommée plastique (Utopia, A Sea Called Plastic) together with my brother Paul and friend Slimane Bendjilali.  
What has the EDHEC Programme Grande Ecole prepared you for this project?
In studying for this master's degree, I have had the opportunity to interact with and learn from professors experienced in project management and communications. It has been a lever that has provided me with the tools I need to develop my project. 
Who are your team members?
We have a team of 25 volunteers in France, from all walks of life, with all kinds of skills, making Utopia an experimental laboratory in which we can put our collective thinking to the test.
We will be accompanied and supported by a network of professionals, including Arianna Gamba, project manager at the non-governmental organisation Health Care Without Harm, and Florence Wisjbroek, president of the Balkans Sustainable Development Institute.
How does your organisation work, exactly?
Over the course of 70 years, plastic has become part of our daily lives, all the while creating an environmental and societal disaster.
The challenge is threefold, and we plan three main courses of action:
to understand the importance of plastic materials in our industrial and consumer processes;
to identify why and how industries have gradually integrated plastic materials into their products;
to determine the risks posed by the current situation and means available to businesses, public authorities and citizens to solve this plastic crisis.
To this end, we have identified the seven industries that consume the most plastic (Plastics ‒ the Facts 2019): An analysis of European plastics production, demand and waste data): automotive, electronics, tourism, agribusiness, health, construction and textiles.  
For each of these sectors, we are committed to:
identifying direct (products) and indirect plastics (materials and tools) in their production chains;
addressing the environmental, health and economic challenges associated with their use and end of life; and
identifying and highlighting appropriate alternatives or adaptive solutions to reduce their impact.
Faced with new data on the dangers of plastics, we believe that we need to rethink our production system and the reasons for this recent transformation.
In addition, to give visibility to our work, our communications team is working to create educational tools that will be accessible to all.
What is the Encyclopaedia of Plastic?
The Encyclopedia of Plastic is a cross-sectional study of our society's dependence on plastic materials. Once this initial work is done, we will conduct comparative studies by embarking on a sailing expedition around the Atlantic. This expedition will allow us to step back and take a cross-cutting and global look at the challenge facing society.
What role did EDHEC play in raising your awareness?
My experience at EDHEC, especially its student societies, allowed me to discover a sector that aligns with my values and which offers many opportunities. I had the chance to cut my professional teeth on developing student-society projects. Moreover, thanks to my degree course, I acquired project management and accounting skills that are very useful in the day-to-day management of my project.
Do you have plans for a project on an international scale?
We want our project to promote international solidarity. In August 2021, the organisation will embark on a one-year expedition around the Atlantic, during which we will take an international approach to our research. It will also be an opportunity to meet and share our message with local decision-makers, as well as with young people. At the same time, we will be making a series of web documentaries to illustrate our research, based on concrete examples.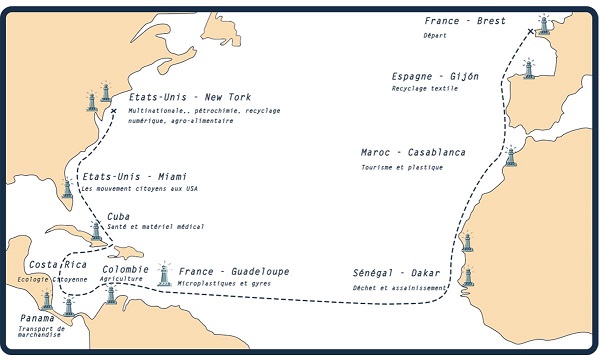 Why sail?
More than anything, sailing is a passion for me, but it is also a 'gentle' mode of transport that is conducive to reflection and contemplation. Moreover, Aquarelle, our boat, is the symbol of our commitment. It is an old wooden ketch, built in 1971, hand crafted from quality materials, which effectively thumbs its nose at today's mass-produced resin boats.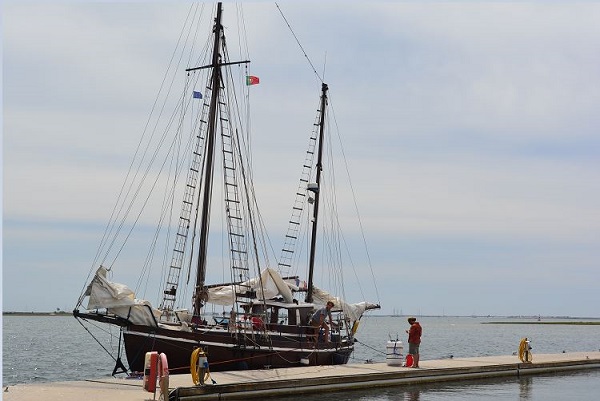 What are your most recent achievements?
In December 2019, our organisation won the La France S'Engage Foundation youth engagement award, which gave us EUR 7,000 to invest in our project.
In January 2020, we were invited to the French National Assembly to participate in a seminar on the multiannual research programming budget. Last August, we completed a crowdfunding campaign, through which we raised EUR 22,395 from 355 contributors. Around the same time, we also found two partners: Order 2 Cash, a credit-recovery company co-founded by EDHEC alumnus Guillaume Baudoux, and Manamani, a Lille-based zero-waste company.
This fundraising allowed us to buy our boat and sail it from Marseille to Roscoff, its new home port. That three-week journey that enabled us to test Aquarelle.

How do you see the future for Utopia?
For now, the future depends on getting new partners on board so that we can fully finance the expedition. On our return, we aim to create a consulting company for firms that wish to reduce their plastic footprint, while preparing for second expedition, this time on a larger scale.
To know more about Utopia: https://utopia-earth.org/