Campus life: lifting the financial burden of studying abroad with a co-financed scholarship
Aditya Dagur and Praneeth Venkata Garikipati earned the EDHEC-French Embassy Co-Financed Scholarship in India. The scholarship is a joint initiative of EDHEC Business School and the Embassy of France in India. It benefits two Indian students willing to join a Master's in Management with excellent academic backgrounds and clear career objectives. Aditya and Praneeth both share their EDHEC experience in France and some tips about the scholarship's application.  
Reading time :
25 Oct 2022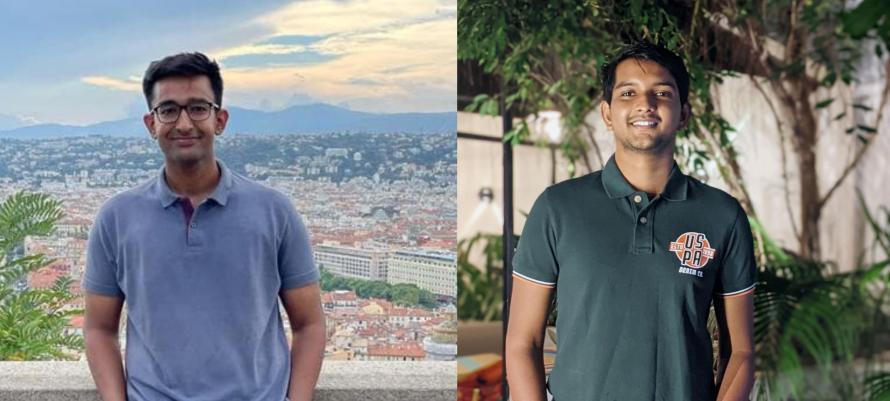 What are your backgrounds prior to EDHEC?
Aditya: I hold a bachelor's degree in commerce (with honours) from Hansraj College, University of Delhi. My undergraduate degree was a comprehensive business program, but it had a tad more focus on Accounting, Finance, and International Business Strategy. During college, I interned in the finance department of Power Finance Corporation Ltd., where I worked primarily in International Finance. After completing my bachelor's degree, I worked full-time for a tad more than 4 months as a closer in the Mortgage Operations division of Better.com, a financial technology company operating in the mortgage banking space.
Praneeth: I have a bachelor's degree in fashion technology and management from the National Institute of Fashion technology, Chennai. My degree was all about fashion, everything you can imagine from manufacturing to end-customer retailing. During my under-graduation internships in apparel manufacturing, apparel merchandising and fashion retailing for India's 2nd largest fashion retailer. After my graduation, I interned for another leather company, and just before arriving in France, I was working for a skincare and cosmetics start-up as a product development intern, where I developed few face serums and lipsticks.
Why EDHEC? Why France?
Aditya: EDHEC is known in the world for its well-structured finance programmes and extensive research in the fields of Impact Investments and Climate Finance through the EDHEC Risk Climate Impact Institute. Since I am inclined towards the fields of Impact Investing and Energy and Environmental Infrastructure, I was sure that EDHEC would provide the right academic and professional environment.
I chose France because apart from being a well-rounded student hub, with a treasure of cultural and historical experiences, it is an important financial centre in Europe and a strong player in the sustainable finance space. So, I knew that the business schools here would have very well-structured finance programmes and after graduating from the programme, I could get good entry-level opportunities in my chosen area of work.
Praneeth: I had a vision even before my under graduation that I want to work in the hub of fashion, so Paris, France was the ultimate decision. One of my college seniors is an EDHEC alumna, and I could relate to her career path. I approached her about her education, work experience, and campus life overall. I was very satisfied with the feedback I received and immediately applied for EDHEC. The fact that EDHEC has such a vast database of alumni in France and around the world made my decision even easier.
You both chose to join a different track. Can you tell us what drove your choice? What are your career aspirations?
Aditya: My bachelor's degree curriculum exposed me to different working areas of business but for several reasons I developed an inclination towards the courses on Accounting and Finance and then a few extra-curricular experiences helped me define my long-term goal of working in the field of Impact Investing. A masters level programme in Finance can help me build a solid base of financial mathematics, investment theory, and sustainable finance.
Praneeth: Right off the bat I knew I did not want to decide about career opportunities without experiencing them, that is where the 2 mandatory internships played a key role in my decision making about the school. I always wanted a longer course for my master's as it gives me enough time to make decisions and increase my connections. I wanted to meet like-minded people and have open end discussions, which help me learn about the different perspectives of different people. After graduation I see myself working in Brand management or as a strategic analyst for a luxury brand in Paris.
You are both on different campuses: Nice on the French Riviera for the Finance track and Lille, in the North of France for the Business Management track. How is your experience so far at EDHEC?
Aditya: Nice is a wonderfully warm, cosy, and happy city. For me, this is an ideal environment to study and relax. EDHEC Business School prepared me well to comfortably arrive in Nice and set up my life here. I have access to plenty of resources and minds to help me expand my understanding of the Finance industry and become not only a well-rounded finance professional but also a more aware global citizen.
Praneeth: My experience has been ecstatic so far. I really love the course curriculum and being surrounded by like-minded people, really enriches the experience. Lille is a beautiful small city I absolutely love it. Parks and lakes everywhere make me feel home. The campus is also quite big for us to relax peacefully and give time to ourselves.
How is your experience of the French lifestyle?
Aditya: I love how well the people of France balance their work and personal life. There seems to be a noticeably clear demarcation between the two worlds and the people are excelling in both. The idea of building and maintaining strong personal relationships, growing at a personal-level, and relaxing while developing and excelling in a chosen career is deep-rooted in the French way of living. The people of France know that work is just a part of life and not the entire life and identity and therefore, everyone is so happy and cheerful here.
Praneeth: One of the main reasons to choose France was also because of its rich culture and heritage. I absolutely love the architecture, food, and people here in Lille. I've been to various events that are organized by the city officials, and it was all a wonderful experience so far. I have tried many desserts, baguettes, and sandwiches and loved all of them. What I really admire here is the work-personal life balance and how responsive different teams when eve we approach them for something. Overall, I must be it's been very great so far!
How did you learn about the co-financed scholarship?
Aditya: When I was reading about the programmes available at EDHEC, I came across the interview of Aditi Mishra, a graduate of this institution and one of the awardees of the co-financed scholarship. I immediately went to the financing and scholarships page of EDHEC to check if the scholarship is available for the 2022 intake and I was happy to know that I had sufficient time to complete my application and present my candidature for this award.
Praneeth: I received my admission in late December 2021 with the excellence scholarship. Later, I reached out to the international admissions team, Lilyana Stoilava and Pagan Cathy about more scholarship opportunities. Then I heard back from them about the co-financed and QS-EDHEC Scholarships.
How was the process of applying for the scholarship?
Aditya: For the 2022 intake, a candidate needed an unconditional admission offer with an excellence scholarship, for the MiM programme of EDHEC Business School, before a specified date. I received my admit letter in April with an Excellence Scholarship and sometime later the EDHEC's representative in India, Mr. Nilesh Gaikwad, told me that my name had been nominated for the co-financed scholarship. In the first week of June, I was awarded the Co-Financed Scholarship.
Praneeth: The application process was simple for the co-financed scholarship. Lilyana informed me months prior that the selection criteria are very rigorous, and it is followed with an interview  invite in the month of May. I had a wonderful conversation with Lilyana about my future aspirations and how would I contribute to EDHEC community.
How does it feel to have been chosen among many candidates?
Aditya: I was elated to learn that the selection committee liked my story and found my experiences useful for the entire class. This scholarship is a strong financial help. So, I can now work without worrying much about the financial arrangement required for this programme.
Praneeth: I was elated when I heard back from Lilyana. I really believed in myself and my story. I was extremely glad to learn that admission committee also believed in me. It really helped in lot of ways by removing the burden of financial needs. It gives me time to invest in myself to learn new skills.
Do you have some tips to share with students willing to try, and get the co-financed scholarship?
Aditya: When I was about to start working on my applications, one of my close friends told me that an admission process is about establishing a heart-to-heart connection with the admissions committee and the only way to build that connection is by happily telling your tale and not adding layers to any part of it. I followed this approach and proudly told the admissions committee about some of the important strong and weak moments of my life, how these moments helped me develop into a more aware individual, why and how EDHEC would fit into the 'story of my life', and what kind of human I wanted to be in the long-term. My tip would be to try to establish that heart-to-heart connection with the admissions committee and to do that you need to be genuine and to be proud of your wonderfully weird story.
Praneeth:  I always believed in being honest, right from the start of my application. I wrote everything about myself, including my strengths, weaknesses, and career aspirations. The most important part was " How can I add value and how will I benefit from the resources I'll have" is the question everybody needs to ask themselves before starting out. We need to figure out what our plan of action is even before starting the task, managing events before the deadline will give us enough time to reflect upon our decisions. Nobody's story is perfect and that is what makes us so unique and makes you stand out from others. Do not ever be scared to express your honesty.
EDHEC's motto is Make an impact. How do you plan to make yours?
Aditya: I am at EDHEC to explore the worlds of 'Impact' Investments, Climate Finance, and Energy and Social Infrastructure, understand the role of the Finance industry in driving a more sustainable form of development, and develop the required academic base for these working areas. So, after some time I will have more clarity on how exactly I can 'Make an Impact' by working at the intersection of Finance and Sustainable Development.
Praneeth: Coming from a fashion background, I have seen the amount of pollution caused during the manufacturing process. Having studied different aspects of possible solutions to reduce it, I would like to use it to make an impact on our environment. And I believe EDHEC is a great platform for me to put forward my thoughts on a bigger stage. One of the main reasons to choose EDHEC was also how they motivate others to make an impact for good.