Celebrating diversity - The EDHEC Global MBA cohort 2022-2023
Reading time :
7 Oct 2022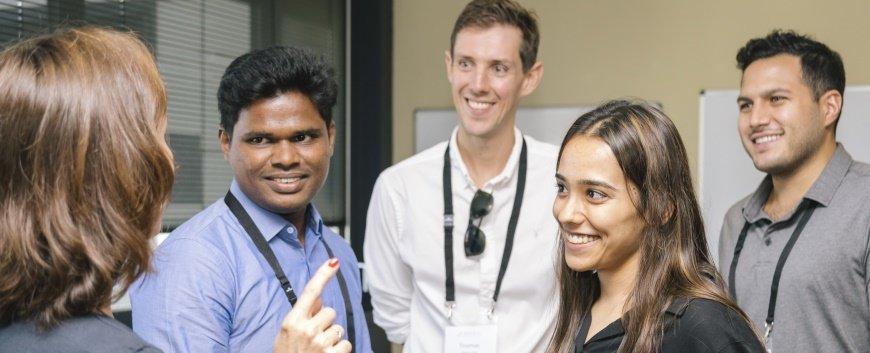 Diversity can enrich the learning experience through cultural awareness, understanding different perspectives and intercultural communication. It promotes critical thinking and challenges own biases, leading to personal growth.
The 2022/23 cohort is truly diverse: 61 participants from Ecuador, Morocco, China, Italy, Indonesia and Mexico to name just a few of the 27 different nationalities!
There is for example Howard Lee from Taiwan, who grew up in South Africa, a former Management Consultant from Deloitte or Kelly Conlon from Ireland who spent years working in London as a Digital Marketer, Alison Rius, French, who has background in Pharmaceuticals and Muhamed Huskic, German, who previously worked for Bayer AG, as well as Kazuki Motoyoshi who worked in Aviation in Japan and Karla Salazar from Guatemala with experience in Consulting.
Diversity is one of the things that sets EDHEC apart
In 2022, The Economist ranked the EDHEC Global MBA #1 in the world for diversity in both student and faculty members while the Financial Times ranked the programme #5 in the world for international mobility in terms of international career opportunities. These rankings reflect the core value of our Global MBA programme and the impact it has on our students:
"I chose EDHEC because it offers the most diverse programme in the world. I truly believe that it's a magnificent and unique aspect of the programme…."  said Sabina from Ukraine who has just started her transformational journey in Nice.  
Benefits of diversity are widely recognized, and appreciated by students
At EDHEC, we truly believe diversity matters. Forbes Magazine agrees and names 14 important benefits of diversity including for example:  
More Authentic Representation 
Increased Awareness & New Opportunities 
Maximized Learning and Continuous Transformation 
More Innovation 
Greater Depth and Breadth of Experience and Perspective  
Unique and Inclusive Decisions
We at EDHEC continue to celebrate diversity for a more inclusive and diverse global society in which everyone is represented.  
Are you ready to transform your career? 
Download the brochure to find out how the EDHEC Global MBA will give you the tools, knowledge and confidence you need to accelerate your international career