#MyMBAStory - How the diversity of my cohort changed my mindset
Find out how EDHEC Global MBA alumnus Scott Perry learned from his peers' cultural diversity and how it still impacts his career
Reading time :
7 Dec 2022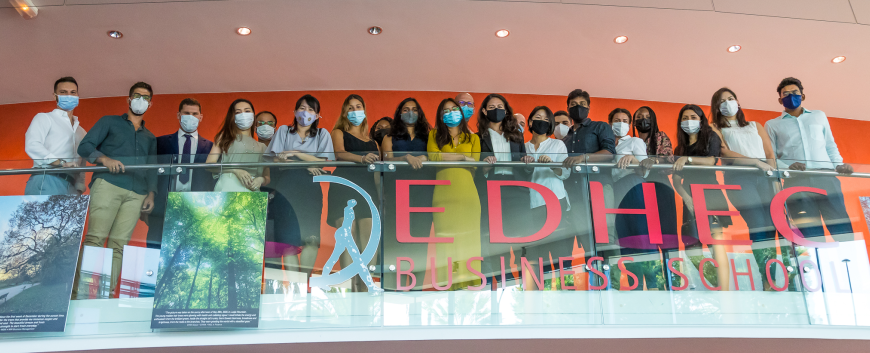 For Scott, doing a Global MBA was a truly transformational experience thanks to the intensive curriculum but most importantly due to his multicultural and diverse cohort. Read his #MBAStory to find out how his MBA experience has helped him.
From England, via the US, Ireland and France to Germany, Scott's career journey is truly international. Following the completion of his MBA in 2018, he is currently working in Berlin as Head of Customer Success at Yara International. Yara is the world's leading fertilizer company and a provider of environmental solutions.
He chose EDHEC for its intensive 10-month Global MBA programme, its triple accreditation, strong alumni network, and diversity of the class and faculty.
I was looking for an international MBA which would fit my goals and my timeline
As Scott already had an impressive international profile, he was looking for a programme which would help him further his business knowledge and global perspective, but he also wanted a programme which was under a year as he didn't want to take too much of a career break.  For him, it was also important that the school had a solid reputation and above all, he was looking to join a programme that had a more experienced and varied cohort to be able to learn and share knowledge with each other.
After researching many options in Europe, Scott decided to choose EDHEC's triple-accredited and top-ranked 10-month Global MBA Programme as not only did it meet his needs in terms of shorter duration and reputation but it also had one of the most international programmes and experienced, diverse cohorts available. Typically, there are around 30 different nationalities in a class of 65. Scotts cohort, for example, included over 35 nationalities with around 8 years' experience. So it was an ideal fit for him.
"The more I learnt about the programme, the school and the class profile, the more I realised that it was going to be an exciting journey for me. Although the programme is intense, it packs in so much experiential learning and focus on personal development and being able to lead in multi-cultural, increasingly disruptive setting".
There are many highlights for Scott, including the specialisation track and business trip – he chose the Digital Innovation Track which is in partnership with IBM. For Scott, the most valuable and surprising aspect of the MBA was just how much of a positive impact his diverse cohort had on changing his mindset, exposing him to new viewpoints and challenging his perspectives.
Learning from diversity – an invaluable experience for my career
From day one of the MBA programme, Scott found himself working with fellow participants from so many different backgrounds, regions and professions, each with a very different experience and skill-set to his own.
"My background is in customer services for tech companies, my degree is in Cognitive Science, so not business-related. I was the only one with that profile in my cohort, in fact one of the things I found most enjoyable and rewarding about my time at EDHEC was that everyone had a different background, a different viewpoint, there was no typical profile.
Could this be you ?
Evaluate your profile to speak to one of our career advisors and see how you would fit in with our next cohort.