Challenging leadership models
On November 7th, 2022, EDHEC's MSc in Management & Leadership students welcomed its learning partner ADEO, the European DIY leader, to discuss their Leadership Model and launch a case study. The business case is part of their module entitled "Reflexive Leadership Programme" taught by Prof Peter Daly. The objective: analyse, deconstruct and appraise Adeo's Leadership Model. 
Reading time :
6 Dec 2022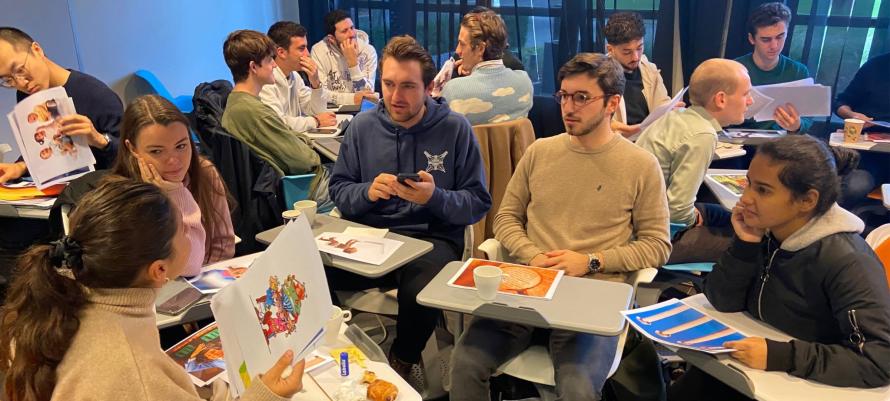 All leaders model as a compass
As Adeo grew from a French-based to a global and omnichannel company, its managerial culture needed to evolve. The DIY leader revised its Leadership Model. Their "All leaders model" has become their compass. The "All leaders model" is based on the assumption that every employee can be a leader, by leveraging on his or her talents and passions, while being authentic, responsible, open and connected to others in order to have a positive and lasting impact on the CSR of the company.
"Employees are encouraged to test and learn. A leader is always someone who is going to act, take risks and responsibilities. Being a leader is a behaviour and a learning path for collaborators to develop their skills. Leaders are not necessarily managers. We still have managers," explained  Ludovic Fourlinnie, Project Leader in Human Resources at Adeo. Adeo's leadership model is also used as a grid during the recruitment processes. "The workshop showed us how companies are rethinking the way of work and managerial style, empowering collaborators by turning them into '"leaders" and eliminating the hierarchical pyramid of the company in order to turn it into a more collaborative work of integrated teams", said Juan Pablo Acevedo, student of the MSc.  Yet, the model raised questions. Juan Pablo continues: "I still have my doubts about the real impact of the new leadership model beyond the paper, Because to make this possible, it is necessary for employees to rethink the way they have been working and sometimes it is not just about speech and training, it is also about subordinate employees, empowering themselves and gaining self-esteem and about leaders eliminating the "mental hierarchy".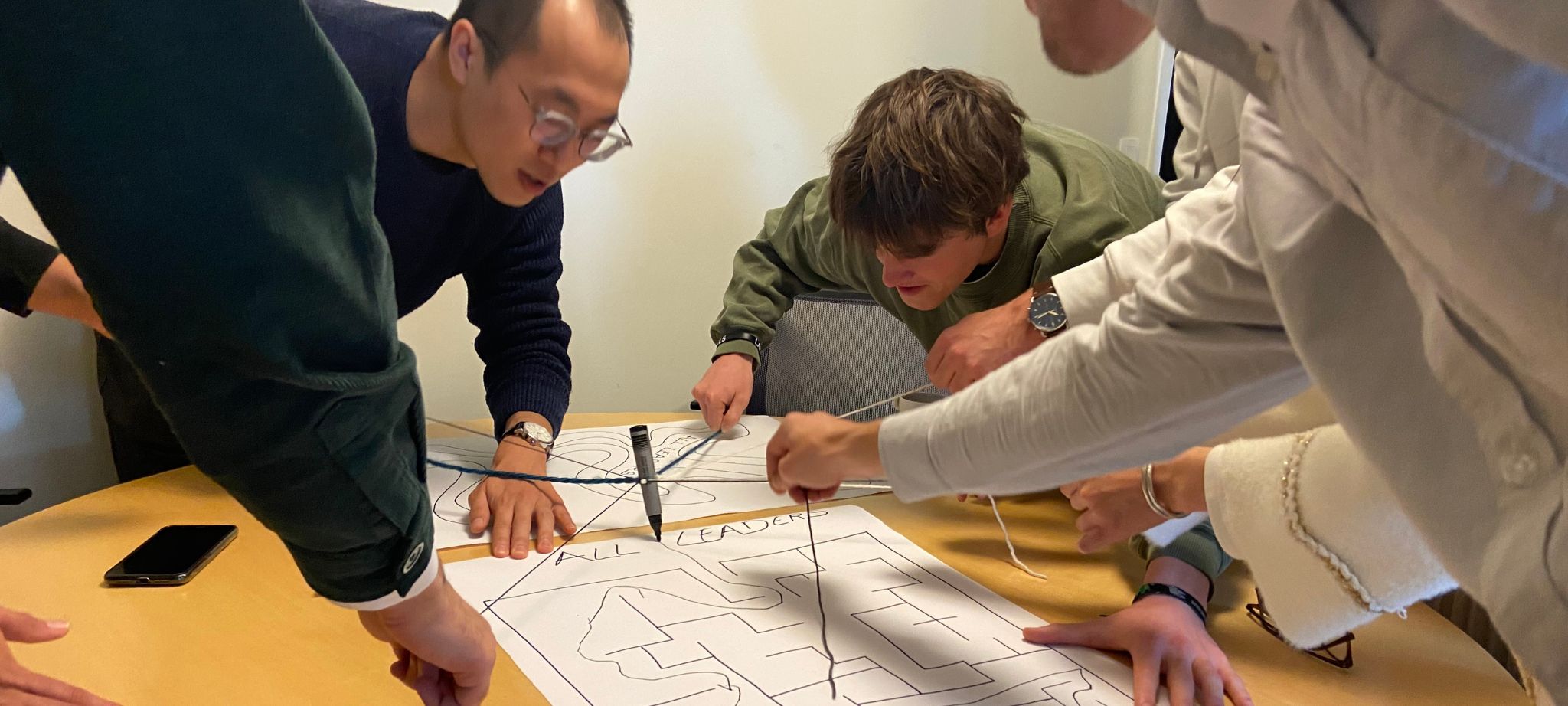 Leadership workshops
Trust and communication are key for a leader and a project. To experiment being a leader, the MSc in Leadership & Management students were asked to conduct a collaboration and chopstick exerciseThese exercises allowed the students to experience the establishment of inter-individual interactions and build collaboration. The students also had a first dive into different leadership model topics via a world café, a facilitation method based on the power of collective and interactive, intentional conversation that allows participants to exchange ideas by moving between multiple groups. Aziz Fayssal Konate was surprised by the different challenges. "The way we dealt with the challenges through the team organisation and the rotation around different team leaders allowed us to gather a maximum of ideas from different groups and finally come up with solutions to the different problems that arose. In addition, the workshop broadened my view of leadership. Adeo's model of leadership meets both individual and collective expectations. I believe that the ADEO model is one in which all employees are seen as leaders and this contributes to the professional development of each talent."
Challenging Adeo's leadership model
At the end of the workshop, students were invited to choose a topic to work on in groups. They have to build different strategies to challenge Adeo's current leadership model, implement it, rewrite it... Juan Pablo Acevedo chose to work on the deployment of the leadership model analysing it in a breadth of fields such as technology and operations. "I want to give ADEO an exact analysis of all the subjects involved in our topic and some real advice about the way they could approach those subjects and implement them in a better way."
Once more, in line with the school's hands-on approach, students have the opportunity to apply their knowledge and critical skills to a real-life business situations.