EDHEC Business School: A great location to study Finance
WHAT IS YOUR EDUCATIONAL BACKGROUND PRIOR TO EDHEC? I studied biomedical engineering for one year, then I switched to economics. I hold a bachelor's degree in Business Administration from Università…
Reading time :
13 May 2020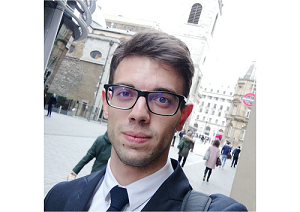 WHAT IS YOUR EDUCATIONAL BACKGROUND PRIOR TO EDHEC?
I studied biomedical engineering for one year, then I switched to economics. I hold a bachelor's degree in Business Administration from Università degli Studi di Torino.
WHY DID YOU CHOOSE EDHEC?
I chose EDHEC Master in Management, Financial Economics Track for its excellence and its very good rankings, its international outreach and diversity. I also picked EDHEC for its location. Why the location? Well, I strongly believe that, in order to perform well, one should be where she/he likes. Before my Bachelor in Business Administration, I studied engineering and I was based in Turin.  Honestly, this is not one of the most beautiful Italian cities… and I suffered a bit from this: I didn't like the city itself and I was not happy at all there. My performance was heavily affected me and I failed my year in engineering. This added up to the fact I just loved a few of the subjects I was studying… and I ended up very demotivated.
Once I visited Nice, I instantly fell in love with the city and I knew I had to be here. So, with this as a motivation, I managed to stay focused and get admitted to the MiM FE programme.
And now that I'm here, I feel even more motivated, as when I'm down, I just need to look out of the window to recover a lot of energy and be ready to go on with the work.
I don't feel on holidays of course! But I am convinced that a pleasant environment positively impacts one's performance, energy, and concentration.
HOW HAS BEEN YOUR JOURNEY AT EDHEC SO FAR?
To be honest, it was a bit of struggle at the very beginning, because everything is very different from Italy. But I managed to adapt and I now feel at home in Nice.
In Italy, the scholastic system is way more focused on theory, which offers almost zero preparation in finding a job. There are no lectures on how to build a CV, no networking tutorials and practice sessions, no group works. This is also why I decide to go to EDHEC: the strong push they put on experience is key to building one's profile, as people are not only their 'grades'.
At EDHEC Business School, from the very first week I have been provided with a multitude of new concepts and insights which really showed me a new world. For the greatest part of my studies, I was focusing much more on grades than on building my skills and competencies. Now, I know that professional skills are essentials.
Furthermore, throughout the 4 years I spent in Italian Universities, I did 2 (yes, only two) group works. While here at EDHEC, I developed a lot my ability to work in a team and commit to a result together with other people. I really enjoy group works as you learn how to work in a team and how to relate to others.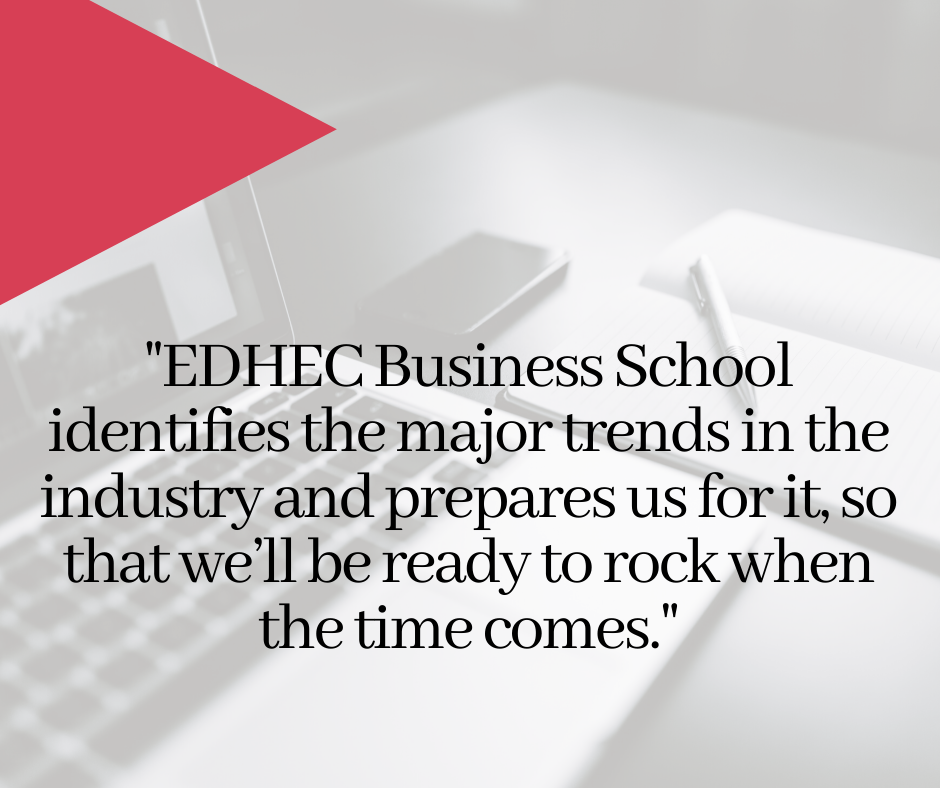 WHAT ARE THE MAIN SKILLS YOU WANT TO ACQUIRE?
Besides high-end skills in Finance, I would like to acquire the soft skills to work effectively with others and towards an international career.
WHAT ARE YOUR EXPECTATIONS FROM THE COMING STEPS?
I want to face increasing challenges, overcome my limits. As for the academia, I would like to deepen my knowledge of Finance and, fine-tune my soft skills.
I noticed that companies require some specific competencies in their job offers, and the school tries hard to help us gain these skills. When I arrived at EDHEC, I knew almost nothing about Finance. Now my knowledge has deepened a lot. For example, I know how to use the Bloomberg Terminal thanks to EDHEC. In addition, we were provided an access to an online course delivered by Bloomberg itself! This allowed us to get the Bloomberg Market Concepts Certificate, which shows the recruiters that we already have some basis on the usage of this world-famous platform.
Furthermore, the new frontiers of Finance are not neglected either. We have had a course on Fintech and the new developments and trends of the financial world and, again, we had the opportunity to get a certification. This is how I obtained my CFTE Certificate, awarded at the end of an online self-paced course. I realised how, despite being relatively young, the Fintech world is developing at an incredible pace and how these innovations are going to completely disrupt the current way of doing Finance.
Without EDHEC, I would not have gotten these certificates and my knowledge of these topics would have remained the same.
And I am sure this knowledge will help me in the future, giving me insights not everyone has and showing me different aspects of the financial world.
And this is one of the aspects I love the most about EDHEC: the school identifies the major trends in the industry and prepares us for it, so that we'll be ready to rock when the time comes.
WHAT ARE YOUR JOB ASPIRATIONS?
I would love to work in Wealth Management, ideally in Monaco - in a client-facing role. Otherwise, I would also be happy dealing with structured products/derivatives, as I find these as the most interesting and challenging topics in Finance.
DO YOU HAVE ANY ADVICE FOR STUDENTS TO GET THE BEST OUT OF THEIR EDHEC EDUCATION?
I would say:
- Show a lot of grit and determination, it's very useful in order to achieve results, trust me, it will pay off;
- The financial world is not as big as it may seem, so if you're "a good boy/girl" you will be noticed;
- Don't be shy. Be open-minded.
HAVE YOU BROUGHT SOMETHING SPECIAL FROM ITALY WITH YOU?
My Italian outgoingness, even though I am sometimes shy, I can also be very outgoing... and I already made plenty of friends at school.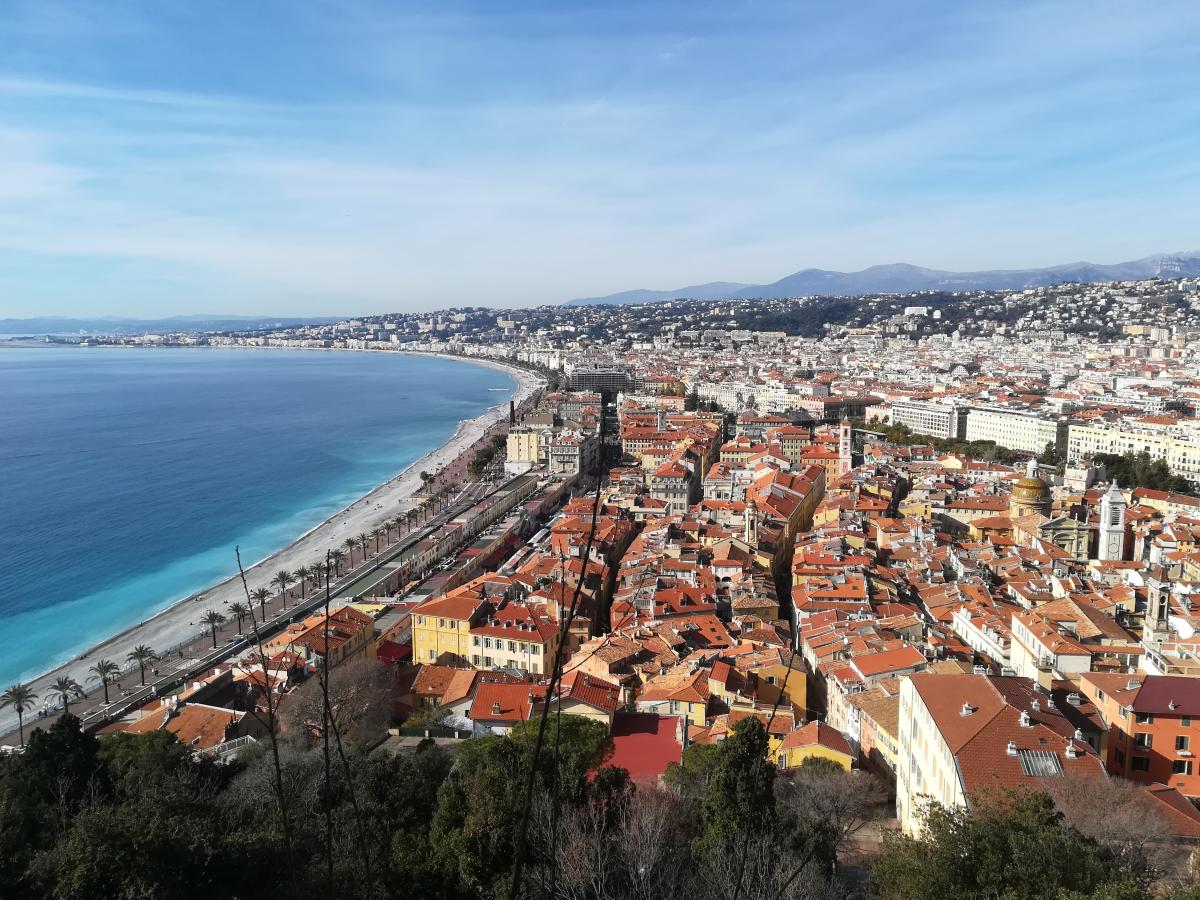 Photo credit: Lorenzo Avena
[button size='' type='' icon='' link='https://master.edhec.edu/master-in-management-financial-economics' class='']VISIT THE PROGRAMME PAGE[/button]
Related articles:
EDHEC TOP 5 Masters in Finance by the Financial Times
Meet Baihe Li, MiM Financial Economics Alumna
Meet Ming Lu, MiM Financial Economics Alumna
Meet Gaurav Kalair, MSc in Finance Alumnus
Meet Nelli Ramazyan, MSc in Risk & Finance Alumna
Meet Hady Saad, MSc in Financial Markets Alumnus
GETTING VIRTUAL CAREER ADVICE ON SUSTAINABLE FINANCE TRENDS
Meet Paul Schweigl who worked on applied research projects developed by EDHEC-Risk Institute
Meet Martin Benzing, MSc in Finance Alumnus
Meet Yejing Mao, MSc in Corporate Finance & Banking Alumna