EDHEC Global MBA: N°1 for Entrepreneurship in Europe (QS)
If you're a budding entrepreneur you'll be pleased to note that the EDHEC Global MBA was recently ranked 1st in Europe for Entrepreneurship for full time MBAs by QS.
Reading time :
3 Nov 2020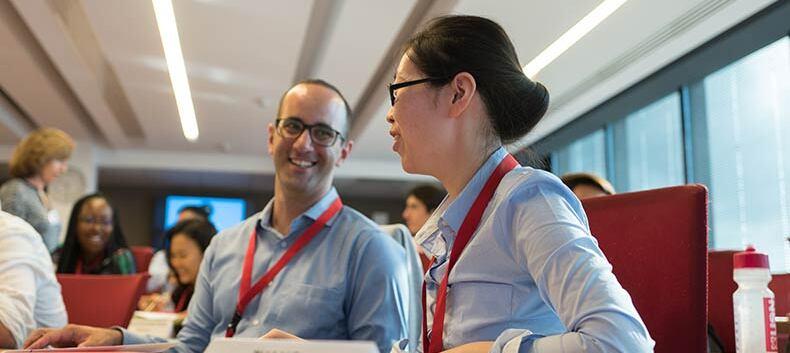 Did you know that an MBA is an excellent way to kickstart your career as an entrepreneur? The EDHEC Global MBA is highly personaliseable and includes four distinct specialisation tracks you can choose from, one of them being entrepreneurship. In some years, as many as 20 percent of our cohort start their own business, many of them jointly with peers they have met on campus. The entrepreneurship track allows you to explore your ideas in detail and work on a business plan. It also includes a business trip to Silicon Valley, the world's most famous entrepreneurial hub. The Entrepreneurship track concludes with each group presenting their business plan to a panel of real life investors and experienced entrepreneurs in true Dragon's Den style. EDHEC Global MBA's human class size allows plenty of interactive discussions with experienced classmates who are able to share bright ideas and networks, making it the ideal choice for all entrepreneurs.
Become the entrepreneur you want to be
The one-month Entrepreneurship track within the EDHEC Global MBA involves three weeks of courses and a trip to Silicon Valley USA and is designed for three main profile types: 
those aiming to set up or take over a business
those who don't yet have a precise entrepreneurial idea in mind but who are seriously considering it for a long term plan
those aiming for a senior management position in an existing organization and who wish to participate in an intense analysis, and the preparation and presentation of a business plan, concerning the economic viability a new business project
External specialists address topics such as innovation management & performance measurement, finance & entrepreneurship, cash management & bootstrapping, and international entrepreneurship.
During the week-long trip to Silicon Valley where the group is accommodated on Stanford University campus, the students attend a number of conferences and seminars on entrepreneurship and meet established entrepreneurs during company visits such as Daily Motion, Apple Store and Google. CEOs present the challenges they faced and share their vital knowledge and experience with the group.
Helping young entrepreneurs getting started
EDHEC is also a proud partner of founder.org whose programme for student entrepreneurs and recent alumni helps entrepreneurial individuals from its partner schools (EDHEC, Harvard, Carnegie Mellon, MIT, Stanford, Polytechnique…), build successful companies. EDHEC Global MBA's Entrepreneurship Track saw 17% of last year's class setting up their own entrepreneurial venture post MBA, some of which passed through EDHEC's very own on-campus incubator "EYE" (EDHEC Young Entrepreneurs). A total of 70 businesses have seen the light of day through EYE, 10 of which are on the Nice campus. This has created 400 jobs and raised over 8M€ in funding.
Three alumni are pleased to share their entrepreneurship experience:
Marc Dumont, 46, MBA Class of 2013
I am a mechanical engineer graduated from Ecole des Mines de Douai with an executive Master in Marketing. I did my whole career in automotive industry working 18 years for a component supplier, having various positions as research engineer, business development manager and plant manager.
I created my company CUBEO in December 2013. We are developing a flexible indoor storage module to protect goods against water damage, humidity, dust and vermin. The origin of the idea was to propose a convenient and easy way to protect furniture and belongings against flooding. We started to develop the CUBEO concept and then we realized that this product could have a lot of different applications: protect archive or antique items against humidity, household equipment during renovation works or preserve a collector's car. Our target is to setup a commercial team and to be able to develop European sales by the end of 2016.
Even if during my work experience I had a lot of intrapreneurship experiences, I did not intend to create my company before starting the MBA programme. The EDHEC Global MBA curriculum brought me all the necessary competences to feel confident to start a company. Especially, the coaching and entrepreneurship track were very important in my decision to launch my own business: it brought a very positive spirit and create emulation inside the group. The business trip to San Francisco where we visited a lot of startups and company involved in this eco-system finally convinced me to try this exiting entrepreneurship experience., We have been a member of the EYE incubator on Nice campus since March 2014 which is a great support in term of coaching, mentoring and networking.
Amal Benkirane, 30, class of 2008
Before the EDHEC Global MBA I was a telecom engineer from Telecom ParisTech. After working at Orange and the Boston Consulting Group, I decided to pursue a career as an entrepreneur. The MBA gave me the necessary skills to go forward with my ideas and start new projects. Three years ago, I joined Rocket Internet to launch an e-commerce platform in Thailand and Morocco and today I have been able to create my own brand Finezine, specialised in high-end fashion wear and textile, catering to traditional Arab styles. The idea was to bring high end embroidered garments at an affordable price. Travelling to India during one of the MBA business trips made me think about this opportunity. Finezine is already well established in Morocco and in the near future, we plan to expand the online store to an international online store available in all the Arabic countries. Visit our Facebook page.
Jake Muhleman, 29, MBA class of 2012
Prior to receiving my EDHEC MBA, my educational and professional background was in engineering. Starting with a bachelor's degree from MIT in Mechanical Engineering with a concentration in Electrical Engineering and Robotics and a minor in Management from the Sloan School, I continued my education with a master's from UCLA in Mechanical Engineering with a focus in Design and Manufacturing. After that, I worked as a design engineer in Los Angeles, working on implantable medical devices, and was awarded two patents during the course of my work.
During the MBA programme, I started developing an idea that I had been considering for a while, which was to introduce a unique, local liquor from West Africa into the American, and eventually, European markets. It was during the MBA's Innovation and Entrepreneurship courses that the idea evolved into a solid business proposal, which helped bring the project to fruition.
Currently, under La Distillerie Beninoise, SARL, we are selling our launch product, Tambour Original Sodabi, in West Africa (Benin and Togo). Meanwhile, the American parent company, VooDoo Spirits, Inc., recently signed an agreement with a US importer in hopes of launching Tambour Original in New York later this year, pending funding. Tambour Original was just awarded a silver medal in the San Francisco World Spirits Competition, the largest spirits competition in the US. Additionally, we are committed to developing sustainable methods to conserve palm trees in the raw material harvesting process. In the future we look forward to expanding our product line offerings and growing our capacity of our launch product, thus providing additional sustainable employment, support for farmers, and ultimately, helping the local economy.
Are you ready to transform your career? 
Download the brochure to find out how the EDHEC Global MBA will give you the tools, knowledge and confidence you need to accelerate your international career