EDHEC PhD in Finance Programme welcomes its new students
October 2021 A new cohort of 15 PhD executive-track participants has embarked on the EDHEC doctoral programme. From October 4, 2021, the class has started its first week of core courses, with…
Reading time :
7 Oct 2021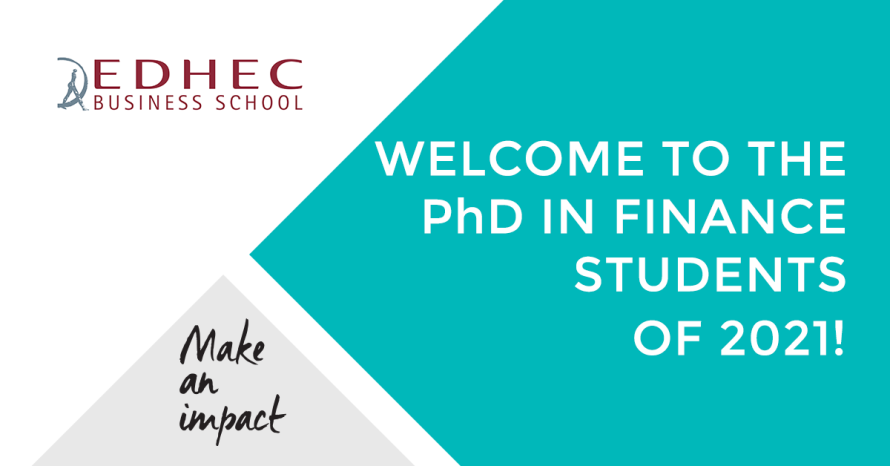 October 2021 
A new cohort of 15 PhD executive-track participants has embarked on the EDHEC doctoral programme. From October 4, 2021, the class has started its first week of core courses, with Discrete-time Financial Economics taught by Professor Abraham Lioui. This field will be followed by a course on Empirical Asset Pricing. 
A few weeks before, the programme management, faculty and the PhD team were delighted to welcome all of them for the first step of their PhD journey.
 "We will be glad to interact with the new students, enable them to acquire the existing knowledge and help them to come up with good research questions in order to bring original solutions to their industry"  said the academic director Professor Enrique Schroth. 
This class still boasts great cultural diversity. Twelve nationalities are represented (Brazil, Canada, China, France, India, Pakistan, Saudi Arabia, Serbia, Singapore, South Africa, Switzerland, and United States of America); five students are based in North America, one in Brazil, four in Europe, two in Africa, two in the Middle East, and one in Hong Kong. 
Newcomers have solid professional and academic credentials. Some have first degrees in economics, in business administration (major in Finance), in Information Technology or Engineering ((Electrical, Electronics, Industrial and Operations Research), and Accountancy. The participants hold one or two graduate degrees, MSc degrees in Finance, Economics, Financial Mathematics, Computational Statistics and Machine Learning, Banking and Finance, Engineering Science, and MBA with major in Finance, from reputed institutions such as Chicago Booth, London School of Economics, Wharton Oxford… Some of them hold professional certifications such as the CFA or CQF.
In this cohort, there is a well-balanced proportion of senior professionals acting as head of units or CEO, and more junior profiles that include portfolio managers, or investment and risk specialists. Participants work in asset or investment management, corporate and investment banking, financial services or consulting. or wealth management. Some of them already have teaching experience. 
The average age of these students is 42 and together they average over 18 years of experience.
Without interrupting their careers, the experienced practitioners of the executive track usually join the programme to take a step towards senior positions in finance or positions in academe, or when they already hold such positions, to help them steer their organisations in new directions. During the programme, they work with leading specialists on research of particular relevance to their job. The PhD in Finance programme at EDHEC requires a strong personal commitment and is designed to be completed over three to four years.
More information on the programme curriculum, doctoral theses, and almuni testimonials is available at Research & Innovation: EDHEC PhD in Finance at a glance  
Profile of students currently enrolled can be found at Class Profile-PhD in Finance | EDHEC Business School