EDHEC PiLab: EDHEC's innovation and digital hub
PiLab, EDHEC's specialist pedagogical innovation laboratory, enhances the pedagogical experience for students, professors and researchers alike. As a genuine creative hub for the School, PiLab…
Reading time :
28 Apr 2020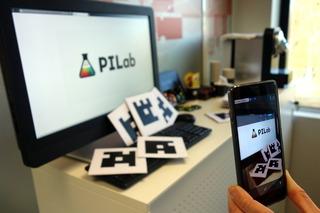 PiLab, EDHEC's specialist pedagogical innovation laboratory, enhances the pedagogical experience for students, professors and researchers alike.
As a genuine creative hub for the School, PiLab supports professors on a daily basis, advising them on pedagogical scenarios for their classes. It also steers research and the deployment of digital tools used to offer innovative, interactive and customised teaching methods.
 The six-strong PiLab team comprises two pedagogical engineers, two multi-media engineers, a Learning Management System expert and a Digital Learning Experience Manager.
"Pilab is devoted to enhancing teaching methods and the student experience at EDHEC. Accessibility, reactivity, adaptation, creativity and anticipation are the key words driving Pilab members in their mission to advise and support."
Emmanuelle Houet, Digital Learning Experience Manager
To train EDHEC professors in making the most of the digital tools used by the School - BlackBoard, Collaborate, Teams, Suite Office 365 – the team ran over 70 workshops for EDHEC professors in 2019.
The PiLab team also holds regular meetings of the PiLab Board, comprising professors, and the Student Shadow Committee, comprising students. These two bodies allow PiLab to understand the expectations of these two cohorts and work with them to build new innovative pedagogical solutions, using various means including design-thinking workshops.
N°1 source of support for the EDHEC community during confinement
Right from the onset of confinement in mid-March 2020, the EDHEC PiLab put all its resources and strengths to work in support of EDHEC researchers, professors and students, in order to make distance teaching more accessible and ensure a highly positive experience for all.
All in all, close to 200 collective and individual training sessions were delivered in less than a month.
These training sessions were primarily devoted to providing advice and support in relation to the provision of classes and exams online, these practices already being well-established at EDHEC, notably via an increasing number of blended courses on the EDHEC Master.
Faced with these exceptional conditions, with their demands for immediacy and a mandatory shift of all classes on all programmes to distance formats, PiLab played a genuine support, training and pedagogical role for the whole of the EDHEC community.  
"We are delighted to be at the heart of this transformation and would like to hail the engagement of all EDHEC's professors and teams, as well as the positivity shown by students in these unforeseen circumstances. And we remain ready to continue to work with professors on their future teaching formats." 
Emmanuelle Houet, Digital Learning Experience Manager
Day-to-day actions for high-quality distance classes
PiLab's missions have multiplied and intensified these last two months:
Delivery of 80 training sessions for students for all programmes and all groups
Creation and delivery of written or filmed, generic and specific tutorials for professors and students
Help for professors to enhance their online teaching: advice and support with the reorganisation of classes for online formats, creation of new course materials and adaptation of activities
Pedagogical scenarios for online and blended course modules
Advice on preparing videos, e.g. for filming oneself
Creation of specific formats, such as peer evaluation, according to professors' needs
Facilitation of experience-sharing between professors, via webinars and dissemination of documents
Assistance with starting up online classes on request
Management and support for the resumption of online classes
Assistance with the provision and administration of online exams, in collaboration with the Hub for students and trainers, particularly for continuous assessment and final exams
Management and continuous improvement of distance learning tools
Benchmarking of existing solutions and tests
Find the next online training sessions delivered by PiLab here.
Figures that prove the adaptability of the EDHEC community
PiLab in figures? Even though in the words of Emmanuelle Houet "the qualitative side is clearly the most important for us ", the figures are impressive:
Since 25 March:
The PiLab has created over 3,000 Collaborate sessions 
98% of EDHEC students have consulted their EDHEC Learning Platform
Over 4,000 users have connected per day
Up to 22,644 hours of activity have been counted in a day
Up to 250,000 page views have been recorded per day
The PiLab team has received widespread thanks, particularly for its engagement, professionalism and contribution during these unusual and challenging times.
Further proof that EDHEC Business School knows how to adapt and continue to make a positive impact on the world.