FUTURE OF BUSINESS EDUCATION: SPOTLIGHT ON MBA
EDHEC joins fellow top-ranking business schools in a one-of-a-kind virtual event lead by the Financial Times to discuss the future of MBAs and their relevance in a world that keeps on bringing new…
Reading time :
20 Apr 2022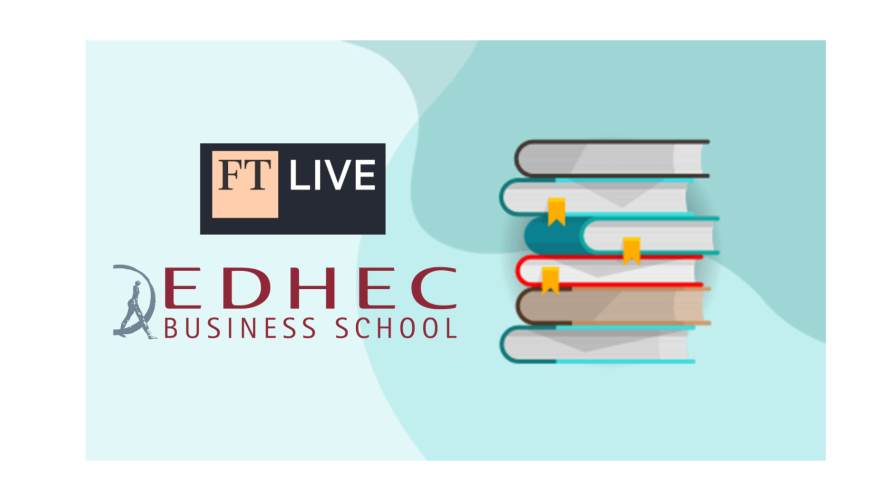 EDHEC joins fellow top-ranking business schools in a one-of-a-kind virtual event lead by the Financial Times to discuss the future of MBAs and their relevance in a world that keeps on bringing new challenges. What kind of leaders should we be training to solve problems we can't anticipate? The panels and workshops of "Future of Business Education: Spotlight on MBA" provided solid leads!
Shortly after publishing its annual MBA ranking, where EDHEC MBA captures the #3 spot for responsible management education, the Financial Times gathered some of the top minds behind the best MBAs in the world to try and assess the state of Business Education amidst what is unanimously recognized as a very challenging period for businesses worldwide.
Disruption obviously preceded the COVID pandemic, with in-depth transformations pushed forward by transversal issues like climate change, technology or social justice. MBAs and Business Education as a whole, didn't wait to address those changes. For what is the purpose of this specific branch of education if not to provide business with the leaders they will need to face emerging challenges. Or, as EDHEC Global MBA Director Sandra Richez puts it "leaders able to affect change with real and urgent action". A demand expressed by businesses and students alike, increasingly reflected in the changes implemented in curriculums worldwide.
Skills above all
Whether in Switzerland, at the University of St. Gallen, Spain, with IE Business School, the UK, at Manchester University, the USA, at Wharton or University of Virginia, and of course France, at EDHEC, Grenoble Ecole de Management or Audencia, MBA programmes are changing to better train leaders in the face of uncertainty. Instead of looking at business education in silos and disciplines, the focus is on skills and transversality. How can MBAs maintain their relevance in such a context? For some it's all about personalization, the ability to provide students with a tailor-made curriculum to fit their needs. For most, the idea of a "toolbox" or clusters of transversal skills is the real goal: teaching teamwork, foster a culture of diversity, encouraging open-mindedness, train to complex problem-solving, have supplanted traditional unidimensional topics.
The consensus on what is needed thus revolves around qualities and skills, like empathy, innovation and adaptability, much more than on pure knowledge. A unanimous state of mind that echoes what recruiters are looking for: "We have enough people to do the technical stuff. What we need are communications skills, the ability to influence leadership, teamwork qualities, translatable skills that will sustain new hires' growth along that which of the company" assesses Daniel Peach, Program Manager at Google.
ESG? Not an option anymore
To tackle an ever-growing need for responsibility and purpose, coming both from businesses and students, the logic has shifted towards embedding. As Sandra Richez puts it: "all jobs need to be ESG-fluent; schools need to prepare students to have the skills to contribute as they go, because companies don't necessarily know what they want right now, they will need to have room to grow and people to help them navigate". Digitalization or sustainability, once topics in themselves, are now deeply embedded in every curriculum, as are social concerns like equality or diversity.
And what to say to those who still believe those topics are somewhat of a trend? "We've gone past whether ESG is woke or not, it is a reality. Climate and equality are pivotal issues today. It's about adapting to our context and the one coming, seeing past right now and train leaders for the next 5-10 years and beyond" says Sandra Richez. A strong position in-line not only with students' aspirations, but also businesses' and consumers', as Daniel Peach explains: "We've been seeing a big shift towards values-driven employment, social impact positions, as companies are themselves shifting to meet consumer demands on pressing matters like sustainability and social justice."
MBAs: a transformational experience
ESG-laced, socially conscious, digitally enhanced, MBAs curriculums have a lot to answer for! But can they really provide a stepping stone for future leaders to embrace change and tackle ever-changing challenges? MBA are, at their core, transformational experiences. They are designed for one's finding of their own path, structured around the revelation of inner strengths, the confrontation with sometimes harsh realities, and the final empowerment on one's own terms. If it all sounds very spiritual, it's nothing compared to what MBAs alumni have to say about the transformative power of their own experience: "A lot of it comes down to how far you are willing to push yourself. What do I actually like about myself? What do I want to change or what am I willing to discover about myself? That process gave me a self-confidence I've carried ever since. I don't remember any accounting or finance classes. But I remember the teamwork, the week-long intense projects, the real-world experiences, the growth" reminisces co-founder of Claroty Galina Antova.
A blueprint to build a future? That's what Head of Growth at OSS Ventures Ashok Azhagarasan seems to value most about his MBA experience: "Before, as a lawyer, I would only consume knowledge, a lot of it. With the MBA, I learned how to keep on learning. You need to keep an open-mind, keep being open to the changes happening during the program and that prepares you for anything life throws at you afterwards". A personal development experience for which the offer range is key, but can also be daunting. But thanks to EDHEC Associate Professor Inge De Clippeleer and her "Mapping out your route to career success" workshop, attendees leave this intense day with a step-by-step method to choose which MBA best fit their need. In the end, like she sums it up perfectly, "it's all about YOU".