Global MBA Sustainability Insights Gained by EDHEC Students in Cape Town
Reading time :
14 Nov 2022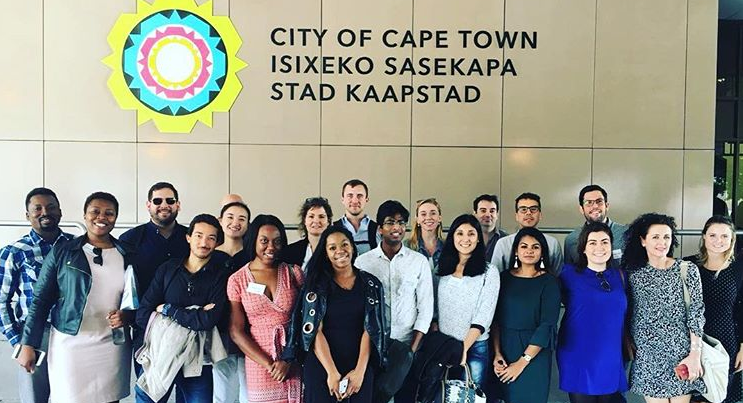 A key feature of EDHEC's Global MBA programme is its focus on sustainability, and as a part of this, participants get the opportunity to experience a week-long learning expedition in South Africa. During November 2018, the EDHEC MBA's headed to Cape Town to learn about sustainability through lectures and meetings with local businesses.  Here's what students came away with at the end of their exciting MBA sustainability business trip.
Gaining MBA sustainability insights in Cape Town, South Africa
The concept of sustainability has transformed the way we envision business. The new challenge for any organisation, large or small, is to create profitable ventures that are able to protect and fit in their environment. Now more than ever, the use of natural resources and social impacts must be taken into account to grow businesses that will help their ecosystem to thrive.
"The challenge of sustainability is to develop businesses that not only serve our needs right now, but that also anticipate our future needs. There are unprecedented opportunities in creating business solutions that serve their natural and social environment; investors start to understand this and to invest accordingly." explained Bastiaan van der Linden, associate professor at EDHEC.
Thanks to a close partnership with the University of Stellenbosch Business School, Global MBA participants had the opportunity to understand the key trends, influences and insights affecting sustainable business through a series of lectures and presentations from key experts during their MBA sustainability trip to Cape Town.
By understanding the political, social and investment challenges of the South African environment, local companies and governments provide perfect examples on how to overcome these obstacles in sustainable ways.
Practical thinking through real case studies and CSR challenges
On the third day of the week-long trip, Global MBA participants split in to small groups to interact directly with local entrepreneurs, each with a specific business challenge such as fundraising, marketing a new business or managing a growing franchise. Each group applied their knowledge to the specific problem and shared ideas and solutions in accordance with each venture's social and natural context.
"The businesses were very small and trying to figure out how to grow. We worked in teams to help them develop their projects, for example our team met a a clothing designer who wanted to grow his business within the community and was planning to run a fashion show on a very limited budget. We helped him think about free resources he might have access to such as using social media and contacting local influencers." Jess Foss, Global MBA participant
For many participants, the insights acquired during this MBA sustainability will have a long-lasting effect on their work. "Business schools have an important role to play in sustainability", according to Bastiaan van der Linden, associate professor at EDHEC. "It is crucial for the new generation of leaders, entrepreneurs and corporations to create new models that are profitable and sustainable"
Are you ready to transform your career?
Download the brochure to find out how the EDHEC Global MBA will give you the tools, knowledge and confidence you need to accelerate your international career