For globally outward-looking leadership: EDHEC Executive MBA Business Trip
The 75 participants of EDHEC's Executive MBA were in Kuala Lumpur for a Business Trip entitled "Exploring Malaysian Capitalism" From 16 to 20 January. This gave senior executives, business leaders…
Reading time :
3 Feb 2017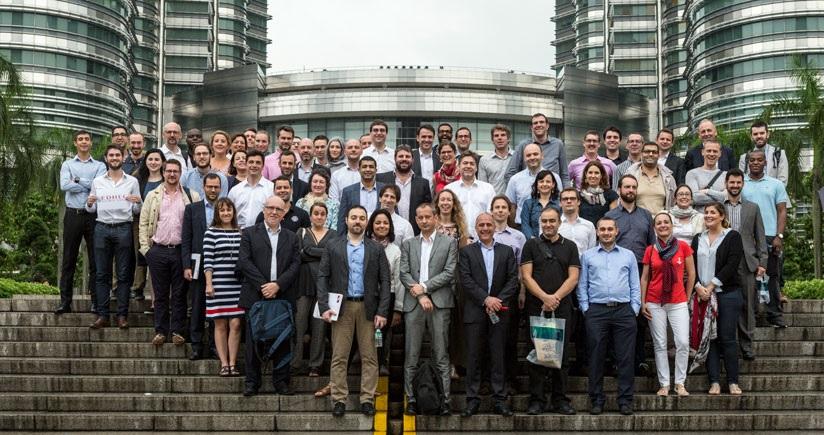 The 75 participants of EDHEC's Executive MBA were in Kuala Lumpur for a Business Trip entitled "Exploring Malaysian Capitalism" From 16 to 20 January. This gave senior executives, business leaders and entrepreneurs an opportunity to compare different business environments and to expand their views on business and the world.
"Situated at the crossroads of trade with India and China for the last two thousand years, today Malaysia offers a successful business growth model. Our EMBA participants were able to discover numerous business opportunities open to European entrepreneurs." Philippe Foulquier, PhD, Director of EDHEC Executive MBA Paris
The professionals from EDHEC's Executive MBA in Paris and Lille took part in themed conferences and met a wide range of business players: recent Malaysian businesses (AirAsia…), firms located there for many years (Petronas…), French firms present in the country (Décathlon…), as well as the innovative MaGIC, a start-up incubator. The aim was to give the participants an all-round view of Malaysia's thriving and diversified economy, widely considered as one of the new "Asian Tigers".
"Observing how these businesses operate helps us to understand the link between culture and business."
For Denis Dauchy, PhD, Professor of Strategy and Director of EDHEC's EMBA programme: "one of the specific features of the Malaysian ecosystem is its multicultural dimension. Observing how these businesses operate helps us to understand the link between culture and business." In effect, the diversity of the Malaysian population, which plays host to large Chinese and Indian communities, is reflected in the country's business life: the organisations have different perspectives and practices, and cultures coexist in a climate of mutual respect. This model challenges the participants' views of business to help them evolve: does the secret of an agile enterprise lie in leadership informed by multiple cultural facets?
According to Denis Dauchy, this experience abroad offers the professionals a unique opportunity: "It helps them to discover new ways of managing a business and gives them a better grasp of the challenges of globalisation." A second business trip, this time to San Francisco, is planned later this year in June.
Find out about the EDHEC's Executive MBA (EMBA Paris - Lille), contact us: [email protected]