Hamid Boustanifar, winner of the best 2022 published paper award (AFFI)
Reading time :
18 Jul 2023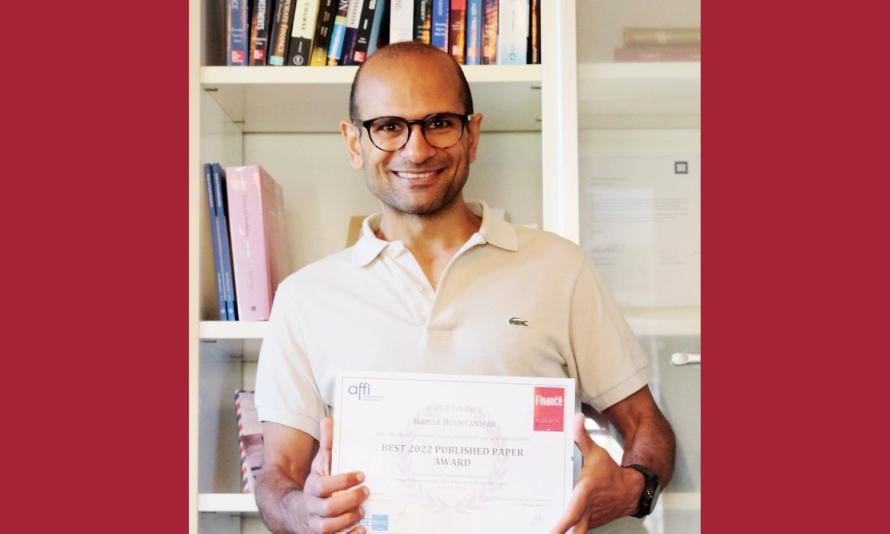 Created in 1979, the French Finance Association (AFFI, for Association Française de Finance) brings together "more than 550 financial professionals in research, teaching and practice." It publishes the Finance journal, the Finance Bulletin and the BMI - Bankers, Markets and Investors journal, and delivers support to enhance research in finance. The AFFI also organizes seminars and workshops, as well as an annual event bringing together its members.
The 2023 edition of this event (the 39th one), which took place in Bordeaux from June 5 to June 7, saw an EDHEC faculty member rewarded for his work: Hamid Boustanifar indeed received the best 2022 published paper award. The paper in question is "Bankruptcy reform, credit availability and financial distress" (Revue Finance, 2022/3 (Vol. 43), pp. 159 – 220).
"I am really pleased and proud to bring home the Best Published Paper Award, delivered at the AFFI conference this year. I sincerely thank the committee and all the organizers for such a fantastic conference. Happy also to see you next year in Lille for the 2024 AFFI conference!".
Hamid Boustanifar, EDHEC Associate Professor
Professor Boustanifar focused his research, in this paper, on the reform implemented in 2005 in the United States: the Bankruptcy Abuse Prevention and Consumer Protection Act (BAPCPA). Its main goal was to impose more stringent eligibility requirements on filling for personal bankruptcy. In other words, it aims at preventing the bankruptcy process from being abused. The paper highlights that the BAPCPA led to "a significant increase in access to, and volume of, credit for households" but with heterogeneous effects, and maybe opposite effects to the ones pursued in the Act. Indeed, "while credit-constrained households were better off following the reform, households with low education and those with self-control problems appear to be negatively affected as a result of over-borrowing". Professor Boustanifar points a "significantly larger deterioration in financial health in the following years [for these households]", advocating for cautious and informed decisions as regards the design of bankruptcy laws, in the sense that they have clearly huge implications for some vulnerable households.
"This award is a further illustration of the relevance and quality of our Finance Faculty. Hamid Boustanifar is not only a great researcher, but also a great professor who is highly valued by his students and colleagues. We are very grateful for the many ways in which his work is having a positive impact".
Michael Antioco, EDHEC Dean of Research and Faculty